Family of Cheryl Wall, Champion of Black Women Writers, Donates Personal Library to Paul Robeson Cultural Center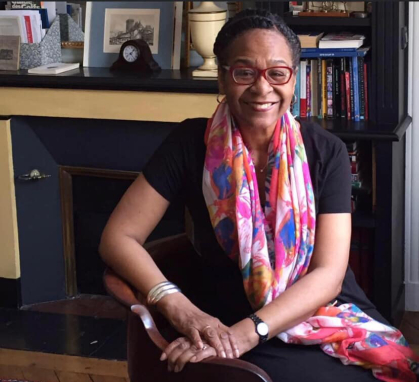 The gift is meant to encourage student analysis and appreciation of Black writers
The personal library of the late Cheryl Wall, a scholar recognized for advancing the conversation about African American literature, will be available for a new generation of research and examination at Rutgers University-New Brunswick's Paul Robeson Cultural Center following a donation from her family.
Wall, who died in April at age 71, was nationally regarded for her scholarship about African American women writers. She wrote Women of the Harlem Renaissance and Worrying the Line: Black Women Writers, Lineage and Literary Tradition, and edited several volumes of literary analysis of the works of Zora Neale Hurston.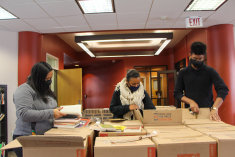 Her daughter, Camara Epps, began transferring nearly 2,000 books amassed by Wall throughout her life to the Robeson center, including collections of works by Hurston, Toni Morrison, James Baldwin, Gwendolyn Brooks, Octavia Butler and others, as well as books written and edited by Wall.
"These works represent my mother's life of reading, writing, analyzing and elevating the voices and intellectual contributions of Black authors," Epps said. "We wanted to give her books to a place where they would be used in honor of her legacy. The Paul Robeson Cultural Center is a perfect steward. My mom worked on Rutgers' Paul Robeson centennial committee (which organized a universitywide celebration of the 100th anniversary of his graduation from Rutgers).
"As a co-founder of the Rutgers English Diversity Institute, she encouraged Black students and other students of color to pursue careers in academia, which is deeply compatible with the Robeson center's mission of facilitating engagement through educational, cultural and social programs and services. This gift is a fitting way to honor her," Epps said.
Jakora Holman, the center's director, plans to make the books available to visitors following a fall 2021 public ceremony dedicating the collection in Wall's name.
"The Paul Robeson Cultural Center works to educate and create discourse around the experience of African Americans and all people of the African diaspora," Holman said. "This donation is so rich in different experiences, histories and legacies of Black people and Black literature, something for us to create discourse around for years to come."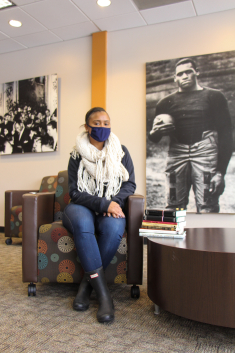 During her nearly 50-year career at Rutgers-New Brunswick's School of Arts and Sciences, Wall received the Warren I. Sussman Award for Excellence in Teaching as well as numerous fellowships and awards, including being named a Board of Governors Professor of English in 2006 and the Zora Neale Hurston Professor of English in 2008. Epps accepted the Jay B. Hubbell Medal for Lifetime Achievement in American Literary Studies in her mother's honor on Jan. 7.
Felicia McGinty, Rutgers-New Brunswick's executive vice chancellor for administration and planning, said, "The thought of Cheryl Wall, Zora Neale Hurston, and Paul Robeson together warms my heart, and I look forward to celebrating her life and this gift to students with the Rutgers community in the near future."
Wall's close friend Deborah Gray White, the Board of Governors Distinguished Professor of History at Rutgers-New Brunswick, said, "I'm so glad that Cheryl's books will not have to leave the school she made her academic home. Just like Cheryl, who was a steadfast resource for the many years she was at Rutgers, her books will continue to nurture and teach generations of students for years to come."
A former chair of the Department of English, Wall was an advisor and mentor to generations of students in African American studies and Black feminist thought. She led the establishment of the graduate program in English and sought to empower students and encourage appreciation of the humanities and literature.
She was instrumental in developing "Reaffirming Action: Designs for Diversity in Higher Education," a Ford Foundation-funded project of the Institute for Women's Leadership that examined strategies to enhance racial and gender equity in higher education. She also served as vice chair of Rutgers' Steering Committee on Implementation, an effort to strengthen the university's commitment to diversity, with former university President Richard McCormick. In addition, she was the founding board chair of Crossroads Theater Company, the first Black theater in New Jersey, founded by two Rutgers graduates in 1978.