Empowering Bystanders to Act as First Responders
Rutgers trauma physicians are training the public to stop blood loss – and save lives – during emergencies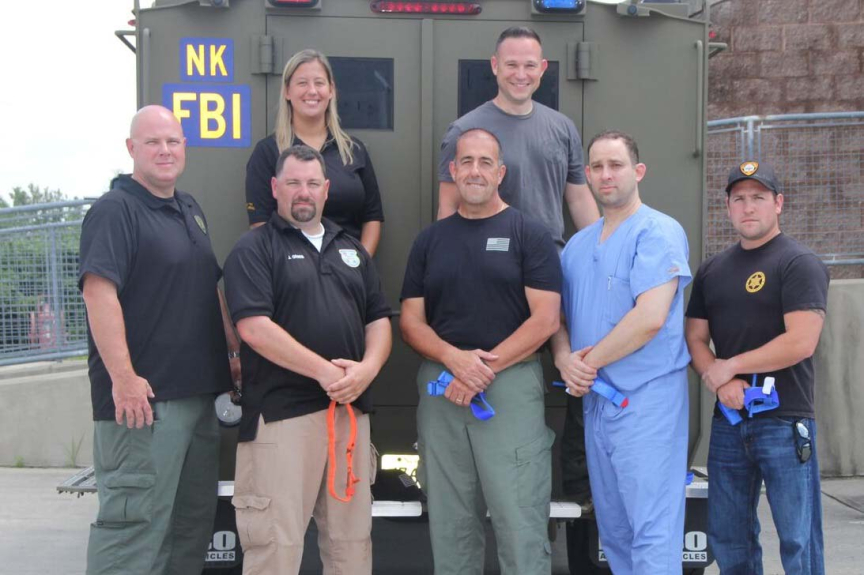 Blood loss is the leading cause of preventable death during an active shooter or intentional mass casualty event where a medical response is delayed.
To educate the public – who often find themselves on the front line in emergency situations – a team led by a trauma surgeon from Rutgers New Jersey Medical School and EMS from University Hospital are directing the largest "Stop the Bleed" campaign in the state, teaching laypeople basic skills of hemorrhage control for immediate, on-the-scene care.
Launched in October 2015 by the federal government, "Stop the Bleed" is a national awareness campaign that empowers people to become trained and equipped to help in a bleeding emergency before medical assistance arrives. Adam D. Fox, an assistant professor of surgery at the medical school and associate medical director of the New Jersey Trauma Center at University Hospital in Newark, initiated the program at Rutgers two years ago; since then, his team has trained over 500 first responders and members of the public.
"A person can die from blood loss within minutes, so it is imperative to stop the bleeding quickly," he says. "Although we don't know the data yet, the scenario in Las Vegas, where there were thousands of concert-goers, could potentially have had dramatically different outcomes if the public knew how to stop bleeding and were armed with the proper tools. People bleeding out from a leg or arm wound would have a greater chance of survival."
"Stop the Bleed" was born out the Sandy Hook Elementary School shooting after a leading trauma surgeon assessed autopsy data to learn how to improve survival in mass-casualty events. A subsequent review by the American College of Surgeons and representatives from the federal government discovered a disconnect between law enforcement and emergency medical response. "Traditionally, law enforcement enters these scenes to clear the area of threat, and while doing so steps past people bleeding to death," Fox says. "The goal of this campaign is to give people the techniques to potentially save lives within a matter of minutes when there is life-threatening bleeding from an extremity or a junctional area like the groin, armpit or neck."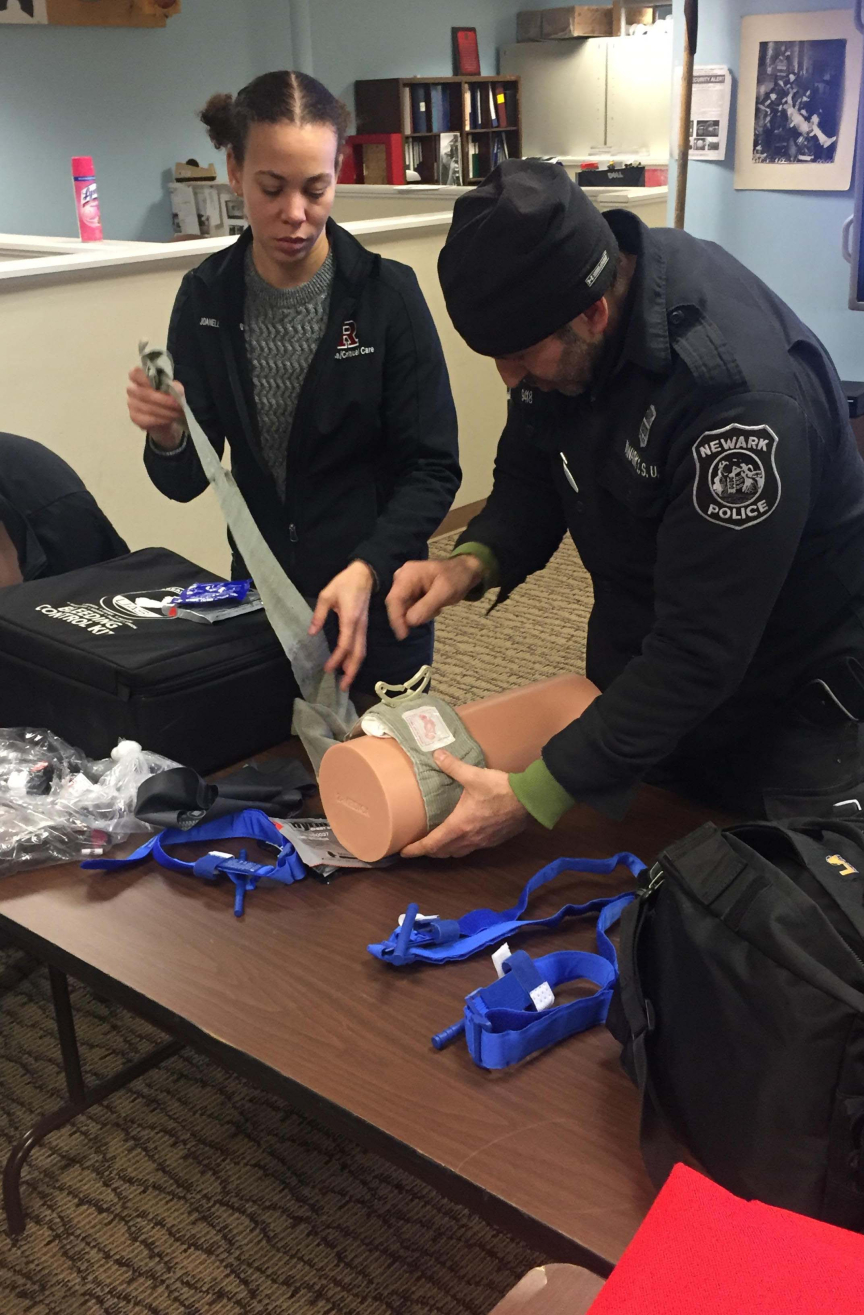 The skills are important – but not difficult – to learn, Fox says. The initiative has two missions: to educate the public through a 45-minute course that demonstrates how to use a tourniquet, perform wound packing and use direct pressure to stop bleeding and a public health campaign to place bleeding kits that include tourniquets, pressure dressings and gauze bandages in public spaces alongside existing automated external defibrillators.
"Unfortunately, there is no legislation in the country that mandates bleeding control equipment in public spaces," Fox says. "However, we are working with multiple agencies, including the Port Authority of New York and New Jersey, to eventually make these kits available to the public. A legislative campaign is planned for after the election."
To date, the medical school's "Stop the Bleed" team, in conjunction with University Hospital, has trained municipal law enforcement, Port Authority police and customs officials at Newark Liberty International Airport, the FBI, SWAT teams, medical students and the general public.
Robert Wood Johnson Medical School is also involved with the campaign through its Emergency Medical Services and Mobile Health Service at Robert Wood Johnson University Hospital. In addition, in conjunction with Robert Wood Johnson Medical School's division of acute care surgery, it is planning to offer courses for medical students and Rutgers undergraduates and is working with the hospital to install bleeding kits throughout the hospital, beginning with sites immediately adjacent to cardiac defibrillators, as well as other public areas.
Find a "Stop the Bleed" class here or by calling the New Jersey Trauma Center at  973-972-4900.