Easing the Road for First-Generation, Low-Income and Underprivileged Students
James H. Whitney III heads the Office of Student Access and Educational Equity at Rutgers which helps students in danger of falling through society's cracks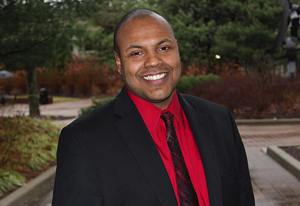 'My coming to the EOF program that summer of 1998 was life-changing. I found other people like me, people in similar circumstances whom I could relate to.'

 

– James H. Whitney
James H. Whitney III is the first to admit he could easily have wound up behind bars.
But instead of serving time, he is serving as senior director of a new unit at Rutgers geared to ensuring that future James Whitneys don't fall through society's cracks.
"I recognize myself in every one of the students I deal with now," says Whitney, who heads the Office of Student Access and Educational Equity - SAEE - representing the merger of seven undergraduate and graduate programs that reach out to first-generation, low-income and under-represented students from high school through graduate and professional school.
With advising and mentoring, the programs work collaboratively through a central office to better the odds that the students they serve will make it through to commencement - and beyond.
Whitney credits his success as a two-time Rutgers graduate to a series of caring adults who believed in him. They started with his principal at Ocean Township High School, who put him in touch with what was then simply called EOF - the Educational Opportunity Fund.
"My coming to the EOF program that summer of 1998 was life-changing," says Whitney. "I found other people like me, people in similar circumstances whom I could relate to."
He would go on to receive his bachelor of science degree in administration of justice and Africana studies from Rutgers in 2002, and his masters of social work in 2005. Now he is working toward a doctorate from the Graduate School of Education.
It was anything but a straight path. "I had to grow up really, really fast," he recalls, a process that started when his sister moved him from their comfortable house in Neptune to an apartment after their mother died, working three jobs to pay the rent.
They lived paycheck to paycheck. Whitney helped out with a job mopping floors at age 13. But despite the siblings' best efforts, they were evicted four times before he finished high school.
With virtually no adult to serve as a role model - "My dad wasn't around much; his addiction to alcohol and drugs limited his love and support for me and my sister," he says - Whitney fell in with the wrong crowd.
It wasn't all bleak, he's quick to point out. His sister and extended family members were a source of support that allowed him to keep focused on the future.
The turning point, Whitney says now, was the call from Wally Torian, then director of the EOF program, telling him he'd been accepted at Rutgers, where people were waiting to help him out.
"They gave me infrastructure and support," Whitney says. "They embraced me into their lives."
For more than a decade, Whitney has been doing the same for students who pass through the various SAEE programs now incorporated under one roof in Lucy Stone Hall on the Livingston Campus.
Last spring saw the merger of Upward Bound and Upward Bound Math-Science; the EOF programs of the School of Arts and Sciences and the School of Environmental and Biological Sciences; the Student Support Services Program; the Ronald E. McNair Program; and the Louis Stokes Alliance for Minority Participation.
Whitney says the directors of these programs recognized a need to coordinate efforts, streamline processes and communicate better with students.
Solangel Troncoso, 21, a senior in the School of Arts and Sciences (SAS) majoring in psychology and women's and gender studies, is the first in her family to attend college in the United States
"I think it's a great thing to have all of these programs under one umbrella," the Passaic native says of the restructuring. "All of us benefit from the interaction the connections made within the staff. They know each other and know who to send you to for the answer to a specific question."
Troncoso's mother, Carmen, emigrated from the Dominican Republic at 26, one year before Solangel was born. Although she earned a law degree back home, she worked in a factory in her adopted country for more than a decade before becoming a school-bus aide in a school for special-needs children.
Troncoso's father, Angel, whom she calls her biggest source of encouragement, died last December.
Her SAEE advisors were a great source of solace then and now, the McNair Scholar says, offering academic advice and a shoulder to lean on when grief threatened to overwhelm her.
The McNair program helps prepare rising juniors and seniors for the rigors of PhD studies by arming them with research, presentation and professional life skills. Troncoso says her participation in the initiative fortified her interest in conducting research and gave her the tools she needed.
For the past two years, she has been working in the Stigma, Health and Close Relationships Laboratory in the Department of Psychology. For her honors thesis, she is examining how perceptions of gender affect women's motivation to succeed.
Troncoso is no stranger to motivation: She is applying to doctoral programs in social psychology with the goal of becoming a psychology professor.