Documentary Produced by Rutgers Employee and Student Mentor Wins Emmy Award
The James Baldwin film "I Am Not Your Negro" received Outstanding Arts and Culture Documentary honor at 40th News & Documentary Emmy Awards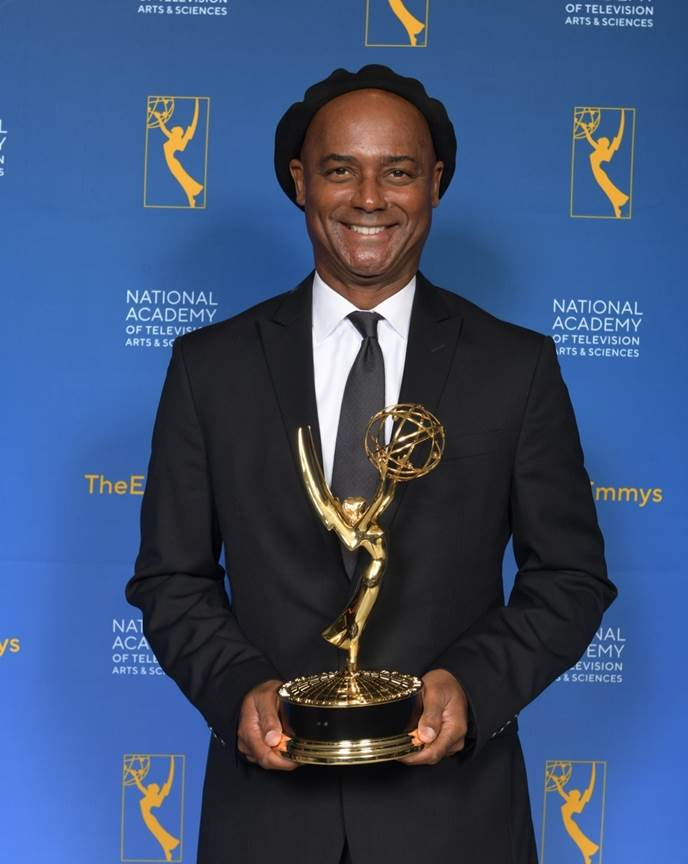 Hébert Peck has racked up quite a few prestigious accolades and awards for the James Baldwin documentary he helped produce, including the equivalent of the French and British Academy Awards.
Now he can add an Emmy to that list.
I Am Not Your Negro, which premiered on PBS last year, took home the Outstanding Arts and Culture Documentary during the 40th News & Documentary Emmy Awards ceremony Sept. 24 at Alice Tully Hall in New York City.
The honor, he said, is thrilling.
"The Emmys are big. There is history behind that award. It is fantastic for us," said Peck, assistant director of broadcast operations at the university's RU-tv Network. "Ultimately it's an honor that the academy recognized us. It gives additional exposure to the film and James Baldwin, which was always behind why we created this film."
Peck worked on the film with fellow producers Rémi Grellety and brother Raoul Peck, who is also the director. The project, which took a decade to complete, took home both a British Academy Film Award and a César Award in 2018 and has enjoyed critical acclaim since it premiered at the Toronto film festival in September 2016.  
On the surface, it sounds like a hard sell: A 93-minute documentary mining a 30-page book proposal about the lives of slain civil rights leaders Medgar Evers, Malcolm X and Martin Luther King Jr. that was never finished by a novelist and playwright who died 30 years ago. But the amalgamation of Baldwin's words, Samuel L. Jackson's voiceovers and imagery from the civil-rights era juxtaposed with footage from Ferguson and the Black Lives Matter movement has been lauded by even the most persnickety movie critics, including The New York Times' A.O. Scott, who called it "life-altering."
"One of the things people say after seeing the film is that this is incredibly relevant today, yet these are words Baldwin wrote 40 or 50 years ago," said Peck. "This means two things: One is that Baldwin is a very accurate observer of America and one of the most important writers of the 20th century. But also, if you hear Baldwin's words and they still feel powerful, as if he'd written them this morning, it says we have a long way to go as a nation."
Peck – who before working with students at RU-tv was a senior producer with the university's iTV Studio since 2005 – considers the importance of projects he's produced with Rutgers' top researchers and scholars to be on par with the commercial films he's made during his off hours. It is Peck's hope that any increased attention stemming from this film will benefit his students and lead to more Rutgers projects with the potential to affect social change.
"What I find myself doing a lot is translating scholarship into accessible language. I just love doing that, and that's why Rutgers means a lot to me," he said. "These are people dedicating their lives to change the world through their research, to help us understand our world so we can make it better, so I find it important to get that work into the public sphere."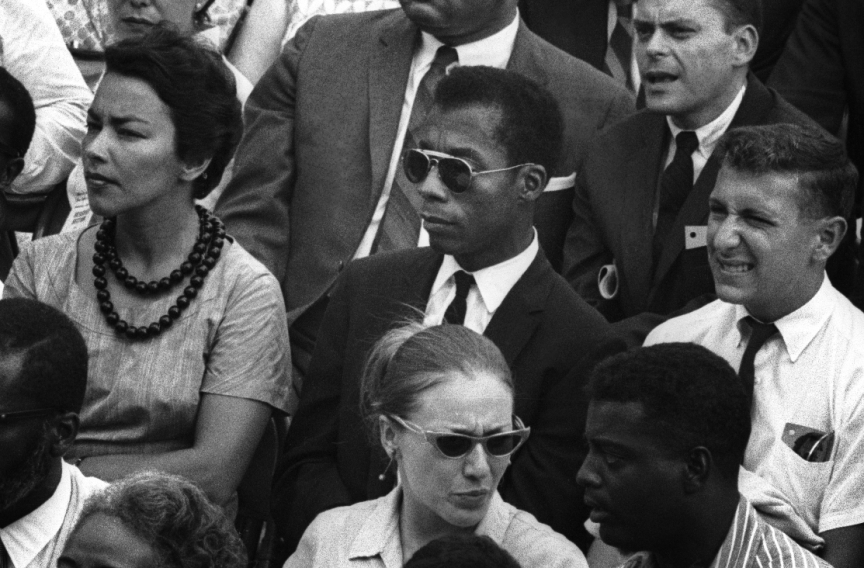 To that end, Peck and his fellow producers have explored ways to distribute I Am Not Your Negro as an educational tool. They received a grant from the Ford Foundation and partnered with the National Book Foundation, Presenter of the National Book Awards to create an outreach campaign to make James Baldwin's work widely available in U.S schools, universities and to become part of national curriculum. 
Peck's role as a producer varies from project to project.For I Am Not Your Negro it meant a lot of shepherding from preproduction to postproduction and everything in between – including communicating with potential partners, scheduling crews to shoot at remote locations, and hunting down the rights to archival material or helping with creative decisions and marketing.
"Raoul is the final decision maker, but we are there to make sure he can execute his vision," said Peck. "You need to deliver what is needed at all times. You need to anticipate and find solutions. At the end of the day, you have to be competent. Although Raoul is my brother, our family doesn't go for nepotism."
All insight and contacts Peck gains in his roles outside the university he cycles back to his students – both those he instructs as an adjunct with iTV Studio and as a mentor at the student-run RU-tv, where he has worked since 2014.
Peck's chief advice to up-and-comers: take advantage of every opportunity available at Rutgers to hone your craft.
"Passion will get you so far. but you have to learn the skills," he said. "Everything is mostly free or affordable at the university, but once you are out, you have to pay for everything. So spend the time here creating and experimenting. Learn to come back from setbacks and learn to do it as fast as possible."