Debilitating Illness Doesn't Stop Rutgers New Jersey Medical School Graduate
Jill Konowich was in the middle of working on her M.D./Ph.D at Rutgers New Jersey Medical School (NJMS) when extreme pain started shooting up her right leg. She had been training for a half marathon with her fiancé, and suddenly, she couldn't even walk.
Within two weeks of getting married on September 27, 2013, Konowich was in a wheelchair.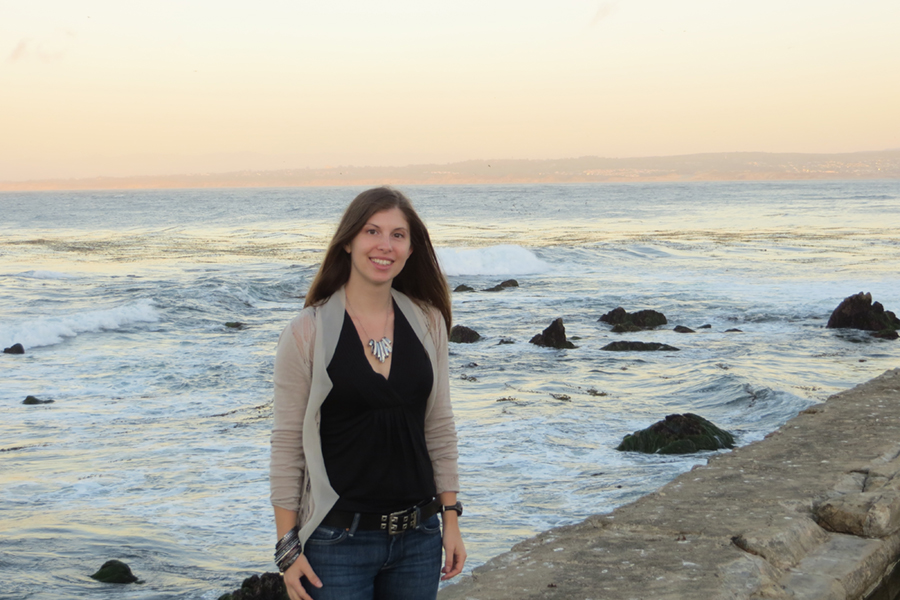 Jill Konowich believes that fighting two diseases has deepened her empathy for patients under her care. (Photo: courtesy of Jill Konowich)
---
It would take six months before she received a diagnosis for her condition – complex regional pain syndrome (CRPS), an autoimmune disease that causes such excruciating pain that it is ranked worse than childbirth, amputation and cancer.
"It just started taking over my body very quickly," says Konowich, who took a yearlong medical leave of absence from school. "I couldn't shower. I couldn't move."
Despite the debilitating pain, Konowich never gave up on her medical career. "I had moments where I tried to imagine what else I could do with my life, but I really didn't want to do anything else," she says. "This is what I've always wanted to do."
After seeing Daniel Richman at the Hospital for Special Surgery in New York and starting infusion treatment, Konowich was able to defend her dissertation and return to medical school. Yet because she was still struggling, Richman, a 1986 NJMS graduate, suspected something else was wrong and sent her to a neurologist.
In 2016, she was diagnosed with Lyme disease and chronic inflammatory demyelinating polyneuropathy (CIDP), a neurological disorder characterized by progressive weakness and impaired sensory function in the legs and arms.
Although she continued to battle painful health conditions that forced her to take a second medical leave for treatment, Konowich persisted in finishing her degree – 12 years after she began. On May 20, she received her diploma at the Rutgers New Jersey Medical School convocation at the New Jersey Performing Arts Center in Newark.
"She's a very determined person and very hardworking, and that helped her overcome her illness," says Padmini Salgame, a professor in the Center of Emerging Pathogens at the medical school and Konowich's doctoral thesis advisor. "Anybody else in her place would have given up, but that's not Jill."
"If you've never experienced illness firsthand, then it's difficult to fully comprehend what it's like to be in a patient's shoes." – Jill Konowich
What made the fight against her two illnesses so difficult was that Konowich had been a star athlete. She was captain of the tennis team for four years at the Massachusetts Institute of Technology, where she majored in biology and literature. And she was also a marathon runner training to compete in an Iron Man triathlon before becoming ill.
Yet her dream since growing up in Little Silver, N.J., was to become a doctor. Beyond practicing medicine, Konowich also wanted to understand the science underlying disease, which led her to embark on an M.D./Ph.D program.
While working on her dissertation, Konowich coauthored two papers with Salgame and other graduate students on the role of the protein known as the toll-like receptor 2 in regulating immunity to tuberculosis. The research required spending long hours in the lab, a schedule Konowich tried to maintain while battling her illnesses.
After her diagnosis, however, Konowich realized that she needed to take better care of herself and rely on mindfulness to reduce her pain and pace herself with her work.
"It's really hard to do as a doctor, but it's really important for people with autoimmune diseases," she says. "You have to be smart and take care of yourself so you can take care of other people."
Beyond the support of her husband, Konowich credits her father, Joseph Konowich, a retired associate dean for Rutgers School of Dental Medicine, with helping her complete her degree.
"He was a big part of what got me through the illness," she says. "He would drive me to work, wheel me in my wheelchair, and pick me up. A lot of what I got done was my motivation – plus I was lucky to have a strong support system."
Next fall, Konowich will start an internship in internal medicine at Overlook Medical Center in Summit. Then she will begin an advanced four-year residency in radiation oncology at Rutgers Robert Wood Johnson Medical School.
Konowich believes that fighting two diseases has given her a unique outlook in treating patients and has profoundly deepened her empathy for patients under her care.
"What it really changed was my perspective and approach about how to delicately deliver bad news, how to thoughtfully answer questions from patients who are getting these diagnoses, and how a diagnosis can uproot a patient's world," she says. "If you've never experienced illness firsthand, then it's difficult to fully comprehend what it's like to be in a patient's shoes."