Mason Gross's Barbara Angeline finds unexpected benefits of teaching Jazz Dance class virtually
Dancers are known for their flexibility and creativity. 
Those are the characteristics Barbara Angeline, an assistant professor for both the Dance Department and Rutgers Arts Online program, relied on as she discovered there could be benefits to teaching her class virtually after the pandemic made it impossible to teach in person.
For instance, instead of rehearsing in a studio with mirrors, students are unable to see themselves as they perform class online, which enhances their mind-body connection. And unlike a large studio, where dancers must navigate space and attention, Angeline says Zoom provides equitable space for each student.
"There's no front line and back line of the dance class in Zoom. Everyone is there. No one has more or less space than someone else," she said of the platform. "Because of that, there is no hiding either."
Building on lessons from last semester, Angeline is working to adapt her virtual Jazz Dance course at Mason Gross School of the Arts to rival the excitement and intensity of the in-person experience.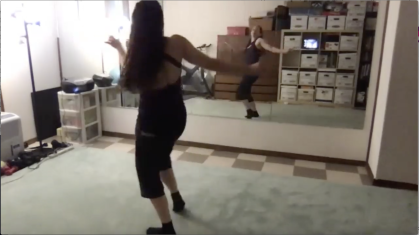 "This fall I am thinking even more about student joy and equity. What feels great about dance and dance training? How much of that can I still give to my dancers?" said Angeline, who this summer shared all she learned this spring semester during several "Pedagogy and Mechanics for Online Dance Training" workshops for MGSA dance faculty, Dance NJ and nationally for the National Dance Education Organization. "How can I retool my class so that dancers can dance big in small spaces? In how many ways can I consider equity when planning my class? The African American origins of jazz dance and jazz dance as a responsive, social, expressive form offer many opportunities to address current concerns about diversity, equity, inclusion and access."
After in-person instruction ended, Angeline learned early on that maintaining expectations – following a synchronous schedule, dancing in a set space and sticking to the class dress code – helped foster a continued sense of individualized studio training for her students, mostly BFA dance majors preparing for careers in performance or choreography. She is taking that same approach this fall.
Ever conscious of students' varying constraints at home, Angeline continues to focus on accessibility when choreographing. All the movements in the end-of-semester recorded dance production must work whether being performed in studio 111 of Nicholas Music Center or in cramped bedrooms, attics, garages, and basements – just as they did in her previous class's Zoom performance to The Temptations' "I Can't Get Next To You."
"The dance studio, for many of us, is an escape. You get to shut the door and engage in this very communal and exciting experience," said Angeline. "When you're at home, you're surrounded by all your stuff and your family, so it doesn't feel the same. This fall I'm working with students on how to create a class environment bubble that they can dance in."
For Angeline's former student, Ariana Speight, 21, who graduated in May with a BFA in dance and minor in Africana studies, that bubble was in the attic of her off-campus New Brunswick apartment, atop scraps of Marley dance floor, made especially for dancing, that she salvaged from the studio.
"There was no furniture to dodge, but I'm dealing with that now, and it is super frustrating," said Speight, who lives in Weehawken. "But you have to reframe it. How much space do I have and how can I work with what's in the room? It can be a limiting factor, but it can also offer a new perspective on the movement."
That moment-to-moment spatial awareness students develop dancing in cramped quarters is another one of the unexpected benefits of teaching remotely Angeline and her students discovered this spring and will further explore this fall. 
Meeting via Zoom also allows students to break off into partner and group sessions through the pinning video feature. There they work on choreography that creates the illusion they are dancing side by side when they are really scattered across the nation.
"Last semester, I gave each student a partner and said, 'Now click this button on Zoom and you only see your partner, but I see everyone,'" said Angeline, describing the moment she first introduced pinning video to her class. "Everyone's face lit up and they waved and smiled. Giving those moments of excitement and connection has more weight now than it did before."
Despite the obstacles – both physical and technological – that can pop up when dancing virtually, Angeline is confident her students will meet this unique challenge head on, just as her previous class did.
"This spring a student couldn't get into our Zoom class, so she FaceTimed another student in the class. That student propped up her phone against a water bottle in front of her computer so she wouldn't miss the class," Angeline said. "Was I able to see that dancer well enough to offer individual feedback to her that day? No. But she also didn't disappear into her bedroom bummed because she missed dance class."
"What is special and unique about Barbara is the way she teaches, how considerate she is and how much effort she puts into making sure everyone feels seen and supported in her classes," said Speight.
The experience Speight gained in Angeline's class is proving useful as she embarks on her career as a dancer. Learning to take classes and present material online, choreograph for Zoom and train in tiny spaces prepared her for today's new dance reality.

"That end-of-semester video was technically my first film project. Since then I've been doing quite a few with other dancers and students, just creating and editing video," said Speight. "It's a really cool experience. We are able to bring people together from miles away."