COVID-19 Pushes Social Work Online, Creating New Innovations
Dean of the Rutgers School of Social Work shares insights into how the coronavirus pandemic has changed the industry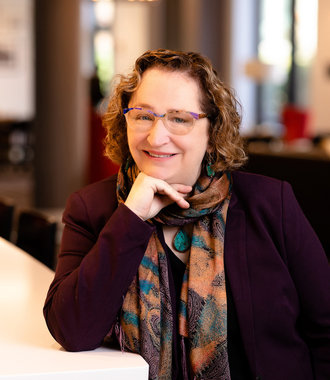 COVID-19 has forced workers to rethink how and where they do their jobs, with many social workers – who have remained on the front lines since the beginning of the pandemic – moving their services to virtual platforms.
Rutgers School of Social Work Dean and Distinguished Professor Cathryn C. Potter discusses how COVID-19 has pushed social work online and the innovations that have evolved during these increasingly challenging times.
How has the field of social work changed in response to COVID-19?
It is important to realize that social workers work in many types of professional jobs and settings from individual, group, family and couples clinical counseling to managing large government and non-profit agencies. Social workers provide the majority of the mental health and addictions services in the U.S. We work in health care settings, educational institutions at all levels, criminal and juvenile justice, child welfare and child support settings, and community-based organizations of all types. Social workers are indeed on the front lines wherever there are vulnerable populations and communities with whom we partner to improve lives. 
COVID-19 has pushed many of these service settings into online, or partially online, interactions with clients and communities. It is fair to say that social workers believe that face-to-face human interactions are the "gold standard" for building the human relationships that are essential for support and change – whether that change is about individual functioning, or effective community organizing or organizational success. What COVID has reminded us, however, is that human beings are wired to make connections and relationships, and online/virtual tools, such as video conferencing, telephone contact, chat and text, will be used to advance relationships. Not only will humans use them, we will use them with great success. These interactions and relationships are not inferior to those we build in person.
Are there any positives that have come from moving social work online?
There are several positive outcomes from online engagement in social work. Social work clinicians report that they are very busy. People are seeking support during this stressful time. They are perhaps more likely to engage initially, and they stay engaged more readily, when technology-aided interactions are built to be highly accessible. You don't have to drive to see your social worker or get on public transit; you can find an easy way to be present. The same is true in organizations. We are all learning how to work together in virtual groups very effectively. This ease of access is likely to stay as a feature of social work practice.
What are some of the challenges with moving social work online?
The challenges come in settings, such as homeless outreach settings, community organizing for environmental justice or child abuse and domestic violence investigations, where the work simply must be done "on the ground." It's also challenging working with those who have limited technology access. In all types of social work settings, we are seeing the digital divide. Poorer students can't engage in online learning or online social work support if they don't have computer, smart phone, or Wi-Fi access. In many of these challenging situations, social workers are very much "on the ground" in communities, taking precautions but also taking risks. It is also important to call out the ways in which this pandemic is striking a harder blow to minority populations, especially Black, Native American and Hispanic communities. These communities are at higher risk for many negative social outcomes and COVID has made the consequences of these disparities clear. Social workers work for social justice. We are called to be in this pandemic in these communities with a focus on both intervention and on organizing in support of fairer social and health outcomes.
What can be done to alleviate these issues?
We hear a lot about our medical personnel during the pandemic; truly they are heroes. Beside them are a host of allied health professionals, like social workers, who are also engaging in work in risky and vulnerable places. It is vitally important that all those fighting COVID and its consequences are provided the protections they need, in terms of PPE, of course, but also in terms of effective public health policy and community support.
For those whom we serve whose access to technology is exacerbating the effects of the pandemic, social workers stand for social policies and philanthropic investment that close the digital divide.
What are your thoughts on the future of social work in an increasingly digital era?
The way forward is not the way back. We are not returning to an old normal; we are building a new normal. That future will contain increased online and digital engagement for social work. Our job is to keep and continue to develop those technology-rich aspects that enhance our work, and retain the things from older times that are also essential for success. This technology-integration work has always been an imperative for the profession. The pandemic has pushed us along that continuum quickly and that is a good thing. We must also advocate for all those we serve to have the opportunities needed to succeed in a post-pandemic, technology-rich world.