The new chair of the Department of Psychiatry at New Jersey Medical School is training the next generation of psychiatrists to reach patients with little motivation to change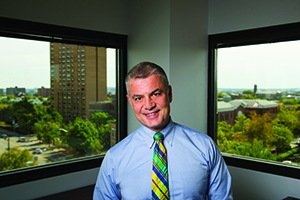 'Addiction is a little like cancer. Both are chronic relapsing illnesses. Some people get the monkey off their backs and never look back. But many have relapses, and we need to help them.'

 

– 

Petros Levounis, chair of psychiatry at the New Jersey Medical School
Piraeus, Greece (a port in Athens). Birthplace of Petros Levounis; city where his father, an internist and asthma specialist, and mother, a nurse, raised a family and practiced together in a home office for five decades. Site where their young son was introduced to and gradually became enamored of the world of medicine, particularly psychiatry.
Stanford, Calif. Home to Stanford University, where Levounis earned a bachelor's degree in chemistry and a master's in biophysics; location of Stanford University School of Medicine, where he completed two years of his medical studies, spending the summer in between in Oxford, England, researching how social class impacts patient-physician relationship. Place where his own personal journey dictated that he take a break from medical school during those dark years of the AIDS epidemic in San Francisco in the late '80s and early '90s. 
Philadelphia. Home to the Medical College of Pennsylvania, where he returned to school with newfound self-awareness, earning an MD and finding his career-direction that will eventually lead to the position of chair of psychiatry at Rutgers New Jersey Medical School.
New York, N.Y. Final leg in his educational odyssey, where Levounis trained in Columbia University's psychiatry residency program, winning the National Institute of Mental Health Outstanding Resident Award in 1997; city where he discovered that the specialty of addiction psychiatry combined his "affection for molecules, chemistry, compounds with his fascination for the social implications of health policy and delivery."
Early on in his residency, after a stint working with his mentor at a methadone clinic in Long Island and a weeklong stay playing "patient" at the Betty Ford Clinic, the young physician grasped that his patients exhibited tremendous devastation, but they also had an incredible potential for recovery. "This very much influenced my choosing to specialize in addiction psychiatry," he says. Levounis completed a fellowship in addiction psychiatry at New York University and earned the American Psychiatric Association/Center for Mental Health Services Minority Fellowship supporting his research into HIV risk factors in homeless men suffering from mental illness and substance abuse disorders.
Levounis's research into the relationship between HIV and addiction proved so interesting to him that he remained at NYU for another two years, continuing this project and simultaneously discovering a talent for administrative work in the academic arena. In 2002, he accepted a position as director of the Addiction Institute of New York and chief of addiction psychiatry at St. Luke's and Roosevelt hospitals. 
Administrative duties and teaching joined research and patient care as his priorities. Combining the science of addiction – "how the brain networks get hijacked and end up controlling a person's life" – with the human element – "the incredible gratification when somebody does well" – is immensely satisfying, he says.
"The patients at the institute have the more severe forms of addiction," he states. "What a formidable enemy. Addiction is a little like cancer. Both are chronic relapsing illnesses. Some people get the monkey off their backs and never look back. But many have relapses, and we need to help them."
"Help," as defined by Levounis, turned out to include fighting the stigma attached to addiction, which he says is widespread and deeply rooted. "There is a serious stigma even among physicians," he contends.
Fighting Stigma
He also discovered that the stigma of addiction, coupled with that of being gay, could cause health issues to persist untended. A crystal methamphetamine epidemic among gay men in New York City in the early 2000s was ignored, according to Levounis. "In rural parts of the U.S., in the south and northwest, the epidemic affected gays and straights equally and got some attention," he says. "But in Los Angeles and New York, it was only seen among gay men who used it as a party drug." The drug was cited as responsible for a spike in HIV cases, resulting from risky sexual behavior.
Levounis fought to gain recognition for the health impact of the drug and funding to establish prevention and treatment centers. His efforts to raise awareness about the drug's dangers helped drive down the number of users.
He had equal success in helping to change the lives of another often-overlooked group. "Siblings of alcoholics often love the person who suffers from the illness, but don't know how to help," he says. "This is a tricky business. Tough love doesn't work." 
He co-authored a book Sober Siblings: How to Help Your Alcoholic Brother or Sister – and Not Lose Yourself, which earned favorable reviews. "Siblings are better at helping than parents or children, who may have suffered more directly. Siblings generally have compassion, but they can get enough distance to see the illness with a cooler eye," he explains.
Concern about the "prescription opioid epidemic that has devastated this country over the last 10 years" led him to another cause. Buprenorphine is not a medication most of us recognize, but the psychiatrist says it should be. A partial agonist to the opioid receptor, it works like methadone, Levounis explains, "but can easily be administered in a physician's office, is virtually impossible to overdose on and is an overall good tool in treating addiction." Since 2003, he has been one of the country's experts – instructing other physicians, collaborating in the development of a web course and becoming one of the chief authorities on the drug's medical use. In 2011, he co-authored a handbook for physicians on how to use the drug in their practices.
Levounis leads a busy life. Author of six published books and another in the making, hands-on clinician, administrator, researcher and spokesperson, he nevertheless puts teaching up-and-coming addiction specialists at the top of his list. The addiction medicine fellowship that he launched in 2010–2011 at the Addiction Institute of New York ranks high among his points of pride. "There are only a handful of programs like this in the country that train doctors from all medical specialties in addiction medicine," he says.
"We teach basic psychiatric concepts and techniques to non-psychiatrists, also the basics of addiction medicine, including how to engage patients who may have little internal motivation to change anything in their lives," he tells. The Handbook of Motivation and Change, published in 2010, found an enthusiastic audience among this physician group.
LGBT Casebook
In April 2012, Levounis brought his diverse professional interests closer together. The LGBT Casebook is "unique to this community, not an addiction book but one on general psychiatry," he says. An Amazon review states: "Coming out, or facing internal and societal conflicts related to sexuality, involves a great deal of anxiety that can permeate other aspects of an LGBT individual's life… The book helps professionals address the mental health needs of LGBT people in the context of problems these individuals face in their everyday lives…"
Levounis met husband Lukas Hassel in New York in 2004, and 10 years later, they are a happily married "international" couple with a nephew studying at Newark's NJIT. Hassel was raised in Denmark and is an actor and filmmaker. Levounis has even had a couple of minor roles in his films.
 "And speaking of movies," he continues, "we will soon be making movies at New Jersey Medical School." The psychiatrist is working on a new book on the behavioral addictions – including food, exercise, shopping, gambling, work, video games, internet – to be published by the American Psychiatric Association. NJMS faculty members will write chapters and students will act in vignettes of the disorders to be taped and posted on the association's website.
"Mentoring the next generation will be my primary focus here," says Levounis, whose many ideas include initiatives at NJMS for all generations. Programs for future psychiatrists, for NJMS volunteer faculty and retirees, for all health care providers wanting to learn about treating addictions take shape as he thinks out loud about the future.
---
A version of this article originally appeared in Pulse, a magazine of New Jersey Medical School, winter 2014.