Black Lives Matter Protests Spur Creation of Institute for the Study of Global Racial Justice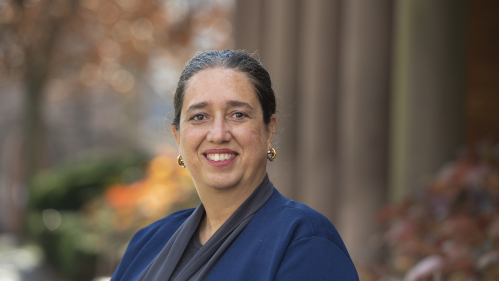 A $15 million Andrew W. Mellon Foundation grant funds work led by executive director Michelle Stephens  
Michelle Stephens believes that society needs to redefine what it means to be human to finally begin to dismantle racism and enact policies that correct long-standing inequities.
That is the challenge she is ready to take on as the founding executive director of the new Institute for the Study of Global Racial Justice at Rutgers.
"It all comes back to how we are thinking about ourselves and others. The need to redefine the concept of being human and move toward global racial justice begins by understanding and addressing the ways we resist recognizing people who live under different circumstances than our own," said Stephens, a professor of English and Latino and Caribbean studies in the School of Arts and Sciences at Rutgers University-New Brunswick. "The problems we are facing today from impoverishment to COVID-19 require a different way of thinking."
Stephens is steering the work of the new institute, funded through a $15 million five-year grant from The Andrew W. Mellon Foundation, that will bring together scholars from across the university to use humanistic theories, methods and approaches to study global issues of race and social justice.
It will be a space, she said, where faculty can work to evaluate the past in order to address the embedded issues of the present and determine how we can create a more racially just future.
"The hope here is that by drawing upon expertise across all fields of the humanities, from law to language, from philosophy to history and gender studies, the institute will stand at the forefront in helping to inform policies to confront and address global inequity, injustice, racism and intolerance," said Stephens, the former dean of humanities at Rutgers-New Brunswick. "It will also be accomplished through artistic and cultural endeavors that encourage imaginative solutions for influencing public opinion and inspiring cultural transformations."
Stephens, who migrated to the United States at 18 from Jamaica, West Indies, to attend college, received her doctoral degree in American studies from Yale University – where she first met Rutgers President Jonathan Holloway. At the time he was a few years ahead of her earning his doctoral degree in history.
The author of several books on race and how it is culturally portrayed and a licensed psychoanalyst, Stephens teaches courses in African American, American, Caribbean and Black Diaspora literature and culture.
She has been at Rutgers since 2011. During her tenure as dean of humanities, Stephens saw that there were a number of scholars researching and working in global Black thought – studying the racism and discrimination that dehumanize Black and brown peoples around the world, depriving them of their dignity, security and even their lives. But they were doing the work on their own in their individual silos.
Then came the killing of George Floyd in May, followed by the Black Lives Matter protests that continued into the fall in the United States and throughout the world. The events highlighted the need to bring together the work of these scholars to address the systemic issues that led to this moment of racial reckoning, Stephens said.
While Stephens had lived through the killings of Black men and women by police before, this past summer she was forced to view the racially motivated violence through the eyes of her 18-year-old daughter, a first-year student at Rutgers University-Newark.
Stephens worried about how her daughter, who took up the BLM mantel and participated in the protests, would feel – proud, ashamed or scared about what it means to be Black, in this place and at this time. Stephens wanted her daughter to feel empowered, not helpless.
"If for no one else, I feel an urgency to show her that thinkers and writers and scholars can also be activists whose values and commitments can do real work in the world in influencing how others think, and what they feel compelled to do, for racial justice," said Stephens, who credits Holloway for making the institute a reality.
Stephens reached out to Holloway when she learned he had information about the Mellon Foundation grant. "I knew there was a wealth of scholars at Rutgers working in the area of racial and social justice, and that similar work was being done by scholars and thought leaders at Camden and Newark," Stephens said. "I wrote a proposal that he really liked and thought that we should move forward."
With seed money in hand, Stephens and a team of Rutgers scholars will begin surveying the work that is being done across all university campuses, and build an infrastructure where scholars can interact with the public on important issues ranging from K-12 education, social justice, policy reform, public health and criminal justice.
The institute and its leadership team – overseen by the university's executive vice president for academic affairs, Prabhas Moghe – will support the recruitment, retention and mentorship of faculty at all Rutgers' campuses and create a diverse and inclusive postdoctoral fellowship program of early career academics in the fields of social and racial justice studies.
While racist ideologies will provide a strong starting point for the new institute, other discriminatory practices based on social class, caste, gender, sexuality, religion, ability and language that occur and lead to segregation and disenfranchisement will also be studied.
 "We will encourage the study of the geographic and historic links between the global and the racial, with the aim of intervening in national and local conversations about racial justice," said Stephens. "This is not simply a 'black-white thing.' Racialist thinking crosses national lines, links with other modes of oppression and injustice, infuses almost all of our social institutions, and most disturbingly, forces us to question the notion of humanity our societies are actually defined by that could authorize such acts of violence and hatred without cause against a human being defined as other."