Inspired by the success of an 8-year-old internet sensation,

Isnard Mir-Merced helped launch Zilla Boxing Club
At the height of the pandemic when families were still confined at home, Rutgers alumnus Isnard Mir-Merced joined with his friends to give children an outlet for their energy and a place to build connections and friendships.
The idea was sparked by the success of his friend, Kijuan Tucker, who is training his 8-year-old daughter Ruby to be a pint-sized champion boxer and began posting clips of their sessions online.
With her surgical strikes and quick flurry of punches, they amassed a large following on social media, that led to requests for training adults and other children. The overwhelming feedback led Tucker of Elizabeth to turn to Mir-Merced, and his friend Richard Duverger, both experienced trainers he worked with before. Together they started working in a park in Rahway in the summer of 2020 as lockdowns lifted to train children safely.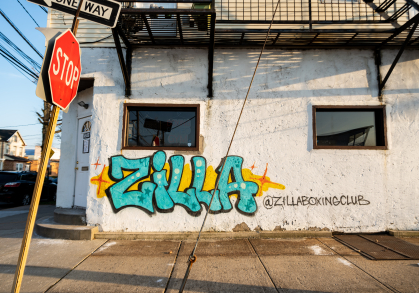 That is how Zilla Boxing Club, which opened its doors in Elizabeth in 2021, got its start.
"With everyone stuck inside and there not being a lot of spaces for kids to get their energy out, we felt like we had to do something to get them motivated again," said Mir-Merced, club cofounder who graduated from Rutgers University-New Brunswick in 2017 with a degree in Latino and Caribbean Studies and Labor Studies.
As the strength and conditioning coach, Mir-Merced begins his afternoon with the younger group, ranging from ages 5-9, completing their workout through relay races, crab walks, jumping jacks and more.
"With the younger kids it's really important to make sure there is still an element of fun to get them to participate and stay engaged," said Mir-Merced.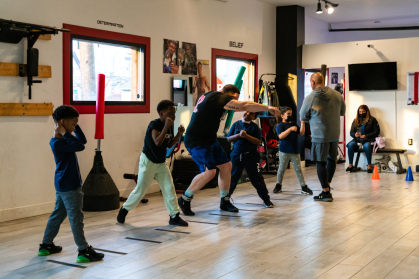 Once the younger kids finish their hour-long session, kids ages 10-14 come in for their training, which involves both strength training in formation and also learning boxing moves and maneuvers, such as blocking, ducking, footwork and sparring. The last class is an adult class, with the participants often being the parents of some of the kids who box at the club. They complete strength and conditioning as well as actual boxing skills.
"A lot of kids have been inside for two years now and we're giving them the opportunity to run around, learn a skill and be able to defend themselves," said Mir-Merced.
In addition to the two youth and one adult classes led by Mir-Merced, there is an elite team Duverger trains for national matches. The team, currently consisting of seven full-time trained kids, spend time perfecting their craft and practicing for competitions. Duverger, who is from Brooklyn, says encouraging kids to build their confidence and showing the results of hard work makes all the difference. Mir-Merced agrees.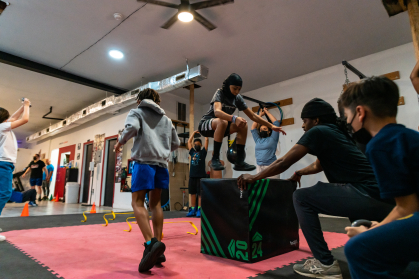 "Every kid that comes through these doors may not end up an elite boxer. Some are here for the physical activity, some are here to really train, some may be using it for physical conditioning for a different sport and some may just be trying to find what they're passionate about. Regardless of what their motivation is, as a coach it's our job to give them self-confidence, strength and something fun to look forward to," said Mir-Merced.
When he is not training young boxers, Mir-Merced works as a student advisor in Rutgers-Newark's Office of Student Life and Leadership, acting as a liaison between student organizations and the local community to increase partnerships on community service projects and host events to bring those communities together.
He leverages the skills he developed as a community liaison, to build support for the club. He actively seeks ways to engage more with the local community, from sponsorships for kids who can't afford to attend classes on their own to looking at partnering with the city of Elizabeth to help get more kids into the program.
The gym recently installed a bigger ring to allow more room for sparring and strategy training. Being located in the heart of a residential community, Zilla has trained many of the children who live within a half-mile radius in addition to those who come from further away, cementing Zilla as a fixture in the local community as a safe space to gather and grow.
"It's been great to see some of the kids make best friends or to see some of the moms doing things on their own find a community of peers that can help look after one another and being the vessel to foster that is just amazing," said Mir-Merced.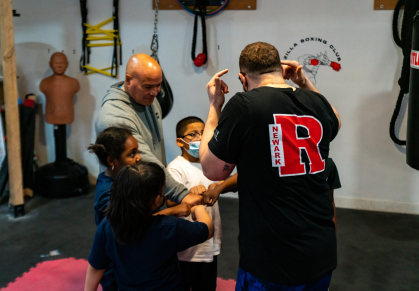 One goal of Zilla Boxing is to have the most youth champions coming out of New Jersey, building on the tradition of boxing in the state that started in Atlantic City. Training more kids to compete nationally like Ruby, Mir-Merced says, is a goal that gets closer and closer each day. But the best part of the job overall? Watching the progression and growth in the kids.
"There are so many different styles of fighters and as a coach, your job is to analyze their strengths and weaknesses and make them better,'' Mir-Merced said. As a lifelong boxing fan, he has watched many of the greats, like Mike Tyson, Evander Holyfield, and Floyd Mayweather, during their prime. Their tactical skills, along with discipline, focus and practice, are the core lessons he wants to pass onto his students for all areas of their lives.
"The feeling of seeing the joy when they perfectly land a combo or a set of steps or just from being able to keep up with the exercises is unmatched. Or even growth outside of the gym. Watching that shy kid open up or having that kid finally pass a test that they thought was too hard. It all makes a difference. That feeling, that passion, that joy. That's why Zilla is here," he said.