Adrienne Eaton Named Dean of Rutgers School of Management and Labor Relations
Nationally renowned labor studies expert has accepted a three-year appointment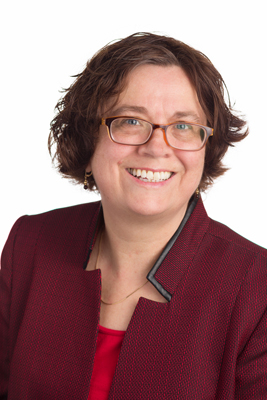 Adrienne Eaton, a nationally renowned labor studies expert with 30 years of research and teaching experience at Rutgers University-New Brunswick, has accepted a three-year appointment as dean of the School of Management and Labor Relations (SMLR). She has served as interim dean since July 2017.
"I am excited to continue leading the school to which I have devoted my career, particularly at this moment when work and employment relations are undergoing a number of important and often problematic transformations," Eaton said.
Eaton researches the complex and changing relationships among managers, workers and unions, especially those involving labor-management partnerships. She also has studied the negotiation, effectiveness and outcome of card check agreements, a method by which workers may organize into a union. In 2016, the National Labor Relations Board cited Eaton's research in an important ruling on whether graduate student employees have the right to unionize.
Her research has appeared in Advances in Industrial and Labor Relations, Industrial and Labor Relations Review, Journal of Workplace Rights, Labor Studies Journal, Perspectives on Work and other leading journals. She coauthored a book on health care giant Kaiser Permanente's historic labor-management partnership, as well as several research articles on the topic.
Last month, Eaton and SMLR distinguished professor Susan Schurman appeared on The Brian Lehrer Show on WNYC Radio in New York to discuss Informal Workers and Collective Action: A Global Perspective, a book they coedited with Harvard's Martha Chen.
"Adrienne Eaton and I have been colleagues for many years," said Barbara Lee, senior vice president for academic affairs at Rutgers University and distinguished professor of human resource management at SMLR. "We have worked together on a number of issues facing the school, and it has been a pleasure to do so. I am confident that the school will thrive under her leadership."
A native of Saratoga Springs, N.Y., Eaton received a Ph.D. in industrial relations from the University of Wisconsin. She joined the Rutgers faculty as an assistant professor in 1987 and received promotions to associate professor in 1994 and professor in 2001.
She has held numerous leadership roles at SMLR over the last three decades, including associate dean for academic affairs and chair of the Department of Labor Studies and Employment Relations. She continues as codirector of the Center for Work and Health.
The Labor and Employment Relations Association named Eaton a 2017 LERA Fellow in recognition of her research contributions to the field of industrial relations. She served as editor for LERA from 2002 to 2009, and she continues as a member of the editorial boards for Labor Studies Journal and the Journal of Workplace Rights.
Eaton was a member of the New Jersey Public Employment Relations Commission from January 2010 to June 2011. She is a past president of the Rutgers AAUP-AFT, the union of faculty and graduate student employees.
Francine Conway, dean of the Graduate School of Applied and Professional Psychology, chaired the SMLR dean search committee.