Greg Schiano returns to be the head coach of the Scarlet Knights football team.
"Pandemonium in Piscataway!" Perennial bowl appearances. Exultant sold-out crowds. Rutgers fans have missed the hallowed days of Scarlet Knights football. Greg Schiano has, too. Now, he's back as the head coach of the team, which he led from 2000–2011 to football legitimacy. "It's been a nine-year journey to bring me back to where I feel I belong," he says. "It wasn't always easy, but it was worth it." After he left Rutgers, his odyssey took him to Florida to coach the NFL's Tampa Bay Buccaneers, to Ohio to be an assistant coach at The Ohio State University, and to Massachusetts where he was slated to be the defensive coordinator of the NFL's New England Patriots. All the while, Schiano, a native of Wyckoff, New Jersey, who played football at Ramapo High School, missed Rutgers. But, he says, he accrued wisdom born of a few hard knocks, learned even more about coaching football, and realized, when approached last fall to fill the coaching vacancy, that he loved the game more than ever.                                                  
RUTGERS MAGAZINE: When you were introduced as the head coach of the Rutgers football team in December, you didn't have much time to prepare for the upcoming football season before the COVID-19 crisis hit. How has that affected your plans?
GREG SCHIANO: We should be up to spring practice number 10 or 12 by now. We have had zero. When you have a new team, that first implementation of scheme and technique is a big building block. I have been isolated from my coaches; we've been Skyping a lot. We don't have a choice about that. But we do have a choice in how we respond; that thinking is one of the tenets of our program. "How can we thrive in this time and not just survive?" We try to  be creative with that.
RM: Did you miss Rutgers while you were away?
GS: I always followed the team and rooted for Rutgers. I still vividly  remember the day that I got the phone call informing me that Rutgers had gotten into the Big Ten. That news was tough to stomach. I put on a happy face, but, deep down, there was a lot of regret: "How did I end up in this situation?" But, as life would teach me, you don't run from something; you run to it. And I had run from something. Taking that job in Tampa Bay is just about the only thing in my life that I didn't spend a lot of time preparing for.
RM: How has the experience in Tampa Bay better prepared you for your second tour at Rutgers?
GS: Whenever you are pushed out of your comfort zone, you learn a lot about yourself, and I did. The experience also forced me to think really hard about how to approach certain players and certain situations. I had been an assistant coach in the NFL in the early 1990s. But as the head coach, I was more involved in the business end of the team, so I am better equipped to help college athletes pursue their dreams of pro football, if that is their wish. 
RM: When you heard about the coaching vacancy at Rutgers, what were your thoughts?
GS: It had been eight months since I had stepped out of coaching, after 30 years, to spend more time with my wife and four children. I wasn't sure I wanted to go back to coaching. But the more I thought about the Rutgers job, the more I felt energized. I did want to do it again. It's been a nine-year journey to bring me back to where I feel I belong. It wasn't always easy, but it was worth it.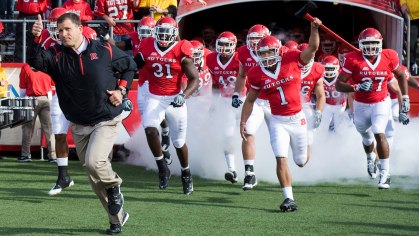 RM: What's changed at Rutgers since you were last here?
GS: There will be more support and resources for the football program. During a visit before I accepted the job, I was shocked by all the changes at Rutgers University–New Brunswick. The improvements are outstanding. We spend a lot of time with our recruits on campus, showing them how nice it is. It's a strength now.
RM: Will there be any changes in your approach to coaching?
GS: I love the Xs and Os. I love the techniques. And I love coaching the players in those things. But some of the things that I will bring to the job reflect philosophical shifts. Some of the resources and support afforded to me this time around will allow me to be more involved in the personal lives of the players, not just the athletic life. We always had great controls in place before, whether academically or disciplinary. But I am talking about getting into the weeds of their lives so that they can grow and become better men in the three, four, or five years that we have them. This opportunity really excites me.
RM: How will you measure progress?
GS: Getting back to being a regular bowl participant will be a start. With the hard work that we will be putting in, the fans and program deserve it. Next is competing for and winning the championship of the Big Ten, which is, I believe, the best conference in America. And then, ultimately, the goal is to win a national championship. We got to No. 7 nationally during my first go-round, so we need to work each day to get back there and exceed that. 
RM: Recruiting is the coin of success in college football, and you had a reputation for being good at it.
GS: We placed a great deal of emphasis on recruiting during my first 11 years as head coach. I was one of the hardest working coaches in recruiting, I thought. Then, while an assistant coach on the football team at The Ohio State University, I was impressed by the level of importance that head coach Urban Meyer brought to recruiting. It was unparalleled by anyone in college football. So, there are things that I can take from my time there. 
RM: There is the adage that "You can't go home again." Did you ever wonder whether returning would be the right move?
GS: Some people in my business would say to me, "Why go back to Rutgers?" My question to them was, "Why not?" Everything that a coach needs to build a successful program is here at Rutgers and in New Jersey: a topflight research institution; a large population of people, fans, and alumni; fertile recruiting grounds; and institutional commitment. So, we just need to recruit the right players and develop them. That has always been my philosophy, and that's what we are going to do.
RM: An alumna told me that when she heard you had been hired, she immediately took her Block R flag out of storage in the basement and ran it up the flagpole in her backyard.
GS: That Block R is synonymous with what we built, and it's a point of pride for Rutgers that everybody recognizes. So, it's time to fly the flag again.