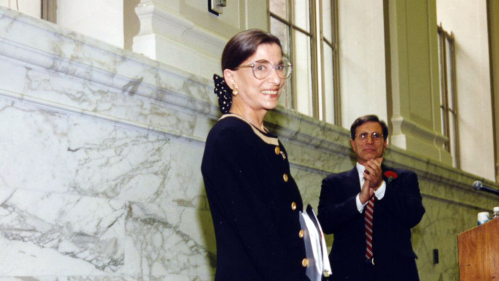 Honoring Ruth Bader Ginsburg
Iconic building on Rutgers University–Newark campus named after the late Supreme Court Justice, who taught law at Rutgers from 1963–1972.
She was unafraid to be pointed in her critique of power, especially when it was directed against those without power, who were overlooked by history, and who were rendered voiceless by the circumstances of their gender, race, paycheck, language, religion, sexuality, and nationality.

Jonathan Holloway

Rutgers University President
Preserving a Legacy at 15 Washington Street
The building at 15 Washington Street on the campus of Rutgers University–Newark has been renamed Ruth Bader Ginsburg Hall in memory of the esteemed jurist, civil rights icon, and former Rutgers law professor.
Built in 1929, the newly renovated neoclassical skyscraper presiding over Newark is an ideal building to honor Justice Ginsburg. Besides having been the home to Rutgers Law School from 1975 through 1999, the 17-story building is now a residential facility housing 330 undergraduate and graduate students, including many law students.
Rutgers–Newark chancellor Nancy Cantor called the building "a home to students who represent precisely the breathtaking diversity of people whom we, as a nation, need to realize their full potential—a realization dependent in no small part upon making good on America's promise of equal justice under the law."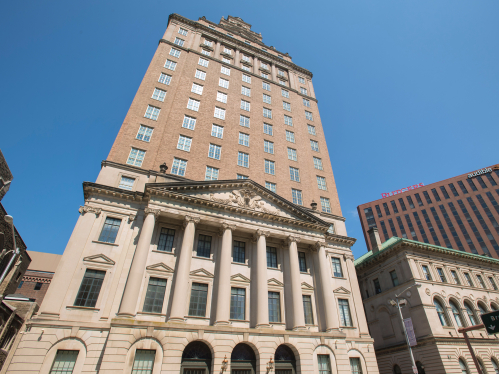 Ruth Bader Ginsburg paved the way to help ensure that a woman is defined and recognized by the value of her person, abilities, and power. It is befitting that Rutgers University name a building after Justice Ginsburg as her memory serves as a revolution that will inspire many generations to come.

Nia Gill

New Jersey State Senator
Rutgers Alumna, NLAW'75
Rutgers and RBG
Rutgers and RBG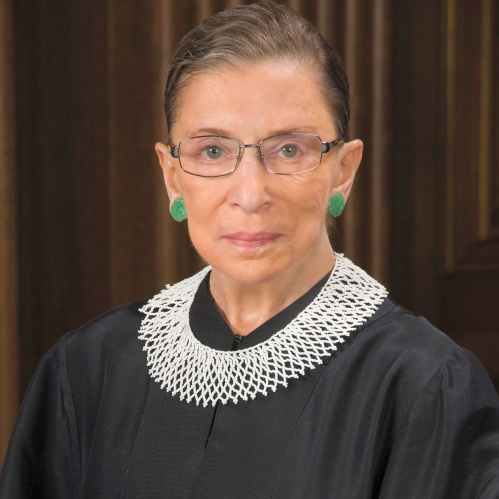 Ruth Bader Ginsburg
1933–2020
Charting the Course
In the late 1960s, a group of Rutgers Law School students in Newark asked their professor, Ruth Bader Ginsburg, to lead a seminar on women and the law. Ginsburg, who was one of only two women law professors at Rutgers and one of a just a handful in the country, seemed the right person to teach the class.
In preparing for the class, Ginsburg quickly learned there was not much to study on the subject—and in fact, there was a large gap in the law on gender equality. That request from her students began Ginsburg's journey to becoming a pioneer in women's legal rights.
"Rutgers students sparked my interest and aided in charting the course I then pursued," she said. "Less than three years after starting the seminar, I was arguing gender discrimination cases before the Supreme Court."
Leaving a Legacy
Ruth Bader Ginsburg, who died September 18, 2020, was a lifelong advocate for equal rights and a tireless champion for justice. She was a legal, cultural, and feminist icon for her work fighting for women's rights and gender equality, a trail she blazed at Rutgers, where she taught as a law professor for nearly a decade. While at Rutgers she also helped build what is now one of the most respected and widely published law journals in the country, The Women's Rights Law Reporter. Ginsburg faced her own challenges with gender discrimination at Rutgers, and the university was forced to address the inequity after Ginsberg and her colleagues successfully argued a federal antidiscrimination claim against the university. In 1993, President Bill Clinton appointed her to the U.S. Supreme Court, where she served for 27 years.
 RBG's Impact as a Voice for Equality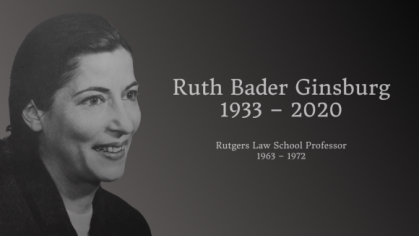 Rutgers Law School leaders, students, faculty, and alumni pay their respects to RBG.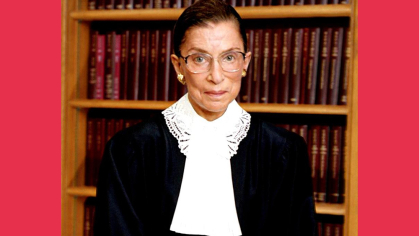 She recognized discriminatory laws hurt women—and men—and sought to revamp them one case at a time.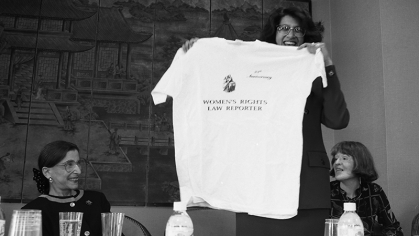 RBG helped launch the influential legal journal Women's Rights Law Reporter, now 50 years old.