Zimmerli Art Museum Offers Virtual Tours, Demonstrations in Response to COVID-19 
How museums around the country are taking note from Bob Ross on the art of sharing art virtually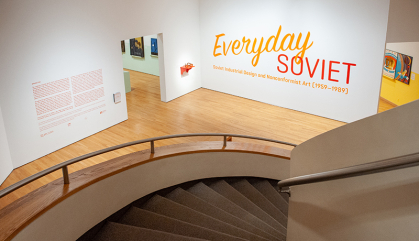 Responding to coronavirus quarantines nationwide, many museums are turning to technology to fill the void. The Zimmerli Art Museum at Rutgers University-New Brunswick is taking it a step further with online demonstrations to help keep children and adults productive during this period of uncertainty.
Google Arts and Culture has partnered with more than 2,500 museums and galleries around the world to offer virtual tours of their spaces. Some of the options include New York's Museum of Modern Art and Amsterdam's Van Gogh Museum. 
"We shared a virtual tour of the Everyday Soviet exhibit on Instagram and the response has been very positive," said Amanda Potter, the Zimmerli's art education curator. "We're going to continue to share more exhibits this way, as well as permanent galleries, and we plan to post more frequently on all social media platforms to offer different ways that both adults and children can be productive and maybe even be introduced to dive deeper into art." 
The staff at Zimmerli is sharing downloadable coloring pages from their permanent galleries so children whose schools have closed can share in some activities during this downtime. At a time when more people are working remotely and schools are closing, there is an opportunity to provide art education in new ways, Potter said.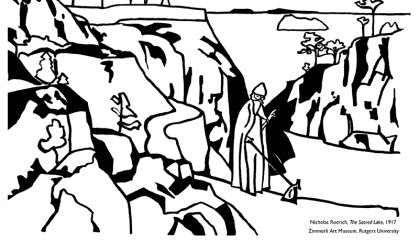 "By using the trending hashtag #MuseumsFromHome, we've found a unique opportunity to reach a wider audience in a deeper way, so we're providing lengthier captions under each post," said Nicole Simpson, assistant art curator at the Zimmerli. "We're noticing that people aren't just scrolling on social media and 'liking' posts like they were previously. They're commenting and sharing and really engaging, so we know they're taking in the content. We can augment this new appreciation by giving them more context so they can learn more about the art and hopefully come to the museum when it reopens."
The museum staff says they see a unique opportunity to look back at what Bob Ross, the late painter and TV host, did by sharing art demonstrations on television, so the community could follow along. The Zimmerli's tutorials will come from Nabila Dadabhoy, an MFA graduate from the Mason Gross School of the Arts, who will teach kids and adults at varying skill levels how to use materials found at home for art projects. They are also sharing content from other Rutgers artists, as well as outside artists, like Mo Willems, so children can follow along with activities. 
"If we remember what Bob Ross did, there has always been some form of art activity we could follow along and use our creativity to get through difficult times. This is an opportunity to get children engaged, but it's also a way to take care of part-time staff so we're doing this to supply ideas to families who need things to do and stay creative, but also to take care of those who freelance at the Zimmerli so they can continue to do what they love virtually," Potter said. 
Thomas Sokolowski, director at the Zimmerli, said that besides helping to keep people from going stir-crazy, art can clear the mind. Just as thousands flocked to city parks during the late Victorian period to escape smoky conditions, the same is true – then and now – for museums, which provide zones of tranquility in harsh and troubling times.  
"During earlier periods of influenza and tuberculosis, parents entertained their children with crafts and pantomimes, if you recall the plays produced by the March sisters in Louisa May Alcott's Little Women," he said. "Today, digital technology allows us to do so much more.  The Zimmerli Art Museum is pleased to provide lessons, craft activities and pure visual enjoyment to all of our followers. We're doing our part to help the community stay healthy in both body and mind."