Research from Rutgers Cancer Institute of New Jersey demonstrates that using zebrafish to identify self-renewing tumor stem cells in prostate cancers may be more beneficial than using traditional experimental models when aiming to predict response to therapy. 
Prostate cancers are suggested to contain self-renewing tumor stem cells that have the ability to grow uncontrollably and spread.  Identified as tumor-initiating cells (TICs), research has shown that these cells are found to be resistant to standard chemotherapy. A desirable treatment strategy is to develop therapies that would effectively target the self-renewing capabilities of the TICs, which requires better identification of TICs themselves.   
Utilizing prostate cancer samples from patients diagnosed at the Cancer Institute of New Jersey between 2008 and 2012, Cancer Institute investigators used mouse and zebrafish models to identify the frequencies of TICs from each patient's prostate cancer cells. The research appears in the latest edition of The Prostate (DOI 10.1002/pros.22740).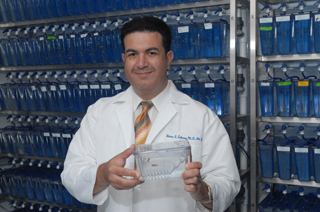 Typically, TICs are identified through more mechanical methods, such as cell sorting or dye staining. Cancer Institute investigators developed a new method to enrich for TICs through remodeling of the environment of prostate cells in a laboratory setting by allowing them to adhere to collagen – a glue-like protein that holds together skin, connective, and prostate tissues in the human body.  In collaboration between multiple Cancer Institute laboratories, prostate tumors cells from patients are first identified with fluorescent markers in the laboratory of Cancer Institute Director, Robert S. DiPaola, professor of medicine at Rutgers Robert Wood Johnson Medical School. These tumor cells are then enriched for TICs by collagen adhesion at the laboratory of the Cancer Institute Chief Scientific Officer, Joseph R. Bertino, university professor of medicine and pharmacology at Robert Wood Johnson Medical School. The TIC frequencies for these tumor cells are then examined in mice and zebrafish assays.
When these TICs were transplanted into both mice and zebrafish embryos, it was determined that a fraction of the cells that had adhesive properties had the potential for tumor development and for tumor spread. The authors found that this detection was better determined within the zebrafish model, due to its translucent nature allowing for non-invasive observation and also due to lack of immune response to tumor cells.  It is a research model senior author and Cancer Institute scientist Hatem E. Sabaawy, says holds great value.  "The self-renewing properties found in prostate TICs are regulated through molecular pathways within the cell.  By targeting these pathways and using a few cells from each patient, there may be an opportunity to control progression and recurrence in multiple cancers.  The zebrafish model enables researchers to examine this pathway to progression in real time, thus having the potential to serve as a better tool for personalized cancer therapy," noted Sabaawy, who is also an assistant professor of medicine at Robert Wood Johnson Medical School. 
Along with Sabaawy and Drs. DiPaola and Bertino, the author team consists of Nitu Bansal, Cancer Institute; Stephani Davis, Robert Wood Johnson Medical School; Irina Tereshchenko and Tulin Budak-Alpdogan, Cancer Institute; Hua Zhong, Robert Wood Johnson Medical School; and Mark N. Stein and Isaac Yi Kim, Cancer Institute and Robert Wood Johnson Medical School.
The study was supported in part by grants from the Department of Defense (Prostate Cancer Grant W81XWH-12-1-0251 to Sabaawy, Bertino, and Kim), the National Cancer Institute (Cancer Center Support Grant Award P30CA072720 to DiPaola), and the Cancer Institute (Pilot Grant to Bertino and Sabaawy). 
            About Rutgers Cancer Institute of New Jersey
Rutgers Cancer Institute of New Jersey (www.cinj.org) is the state's first and only National Cancer Institute-designated Comprehensive Cancer Center. As part of Rutgers, The State University of New Jersey, the Cancer Institute of New Jersey is dedicated to improving the detection, treatment and care of patients with cancer, and to serving as an education resource for cancer prevention. Physician-scientists at the Cancer Institute engage in translational research, transforming their laboratory discoveries into clinical practice, quite literally bringing research to life.  To make a tax-deductible gift to support the Cancer Institute of New Jersey, call 732-235-8614 or visit www.cinj.org/giving. Follow us on Facebook at www.facebook.com/TheCINJ.
The Cancer Institute of New Jersey Network is comprised of hospitals throughout the state and provides the highest quality cancer care and rapid dissemination of important discoveries into the community. Flagship Hospital: Robert Wood Johnson University Hospital. System Partner: Meridian Health (Jersey Shore University Medical Center, Ocean Medical Center, Riverview Medical Center, Southern Ocean Medical Center, and Bayshore Community Hospital). Major Clinical Research Affiliate Hospitals: Carol G. Simon Cancer Center at Morristown Medical Center, Carol G. Simon Cancer Center at Overlook Medical Center, and Cooper University Hospital. Affiliate Hospitals: CentraState Healthcare System, JFK Medical Center, Robert Wood Johnson University Hospital Hamilton (CINJ Hamilton), Shore Medical Center, Somerset Medical Center, The University Hospital/Rutgers New Jersey Medical School*, and University Medical Center of Princeton at Plainsboro. *Academic Affiliate