Rahul Rana published a book that helped launch his career long before graduation
Rahul Rana began getting texts from friends last summer about his larger-than-life face on a New Jersey Turnpike billboard advertising Rutgers Business School - Newark and New Brunswick (RBS). Rana, a member of the Class of 2023, drove toward Newark Liberty International Airport to see for himself. "I was mind-blown! It did not seem real," he said.
It's not surprising the business school would feature Rana: the standout student discovered a passion for entrepreneurship and cutting-edge technologies during his first year and ran with it.
Within a year, Rana published Making Moonshots, a book on developing impactful, science-driven startups. He has since completed prized internships with big-name venture capital firms. Following commencement, the 22-year-old finance major will become an associate at SALT Fund, a $200 million tech venture capital firm, as well as chief of staff to one of the managing partners.
"He's connecting the dots, leveraging and stacking these opportunities to create meaningful, experiential learning," RBS Assistant Professor Mukesh Patel said. "I tell students you need to figure out how to stand out and take risks. Rahul really took that to heart: he has catapulted to the highest performance level."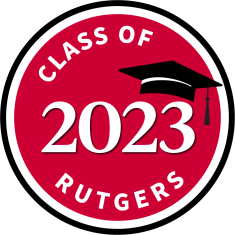 As a child, Rana often visited Bell Labs, where his father works, marveling at the company's numerous breakthrough inventions across decades. The transistor, for example, revolutionized development of semiconductors, he noted. "It birthed the entire computing industry!"
His mother strongly influenced his desire to tackle big-world problems. She escaped the north tower of the World Trade Center on 9/11, an experience that inspired her – and Rana – to become active in politics and community causes, he said.
Rana grew up around relatives who owned small businesses, and he attended a business administration magnet program at Marlboro High School. At RBS, he was accepted into Road to Wall Street, a select preparation program for students pursuing traditional careers in finance. Then he discovered venture capital, which involves identifying and investing in innovative startups and high-growth companies that have the potential to generate significant financial returns.
"It fuses all the interests I have into one industry," said Rana, a self-described "space nerd" and sci-fi fan.
"I fell in love with cutting-edge, ambitious science that can solve big problems," he said. Climate technology, space technology, biotechnology, and artificial intelligence are among the areas that captured his interest. "I knew I wanted to make a name for myself in those spaces."
In December of his freshman year, he began researching Making Moonshots, using LinkedIn to connect with more than 100 scientists and venture capitalists. Among the business leaders he interviewed were the founders of Varda Space Industries. The company "is enabling in-space manufacturing and building orbital factories that make products that benefit from zero-gravity environments," Rana said. Examples are fiber optic cables, semiconductors, and certain pharmaceuticals.
Even before the book was published, Rana landed an internship with Lux Capital, a firm with more than $5 billion in assets under management that invests in emerging science and technology. Several other internships followed, including one with General Atlantic, a global private equity firm with $85 billion in assets under management. Rana worked on teams investing in climate technology and business-to-business software.
"He made tremendous connections in the process, leveraging the book to expand his network," said Patel, noting the positions Rana has landed are rarely filled by undergraduates or even recent graduates.
Not only has Rana scouted deep-tech companies for venture capital firms, but he is also an angel investor helping to fund startups. Rana used the revenue from his book to invest in five moonshot companies so far, from gene-therapy pharmaceuticals, to digitalizing supply chains, to using artificial intelligence to protect U.S. servicepeople.
At RBS, Rana became a founding member of Road to Silicon V/Alley (RSVP), an organization for aspiring entrepreneurs. Patel, the director of RSVP, said Rana and the other core members had responsibility for recruiting members and creating the system for evaluating them.
"We were able to build an ecosystem that has created this amazing pipeline of talent," Rana said. The organization, now 170 members strong, has built a robust alumni mentorship program, he said.
Rana completed his finance major and a minor in astronomy in 3½ years at Rutgers–New Brunswick. Since last summer, he has written about deep-tech and venture capital for Not Boring, a business newsletter with nearly 200,000 subscribers.
Rana attributes his success to a "just say yes" attitude. "When opportunities present themselves, I take advantage of them," said Rana, calling his approach "maximizing serendipity." Not all work out, but Rana said he gains knowledge either way. "That's how I live my life."