Leadership academy the North Brunswick native helped create will provide teens with skills to handle daily challenges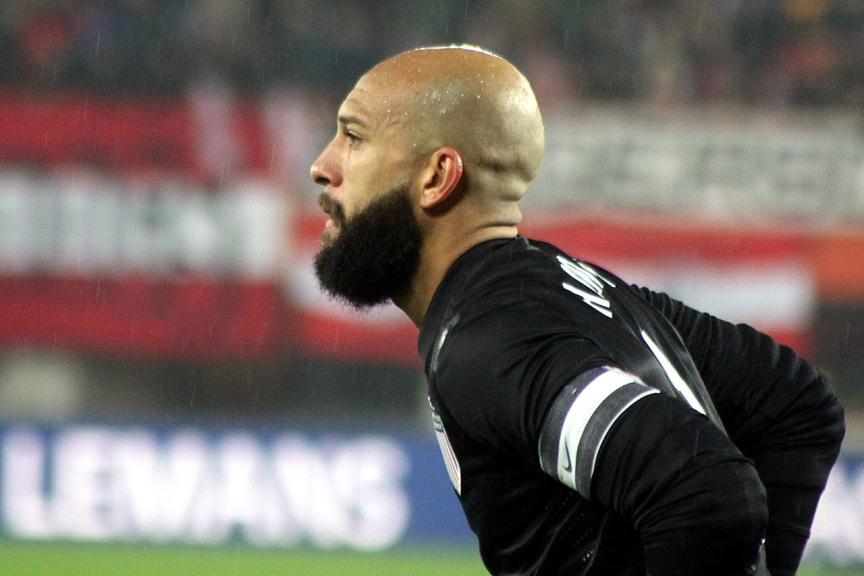 'We want them to feel empowered. The boosting of my self-esteem was the best medicine that I could ever have – or that I could ever give to someone else.'

– Tim Howard
When America's soccer superstar Tim Howard was 10 years old and diagnosed with Tourette Syndrome, he coped as many kids do – by trying to hide the embarrassing tics and twitches that make this disorder so visible.
Now the 35-year-old goalkeeper – who stunned the world with a record 16 saves in the World Cup game between the U.S. and Belgium – wants to show young people how they can succeed in spite of the challenges Tourette Syndrome throws their way. A leadership academy he helped create will debut August 1 at Rutgers, providing 23 teenagers from New Jersey, New York and Pennsylvania with skills to help manage daily challenges.
"We want them to feel empowered," said Howard, recalling how he felt liberated when he finally decided he wasn't going to hide his facial tics anymore. "The boosting of my self-esteem was the best medicine that I could ever have – or that I could ever give to someone else."
Tourette Syndrome is a neurological disorder marked by tics, or uncontrollable body movements, including grimacing, eye blinking and shoulder shrugging. The tics can also be vocal – shrieking, hooting, or repeating words. Although often shown in movies or on television, severe vocal tics that involve cursing or uttering racial slurs are less common.
Howard serves on the board of directors of the New Jersey Center for Tourette Syndrome and Associated Disorders (NJCTS), an organization that supports research and provides resources for families coping with the disorder and professionals who provide care.
The center partners with the university in two areas: Rutgers' Graduate School of Applied and Professional Psychology, which provides consultation and psychological services to children and adults with the disorder, and RUCDR Infinite Biologics, headed by Rutgers geneticist Jay Tischfield, which collects and manages cell and DNA samples from people with Tourette Syndrome. The samples offer researchers the opportunity to mine data that could lead to better treatments and a cure for the disorder.
Howard and the center's executive director, Faith Rice, have been working together since 2010 to develop what is now officially the "Tim Howard NJCTS Leadership Academy." Organizers hope to expand the academy and hold its sessions at Rutgers each year.  At the academy's launch on the Busch Campus, Rutgers' women's basketball coach Vivian Stringer will lead a workshop on resilience.
"One of the thoughts I gave Faith was that I wished I had this type of group when I was growing up," said Howard. "We don't want the kids to feel alone."
Still, Howard felt he was lucky in many ways. He was a good athlete, he had many friends and his mother was supportive.
"I didn't get picked on; I was a big kid myself," he recalled. "The bullying, the ridicule … wasn't in my face."
But he noticed when kids would whisper, point, look and laugh.
"That probably hurt even more," he said.
As Howard rose through the ranks in professional soccer, he again realized how he had to remain out front with his condition. In 2001, he became the starting goalkeeper with the New York/New Jersey MetroStars (now the Red Bulls), and realized he'd be thrust into the spotlight.
"I just thought it was better at that moment to confront it head-on, so I could dispel the myths, answer the questions," he recalls.
When it comes to raising awareness for Tourette Syndrome, he claims he has the easiest job in the world.
"I get to be myself, play soccer – a tic here and a twitch there – it gets caught on TV and people see it. In the course of 90 minutes, I'm able to raise awareness."
He draws inspiration from young people who do the hard work of standing up in front of their classes on the first day of school to talk about their condition and their challenges.
"This is who they are and this is what they have," Howard said.
Rice, the NJCTS executive director, finds Howard's success inspiring, but she notes there are people with Tourette Syndrome in all walks of life who are successful, including teachers, truck drivers, surgeons.
---
For more information, please contact Carl Blesch of Rutgers Media Relations at 848-932-0550 or cblesch@ucm.rutgers.edu