World Champion Powerlifter Balances Orthodox Jewish Faith, Competition and Rutgers Course Load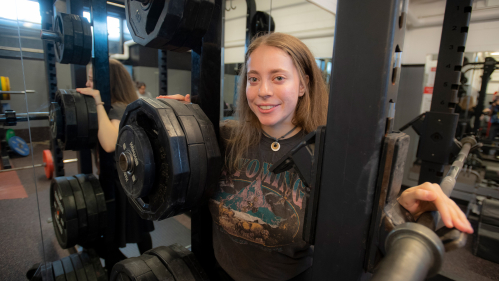 Barely 9 years old and tipping the scale at a dainty 88 pounds, Naomi Kutin shattered a world record for her weight class in 2011 by squatting 205 pounds – a record formerly held by a 44-year-old German woman.
She would go on to break that record four more times.
Today, in her fourth year at Rutgers University-New Brunswick, the young athlete who earned the moniker "Supergirl" in a PBS documentary on her life maintains her powerlifting skills, but now she's weighing options in the field of social work as well.
While continuing to train one to two hours a day, five days a week, and competing as a member of the Rutgers Powerlifting Club, Kutin is  completing her undergraduate degree and studying for her master's degree at Rutgers' School of Social Work.
It's a lot to juggle, the Fair Lawn native acknowledges. What helps her get through is her devotion to Orthodox Judaism – which also makes her an anomaly in the male-dominated world of powerlifting.
"Judaism is the biggest aspect of my life – everything I do revolves around it," says Kutin, a 2019 graduate of Teaneck's Ma'aynot Yeshiva for Girls who made sure to receive permission from her rabbi before entering the world of competitions.
Her adherence to her religion requires refraining from competing on the Sabbath and shlepping kosher food to all events – "living off tuna packets, essentially," she says.
When her Rutgers clubmates travelled to compete in collegiate nationals during her sophomore year, they left on a Saturday, which meant Kutin had to find her way to Chicago on her own, then make other arrangements when the restaurant they dined in wasn't kosher.
It wasn't a heavy lift for the athlete who's been profiled in The New York Times and interviewed on television by Harry Connick, Jr. In 2017, a tournament master of ceremonies introduced her as "The strongest teenager in the world in both the squat and the dead lift."
A 2021 interviewer for NorthJersey.com described her as "the tiny kid competing in a world of oversized adults."
Supergirl, a 79-minute film by Jessie Auritt documenting Kutin's training regimen, her religious life and even her Bat Mitzvah, premiered at the Hamptons International Film Festival.
Kutin was 8 when her father Ed, himself a powerlifter since the 1980s, invited her to join him in the family's basement gym. Since the elder Kutin was working what she remembers as "crazy hours" at a bank, the young Naomi grabbed the opportunity to spend more time with him.
As her New York Times profile notes, by that time she already was a standout in karate, easily outperforming boys in her neighborhood at push-ups and other strength exercises.
In March of 2012, Kutin set a world record for squat-lifting almost 215 pounds, and the following year she set another record for lifting 226 pounds. Today, her goal is to squat 350 pounds in an upcoming November competition.
Did we mention that these days she weighs about 145 pounds?
In the midst of a competition, Kutin finds herself "singularly focused on the task at hand," she says. "It's just you versus the weights you're trying to lift. A lot of times I don't even hear the people around me."
Members of her local Jewish community have long been among her biggest fans, Kutin says, especially her fellow congregants at Darchei Noam, a modern Orthodox synagogue in Fair Lawn, who post bulletins about her upcoming matches.
In addition to the squats, bench presses and deadlifts she practices every day, a huge part of Kutin's training revolves around food, particularly the protein needed to maintain strength. "If you think you're eating enough protein, add another 20 grams," she advises other powerlifters. "And sleep."
Kutin believes there's a connective tissue between her passion for her sport and her equal commitment to the field of social work.
"When I was 10 years old and in the news a lot, the part that made me feel good was that girls would come up to me and say, 'You've inspired me,'" she recalls. "Impacting peoples' lives is very powerful to me, and that's one of the reasons for my wanting to be in social work."
While she's still considering the wide variety of options in the field, Kutin is leaning toward a career in counseling, possibly working with substance abusers.
She's also mastering the art of prioritizing, learning to juggle academics, athletic workouts, Jewish observance and the many hours she puts in at Rutgers Hillel and the university's Chabad House – both organizations dear to her heart.
Kutin is doing field work for her social work internship at Hillel, where she is developing programs to promote wellness among students, such as art classes, fitness classes and outdoor activities.
"I've learned to give myself a little bit of grace," she says. "I realize I'm just a person, just a human, trying to get so many things done. As long as I'm putting in the effort, that's what counts."