Public art initiative expands mission with virtual exhibition and events
Windows of Understanding, a public art initiative that highlights social justice issues and raises awareness about central New Jersey-based community organizations, began planning its fourth year last spring while much of the state was reeling from the chaos of the COVID-19 pandemic.
"In the back of my mind, I was thinking, everyone is dealing with so much right now, they're never going to want to think about an art project," says Cassandra Oliveras-Moreno, a cofounder of the project and a Rutgers University-New Brunswick alumna. "We had no idea who would have the bandwidth to say yes and whether the windows or spaces where we needed to show art would even be an option given the pandemic."
But despite the raging coronavirus pandemic, which led to a state shutdown, kept students out of the classroom, and overwhelmed hospitals, this year's Windows of Understanding has expanded, adding partner organizations, increasing its roster of artists with an online exhibition, and finding a wider audience with virtual events.
Oliveras-Moreno, a Highland Park resident and the communications and collaboration administrator in the Department of Art and Design at Mason Gross School of the Arts, and her team – which includes Windows of Understanding cofounders and Rutgers alumnae Jennifer Sevilla and Tracey O'Reggio Clark –realized the importance of raising awareness about community support during a pandemic.
Founded in 2018 as an homage to the legacy of Rev. Dr. Martin Luther King Jr. and co-presented by Mason Gross, the project pairs artists with local nonprofits to create installations in storefronts and other public spaces that center around themes including food insecurity, public health, healing from trauma, and youth engagement.
Ria Monga, an art and design undergraduate student, was paired with the Traumatic Loss Coalitions for Youth Program, which operates out of Rutgers University Behavioral Health Care and provides support for communities affected by traumatic events, especially suicide – the third-leading cause of death in New Jersey for people ages 15 to 24, according to the program.
Monga's installation, Growing Pains, features the title printed backwards – meant to reverse when looking in a mirror to represent youth having a conversation with themselves in order to heal.
"I wanted to convey that no one is isolated with their emotions," says Monga, whose work is displayed in the outside case at RiteAid in Highland Park. "Negative feelings are common among our youth, which is why it is important to discuss pain and trauma to allow for healing."
Dominique Brancato, a 2020 BFA art and design graduate, was paired with the Metuchen First Aid Squad to learn how their work had been affected by the pandemic.
Her installation, First Responders, is on display at the Metuchen Public Library and depicts two neighboring houses, one throwing a party where no one is wearing a mask or following social-distancing guidelines, the other showing a masked family waiting for the arrival of an EMT in full protective gear to assist an ill person.
 "They don't always know what's going to happen once they arrive at the house, and some are as young as 20 years old," says Brancato, reflecting on the bravery of EMS workers. "They're doing this to protect their community. It doesn't matter your skin color, age, or gender – they're saving lives."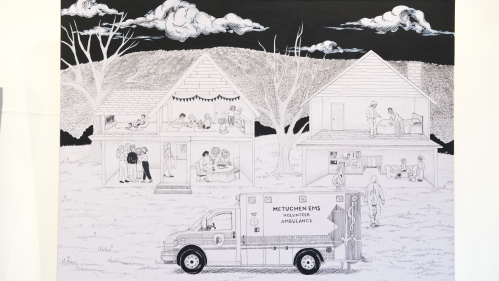 Art and design undergraduate student Frances Cruz, who was paired with the Highland Park Food Pantry, says she was inspired by the work of past Windows of Understanding artists and admired their dedication to spreading awareness about social issues like food insecurity.
The pandemic prevented her from being able to visit the food pantry, so she relied on photos and videos from volunteers to create her untitled installation, which depicts the volunteers serving clients outdoors.
"I wanted to convey how the food pantry is very welcoming and more than happy to help out anyone in their community who needs food regardless of their identity, which is portrayed in the racial diversity of their community as well," Cruz says.
The artwork, which hangs at the Middlesex County Regional Chamber of Commerce in New Brunswick, was a challenge to create at home, says Cruz.
"I live in a small home, so I had some difficulty deciding where to set up my drawing and workspace without being disruptive to everything else," Cruz says.
Taking a flexible approach to the project has been essential to continue the public installations during a pandemic, Oliveras-Moreno says.
"There are so many things happening in the lives of our artists and in the work of our partners that it has been completely about accommodation and trying to come up with creative solutions around how to make these things happen with zero contact, as little touch as possible," says Oliveras-Moreno, who estimates that she's been on at least 200 coordination calls over Zoom since May.
Despite complications, Windows of Understanding has found plenty of opportunities to have an even deeper impact on the community this year.
In addition to the public art, which will be displayed through February 28, an online exhibition focused on racial justice will launch February 1, featuring work by local and national artists.
Windows of Understanding is also involved with the New Brunswick Public Schools, where they are piloting a racial justice workshop at the high school and showcasing art by elementary and middle school participants.
"The art and events we're offering are intended to raise critical visibility in the community, that whether you're in a position to give or receive help—support exists around you," says Oliveras-Moreno.
Windows of Understanding is co-presented by the New Brunswick Community Arts Council, Mason Gross School of the Arts, the Highland Park Arts Commission, and the Metuchen Arts Council.