Why Black History Month Matters
Rutgers' Khadijah White says it's important to reflect on how far we've come – and also how short we've fallen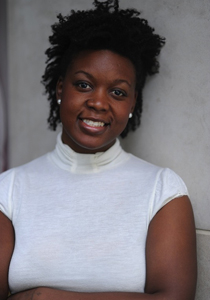 Rutgers Today talked to Khadijah White about why Black History Month is important as the university plans a series of events in observance. White, an assistant professor of journalism and media studies in the School of Communication and Information, researches race, gender and politics in media. She has done commentary about race, social movements, media, and politics for The Atlantic, The New York Times, The Root, Huffington Post, The Philadelphia Inquirer, The Los Angeles Times, Quartz and other publications. White is also a regular contributor to the online magazine, Role/Reboot.
Why is Black History Month relevant?
There has long been a contention among student and teacher activists that educators in this country, who are predominantly white, would not teach about black history at all if it weren't for people explicitly setting aside space and time for it. Now, at least for this month, students can learn about how African Americans quite literally built this society and provided its foundation in so many ways. American history has been shaped around the marginalization and exclusion of African Americans in many arenas. As a result, there are lots of obstacles that have kept African Americans from being fully integrated or recognized in American history. Their accomplishments have often been occluded. Take technological invention, for instance. Black inventors often didn't get credit for their inventions, and when they did manage to get patents, white inventors often tried to steal them. Granville Woods, for instance, an engineer and inventor with more than 50 patents to his name, often had to fight off attempts by white inventors to steal his patents. Woods is often called "the black Edison," which I think is really a shame.
What are the most important issues Americans should be discussing during Black History Month?
We should reflect on how far we've come – and we're really good at that – but also on how short we've fallen. One of the reasons for the recent popularity of the movie Selma, one of the reasons it strikes a chord with so many Americans, is that it reminds us that the issues that people were fighting for back in 1965 are still relevant now – voting rights, in particular. Some parts of the Voting Rights Act of 1965 have been cut back, and the "voter ID" laws being proposed and passed in many states are a new way to make it more difficult for people to vote. Incarceration is another – there are now more black men in prison today than were enslaved in 1850. And the decline of public education, another major issue during the civil rights movement, has turned these sacred institutions into school-to-prison pipelines. 
What's the most important thing African Americans are saying that the rest of America should hear?
I think lots of African Americans are saying, look, it's good that we have a black president, and, yes, we have come a long way. But African Americans are falling behind and discriminated against in all kinds of measures – housing, employment, health care, the justice system, education, police killings of black citizens. The decline of public education in this country disproportionately affects African Americans and people are fighting for access to water in Detroit. People should really check out what's happening with #BlackLivesMatter, which has been trending on social media in recent months. People born after the sixties so often say they wish they were born at a time when a movement was rising up, and here's a movement that's happening right now. 
---
Rutgers students, faculty, and staff will celebrate Black History Month 2015 with a wide range of cultural and educational activities, including:
February 11, 7:30 p.m. – Kùlú Mèlé African Dance and Drum Ensemble will perform a free concert featuring the dances of Africa and the African diaspora at Bradley Hall Theater in Newark.
February 16, 12:20 p.m. – Artist John Abner will discuss "Photography and Social Critique: The Visions of African American Photographers" Armitage Hall, room 113, on the Camden Campus.
February 18, 12:00 p.m. – Africana Studies chair Edward Ramsamy presents "Paul Robeson: The Leader, The Legacy, The Lessons," part of the Dialogues in Diversity series, at Paul Robeson Cultural Center in Piscataway. Contact: wilson77@echo.rutgers.edu
February 21, 9 a.m. - 7 p.m. – The 35th annual Marion Thompson Wright Lecture presents "Curating Black America:Celebrating the National Museum of African American History and Culture" followed by a remembrance of Clement Alexander Price at the Newark Museum.
February 22, 6:30 p.m. – Rutgers' chapter of the NAACP will celebrate more than a century of activism at their annual Founders' Day Banquet at the College Avenue Student Center in New Brunswick. Tickets are $5.00 for students, $10.00 for the general public. Contact: scarletnaacp@gmail.com
February 23, 4:00 p.m. – Keith Green will read from and discuss W. E. B. DuBois' "The Comet" with accompaniment by the Jameka Gordon Jazz Ensemble in the Camden Campus Center Multipurpose Room.
February 26, 11:00 a.m. – The Institute on Ethnicity, Culture and the Modern Experience presents a free modern dance master class with members of Lula Washington Dance Theater at Paul Robeson Campus Center in Newark. Students may also see the renowned company in concert at NJPAC with $10.00 student rush tickets later that evening.
February 28, 7:00 p.m. – Enjoy gospel music performed by local choirs during the 33rd annual "An Evening of Gospel Choirs" at Voorhees Chapel in New Brunswick. Free admission. Contact: agillespie@amst.rutgers.edu
– Ken Branson