Like Where You Live? Rutgers Poll Shows Neighborhood Satisfaction Differs Depending on Race and Income
Overall neighborhood satisfaction is high in the Garden State, but low-income, black and Hispanic residents are less likely to be happy with local health opportunities, like walkability, healthy food access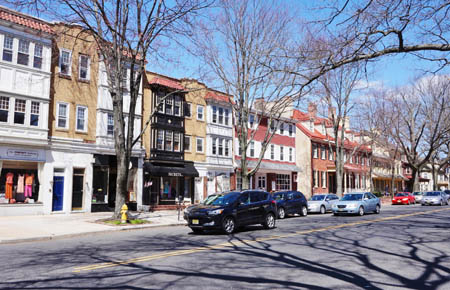 Most adults in New Jersey are happy with the neighborhood they live in and satisfied with their access to healthy food; places to walk and exercise; and community services, including parks, playgrounds, and libraries. But not everyone feels that way – and perspectives differ across race and income groups, according to the findings of a poll by Rutgers Center for State Health Policy.
The New Jersey Health and Well-Being Poll found significant differences in the way people perceive the resources in their communities that can influence their health. Overall, 81 percent of respondents rated their neighborhood as a good or excellent place to live. But the picture is more nuanced when broken down further. By income, that rating becomes 91 percent for people with high income, 78 percent for middle income, and just 57 percent for those with low income. And black and Hispanic respondents were much less likely to rate their neighborhoods good or excellent – at 61 percent and 62 percent, respectively – than white (88 percent) and Asian (91 percent) respondents.
The findings are meant to provide information for policymakers, nonprofits and advocacy organizations to consider how people's prospects for good health are limited, and what might be done to provide more opportunity for health improvement.
"We looked at how someone's housing, accessibility to parks and healthy food options come together to influence how easy it is for people to live healthier lives,'' said Joel Cantor, the Center for State Health Policy's director. "In some neighborhoods, it appears to be a lot more difficult than in others.''
More key findings include:
Black and Hispanic residents are more than three times as likely to rate their neighborhood fair or poor compared to white or Asian residents.
Low-income adults are nearly twice as likely as high-income adults to rate their neighborhood as a poor place to buy fresh fruits and vegetables.
Only one in 10 residents feels there is a lot of racial and ethnic tension in their town, but black and Hispanic residents are more likely to report racial tension compared with white residents.
More than half of New Jersey adults are concerned about the quality of their air and drinking water, and black residents are more likely to be very concerned.
Residents in the southern part of the state (Cape May, Cumberland, Salem and Atlantic counties) are about twice as likely to rate their neighborhood as a fair or poor place to live, walk or exercise compared to those in southwest (Gloucester, Camden and Burlington counties) and central or northwest New Jersey (Mercer, Somerset, Morris, Hunterdon, Warren and Sussex counties).  
The poll was funded by the Robert Wood Johnson Foundation, whose vision for a Culture of Health focuses on community systems to improve well-being.
"We believe that everyone should have the opportunity to live the healthiest life possible," said Kerry Anne McGeary, senior program officer at RWJF. "This poll helps us understand how residents view their access to healthy choices across New Jersey, and identify where we all have more work to do."
The Rutgers center took an innovative approach to the poll by inviting other philanthropies – including the Dodge Foundation, Nicholson Foundation, Healthcare Foundation of New Jersey, Community Foundation of New Jersey and Horizon Foundation – to serve on the advisory board. Their early involvement helped ensure that the poll could inform and advance their work and lead to action.
"One of the goals was to measure the views of the New Jersey public to stimulate a dialogue among policymakers and grant makers about how to improve residents' health and well-being in the state by looking at health holistically, not just through the lens of health care delivery but also examining the communities where people live,'' Cantor said. Other factors that were considered in the poll include citizenship, insurance coverage, gender, age, family composition, education level, mental health status and chronic illness or disability.
You can view full poll results here (http://www.cshp.rutgers.edu/Downloads/11200.pdf) and join the conversation online with the hashtag #NJHealthPoll.
The Center for State Health Policy plans to release two more briefs from the poll, one focusing on sources of stress and another on where people get their health information.  The center's mission is to inform, support and stimulate sound and creative state health policy in New Jersey and around the nation. Learn more about the center at http://www.cshp.rutgers.edu/.
---
For media inquiries contact Andrea Alexander at andrea.alexander@rutgers.edu or 848-932-0556