What's New at Rutgers This Fall
Students, faculty and alumni will return to campus this year to find new or upgraded facilities, resources and amenities, including a newly renovated dining hall with a teaching kitchen at Rutgers-Camden, the refreshed Frederick Douglass Field at Rutgers-Newark, a state-of-the-art motion analysis lab at Rutgers Biomedical and Health Sciences, and the New Brunswick Performing Arts Center and the RWJ Barnabas Athletic Performance Center at Rutgers-New Brunswick.
Many of the new facilities across the university will serve as an anchor for Rutgers programs that reach beyond the academic hallways and to engage and benefit the public.
"The New Brunswick Performing Arts Center is a public-private endeavor that serves students and the general public alike. The center provides brand new training and rehearsal spaces for Mason Gross School of the Arts students, and the public can enjoy performances in its new theater spaces," said John Shulack, vice president of facilities. "And the newly completed RWJ Barnabas Athletic Performance Center at Rutgers-New Brunswick looks at physical fitness and health from an academic perspective, offering onsite experts and allows student-athletes to focus on their studies and hone their athletic skills between classes on their own time."
Here are some of the newly completed and currently upgraded buildings and facilities across Rutgers this fall:
Rutgers-Camden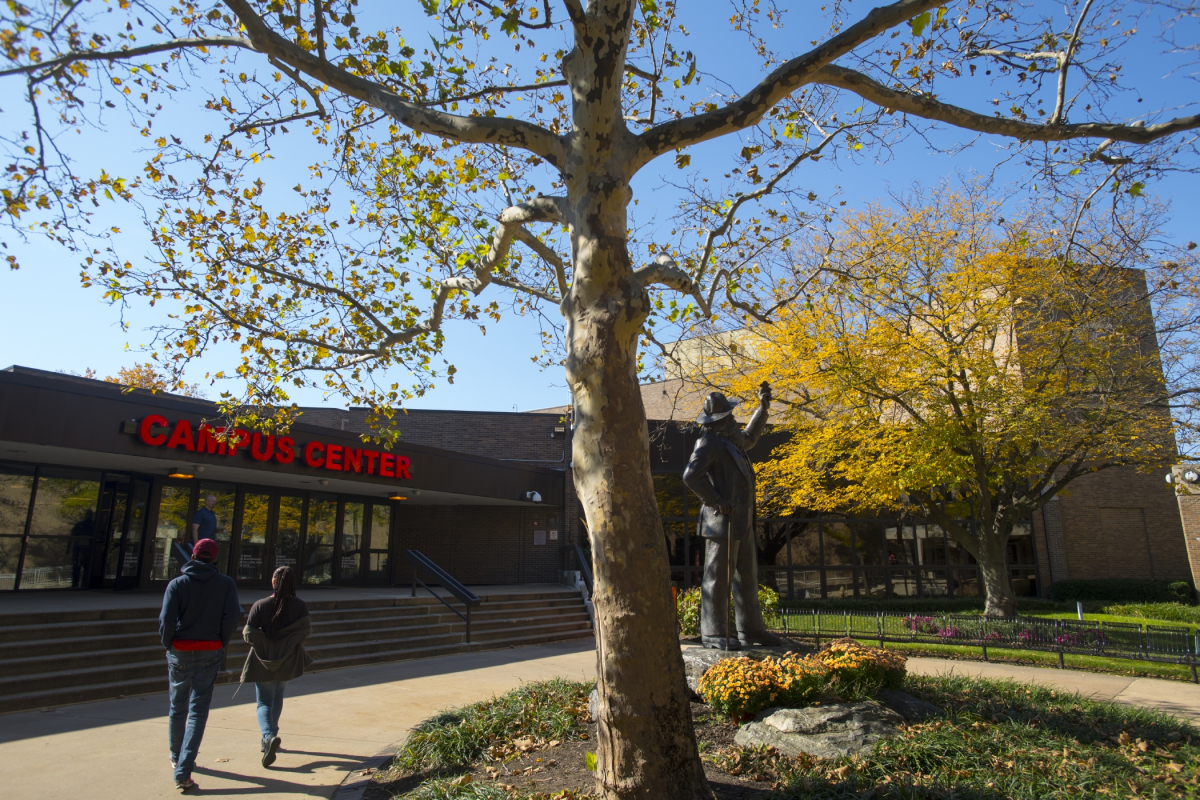 Photo: Nick Romanenko/Rutgers University
Last spring, Rutgers-Camden announced a new approach to dining, which includes locally sourced, seasonal and environmentally sustainable options. This fall, students will return to campus to find a completely renovated dining hall inside the Campus Center featuring new furniture and flooring, a mobile ordering system to streamline dine-in and takeout payments, an all-you-care-to-eat dining option and a teaching kitchen where students can learn to prepare their own meals.
An on-site registered dietician will hold one-on-one consultations with students on maintaining a well-rounded diet on campus, and many food options will be fresh and locally sourced, including fair trade coffee, reduced antibiotic chicken and turkey, cage-free eggs, rGBH-free milk and yogurt and sustainable seafood.
What students won't find at the newly renovated dining hall are plastic straws. The new dining hall will offer recycled materials to reduce plastic usage and the university's carbon footprint.
In addition to the dining hall upgrades, enhanced food options will be available in the Law School Complex and in the Nursing and Science Building.
Status: opens fall 2019
Rutgers-Newark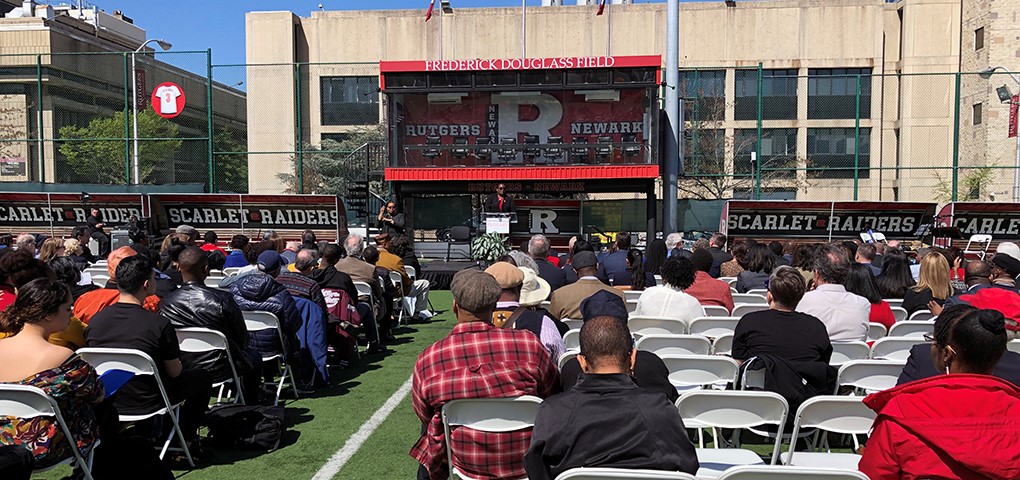 Frederick Douglass Field. Photo courtesy of Rutgers-Newark Athletics.

In 1849, civil rights pioneer Frederick Douglass visited the City of Newark and delivered an address to a church congregation in an effort to rally supporters of the abolitionist movement.
Rutgers-Newark successfully petitioned the city to rename the site of the church—now an athletic field on University Avenue—Frederick Douglass Field, in a ceremony that featured a keynote from Douglass' great-great-great-grandson, Kenneth B. Morris Jr. This year, the Scarlet Raiders will return to play on the field under its brand-new name, complete with renovated turf and new signage.
A steel and stone monument, designed by Rutgers-Newark graduate student Noelle Lorraine  Williams, will be installed at the Warren Street corner of the field. The sculpture will serve as an embodiment of the inspirational role of African-American activists throughout the history of the city.
Status: to be completed fall 2019
The Jon Bon Jovi Foundation Soul Kitchen at Rutgers-Newark – a nonprofit restaurant serving healthy, locally grown meals for a suggested donation price – is the first of its kind on a college campus, offering meals to students in exchange for participating in community service projects or helping to serve other patrons of the kitchen.
Status: opens fall 2019
Rutgers-New Brunswick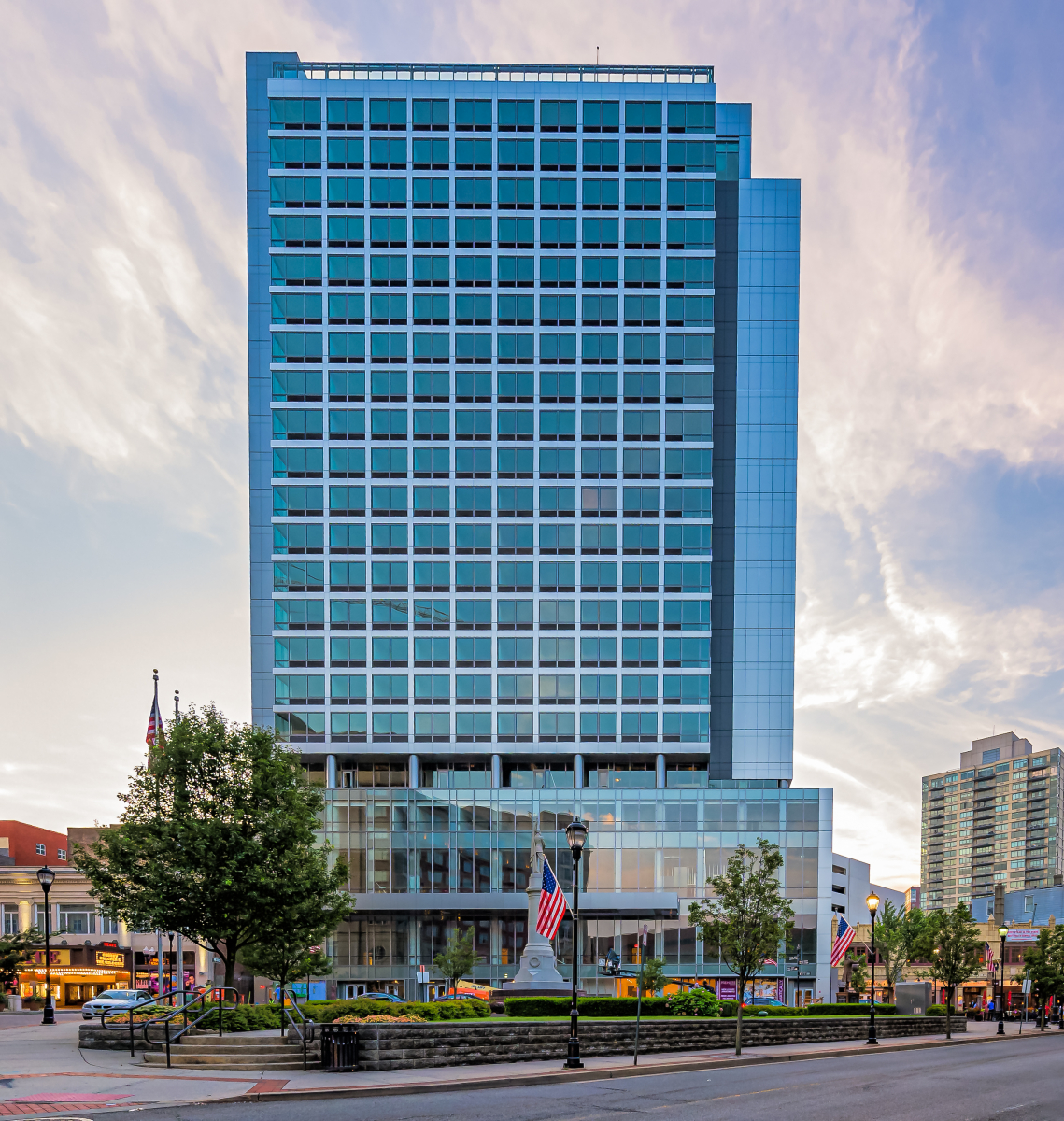 Photo: Frank Villafane & Urban Industrial Imaging
Members of the Rutgers community who venture into downtown New Brunswick can see the freshly constructed New Brunswick Performing Arts Center, born out of a public-private partnership between Rutgers, DEVCO (New Brunswick Development Corporation), the City of New Brunswick, the New Brunswick Cultural Center and others. The center provides brand-new performance spaces for Mason Gross School of the Arts students engaged in dance, theater, opera and instrumental music. 
Status: opens September 2019
The RWJBarnabas Health Athletic Performance Center at Rutgers—New Brunswick is a 307,000-square-foot, four-story facility and parking deck. The center is designed to accommodate Rutgers athletes' physical fitness, health and academic support. It creates a comprehensive sports medicine program that will serve Rutgers athletes throughout New Jersey. The building also provides state-of-the-art practice facilities, training areas, locker rooms and office space for men's and women's basketball, wrestling and gymnastics. The center will also feature a café serving healthy meals to student-athletes, as well as a merchandise store open to the general public.
Status: opens summer 2019
Rutgers Biomedical and Health Sciences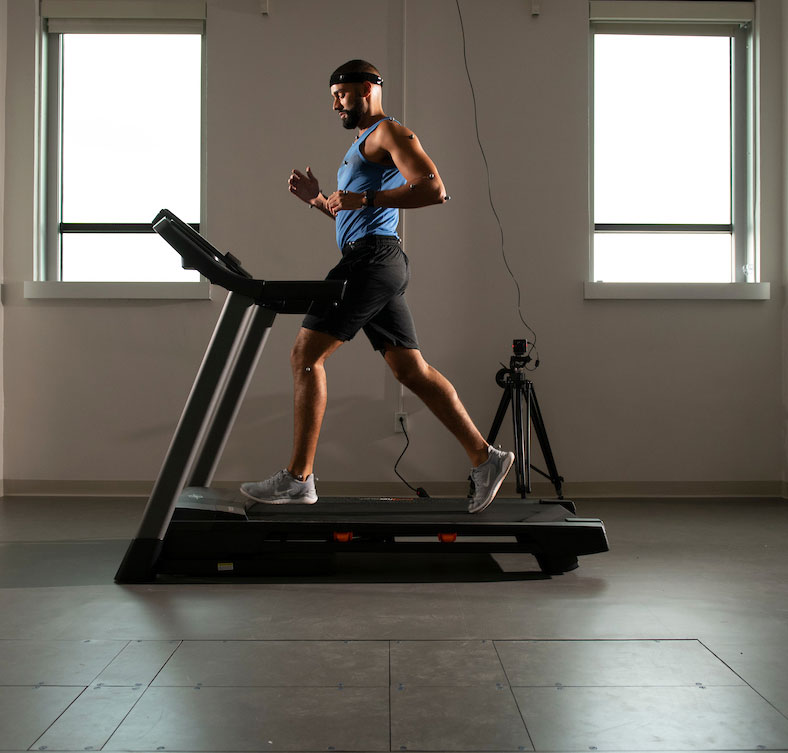 Photo: John Emerson/Rutgers School of Health Professions
The new motion analysis lab at the School of Health Professions uses 3D motion capture cameras, wearable sensors,  electromyography (EMG) and force plates – plates in the floor that measure the force of your body as you walk – to conduct cutting-edge research and clinical assessments on people with orthopedic, neurological and arthritic conditions.
Currently, researchers are investigating the biomechanics of athletic injuries, postsurgical outcomes of patients with arthritis, and the development of innovative, technology-based rehabilitation interventions for patients with neurological conditions. The lab also offers clinical services such as pre/postsurgical gait and EMG assessments for children with cerebral palsy as well as sport-specific biomechanical assessments.

With its state-of-the-art equipment, the lab, one of only a handful in New Jersey, opens up new research capabilities, allowing researchers to collect data that they didn't have the ability to capture before.

Beyond research, the new lab will prepare the next generation of physical therapists. The new lab gives students the opportunity to master the most sophisticated technological tools in research and biomechanical assessment.
Status: opens fall 2019
For more information, contact Carissa Sestito at csestito@rutgers.edu.