For many Rutgers faculty and staff members, the summer is a time to relax and settle back with that book they've been longing to read when academic pressures ease up.
Rutgers Today asked members of the Rutgers community what one book – fiction, nonfiction, poetry, political analysis, history, whatever – they are most looking forward to picking up during the warmer months. Here's what they said. 
Free Spirit
By Thomas W. Gross
I recommend Free Spirit, Thomas Gross's biography of his dad, Rutgers president Mason W. Gross. Mason Gross was beloved by students, faculty and staff. He was wide open to new ideas, progress and change. He defused a potential confrontation with the state police when he declared that all of the students who were occupying the Old Queens building, in protest of a lack of representation of Black students and faculty, were there as his guests. 

– Mark Angelson, chair, Rutgers Board of Governors 
Smoketown:
The Untold Story of the Other Great Black Renaissance 
By Mark Whitaker
I will be reading Smoketown: The Untold Story of the Other Great Black Renaissance by Mark Whitaker. We are fortunate to live at a time where many representations of Black culture in art and media are beginning to acknowledge a strongly defined and closely guarded lineage of success, attainment, and social stratification in Black America. Smoketown transports us back to 1920-1950 in Pittsburgh, where Black clergymen, funeral directors, artisans, housekeepers, doctors and others helped undergird a striving class of citizens considered to be second class and helped prepare a generation that would go on to lead important battles in the civil rights movement and beyond. 
–  Charles Basden Jr., senior academic program coordinator, recruitment administration, 
Graduate School of Education, Rutgers-New Brunswick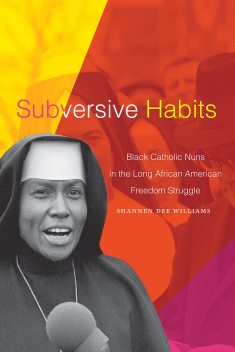 Subversive Habits:
Black Catholic Nuns in the Long African American Freedom Struggle 
By Shannen Dee Williams
A book I plan to read this summer is Subversive Habits: Black Catholic Nuns in the Long African American Freedom Struggle by Shannen Dee Williams. The book is the first full history of Black Catholic nuns in the United States, and demonstrates that Black sisters were pioneering religious leaders, educators, healthcare professionals, desegregation foot soldiers, Black Power activists and womanist theologians. I think I will learn a lot about an unfamiliar topic and, as an added bonus, the author is a Rutgers-New Brunswick history Ph.D.!   

– Kendra Boyd, assistant professor of history, Rutgers-Camden
The Vanishing Half
By Brit Bennett
I am looking forward to reading The Vanishing Half by Brit Bennett. The story revolves around twin sisters whose skin tones allow them the ability to "pass" for white. One sister chooses to "pass" and one sister does not. Each sister must confront the ensuing challenges when facing the tricky subject of racial identity and prejudice in the 1960s. I find the topic very relatable since my immediate family, as well as my extended family, are descendants of mixed-race women who can be traced back to slavery.  Civil War General Beauregard educated his daughter, Suzanne Beauregard, who was my great-grandmother. Her mother, Sally Hardin, was newly freed from bondage and the daughter of an enslaved woman and Confederate Rob Roy Hardin. The obvious question is did any of the offspring "pass" and where are those decedents today?

– Ghislaine Darden, assistant vice president, Strategic Services, Institutional Planning and Operations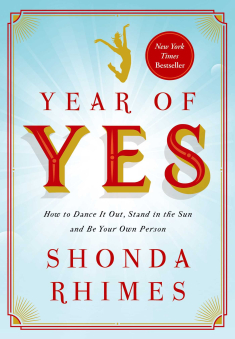 Year of Yes:
How to Dance It Out, Stand in the Sun, and Be Your Own Person 
By Shonda Rhimes
This summer, I look forward to rereading Year of Yes: How to Dance It Out, Stand in the Sun and Be Your Own Person by Shonda Rhimes. This memoir is filled with interesting stories about Rhimes's illustrious career, and she keeps it real when discussing the fears she had to overcome to grow into the amazing producer she is today. You also learn about her family and watch her excel in all areas of life just by saying YES to her own desires! I highly recommend the book to anyone on their own self-discovery journey or those looking for the inspiration to connect with their own greatness. 
– Bernadette M. Gailliard, assistant dean for Diversity, Equity, and Inclusion; associate faculty member, Department of Communication, School of Communication & Information, Rutgers-New Brunswick 
The People of Paper
By Salvador Plascencia
This summer, I'll be reading The People of Paper by Salvador Plascencia. I'd never heard of it until someone posted it on Twitter, saying that this is one of the best novels she's ever read – and the only novel the author has ever written. I love a one-hit wonder! I'm eager to read this book and find out why it's so beloved. 
– Lauren Grodstein, professor of English, Rutgers-Camden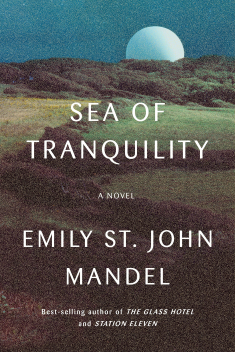 Sea of Tranquility
By Emily St. John Mandel
Elizabeth Finch
By Julian Barnes 
It's hard to choose just one title! Two novels I look forward to reading: Emily St. John Mandel's Sea of Tranquility and Julian Barnes's Elizabeth Finch. Fiction isn't usually my first choice, but I have more time for it in the summer. I liked Mandel's Station Eleven, and a student reported on both the novel and the HBO series in my Literature and Medicine graduate seminar this past spring, so this gifted young writer is on my mind.  A review in the Times (of London) Literary Supplement has made me curious about Barnes's new novel of ideas. Plenty of nonfiction also beckons, notably, Amy Bloom's memoir In Love and Katie Engelhart's The Inevitable, both about the end of life, a subject – for better or worse – of perennial interest.
– Rachel Hadas, Board of Governors Professor of English, Rutgers-Newark 
Donna Leon's Commissario Brunetti Series
I would like to say that I am eager to read Richard Rorty's extension of Pragmatist philosophy to our current situation, or Talcott Parsons's posthumous book on American society, but the truth is, I'd like a break. I will turn to one of my favorite mystery series: Donna Leon's books featuring Commissario Brunetti, a Venetian detective who struggles not only with crime but also with the underworld of Italian political corruption which often protects the criminals. Leon takes on difficult issues with sensitivity and power: immigration, disability, poverty. The pace is slow – these are not shoot-'em-ups – but the writing is lovely and the Venetian setting always makes me want to go back.
– Charles Heckscher, Distinguished Professor, Labor Studies and Employment Relations, School of Management and Labor Relations, Rutgers-New Brunswick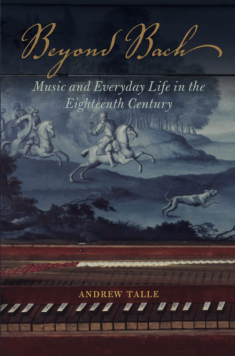 Beyond Bach: Music and Everyday Life in the Eighteenth Century
By Andrew Talle
When reading for pleasure, as opposed to for work, I seem to be drawn to history, specifically social and/or economic history. I'm particularly fascinated by the material culture of the past as reflected in food, clothing, homes, furnishings and the costs of these things. Another passion of mine is classical music, especially the music of Bach and his contemporaries. So, I've been looking forward to reading a book that encompasses all these interests: Andrew Talle's Beyond Bach: Music and Everyday Life in the Eighteenth Century, published in 2017. Using the experiences of individuals from different social classes and occupations from that time, it explores a unique type of material (perhaps better described as "immaterial") culture – music – during a period and in a place of dramatic changes in music publishing, instrument making and access to leisure activities such as music-making at home.
– Alex Hohmann, assistant teaching professor, Department of Economics, School of Arts and Sciences, Rutgers-New Brunswick 
Civilizations: A Novel
By Laurent Binet
One book that I am planning to read is Laurent Binet's Civilizations: A Novel. A friend suggested I read it after hearing how I wanted to expand the horizons of my "Western Civilization 1" course last semester and break down my students' ideas of "civilization." Binet reimagines how world history would be different if the Inca emperor Atahualpa conquered 16th-century Spain. What would our world be like if Columbus was the conquered, not the conqueror? I've heard it's highly inventive, but also cynical in some ways. Atahualpa isn't entirely immune to the culture he conquers; he becomes a fan of Machiavelli, for instance. I often get my students to think about counterfactual history, so I'm excited to dig into this over the summer – and maybe even assign it in the future. 
– Evan Jewell, assistant professor of history, Rutgers-Camden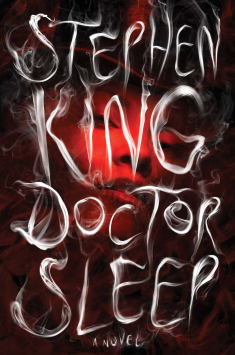 Doctor Sleep
By Stephen King
The book I plan on reading this summer is Doctor Sleep by Stephen King.  I chose Doctor Sleep because I'm a big fan of science fiction and horror, spun together. Doctor Sleep is the sequel to The Shining, which was a phenomenal success both in print and in the movies. The book follows Danny Torrance as an adult and his "gift" that introduces him to new people and new demons. I like to read these types of books when I have a chance because they transport me to another place and bring that sense of excitement and a heart racing experience as only a good book can do! 
– Ellen Lieberman, associate dean recruitment, scholarships, housing, and traditional events at Douglass Residential College, Rutgers-New Brunswick
Intimate Relationships
By Rowland S. Miller
A book that I'm looking forward to rereading this summer is Intimate Relationships by Rowland S. Miller. I encountered this book as a required course reading in college and I never thought that I would enjoy reading a "textbook" this much. I have been returning to it every few years, in different stages of my life. It's a book about findings, theories and controversies in the field of relationship science. I'd recommend it to anyone interested in learning about ways to better communicate with their loved ones and improving their romantic and non-romantic relationships. 
– Rufan Luo, assistant professor of psychology, Rutgers-Camden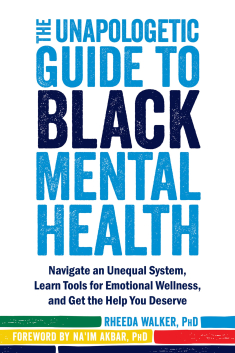 The Unapologetic Guide to Black Mental Health: Navigate an Unequal System, Learn Tools for Emotional Wellness, and Get the Help You Deserve
By Rheeda Walker
I have so many books on my shelf to dive into this summer! One book that I look forward to reading is The Unapologetic Guide to Black Mental Health by Rheeda Walker. Walker explores the current state of Black mental health, which she notes is in crisis. She tackles this directly in her discussion of the increase in suicide among Black folks, which is rarely discussed in our national discourse. She also implores us to understand the origins of this crisis and to actively work towards dismantling stigma, which, in part, makes it challenging to seek mental health treatment. 
– Tamara Nelson, assistant professor of psychology, Rutgers-Camden 
More After the Break: A Reporter Returns to Ten Unforgettable News Stories
By Jen Maxfield
My daughter-in-law, Jen Maxfield Ostfeld, has been a correspondent for over 20 years, currently at NBCNY. Both as an anchor and reporter, she's covered many compelling stories, interviewing individuals moments after their lives have been altered forever by unimaginable tragedies. Their stories stayed in her thoughts, and she often wondered what happened to these families after the public attention receded. That led to her reaching out to them and writing More After the Break, which I have been privileged to read ahead of its July publication. The book pays homage to the human spirit and its capacity to grow beyond tragedy, to let it inform one's future but not define it. Now these stories stay with me, too.
– Barbara M. Ostfeld, professor, Department of Pediatrics and program director, SIDS Center of New Jersey, Robert Wood Johnson Medical School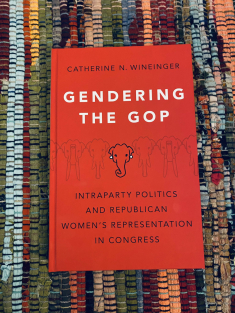 Gendering the GOP: Intraparty Politics and Republican Women's Representation in Congress
By Catherine N. Wineinger
I will be reading Catherine Wineinger's new book, Gendering the GOP: Intraparty Politics and Republican Women's Representation in Congress. Wineinger, who earned her Ph.D. in political science from our Women and Politics program, teaches at Western Washington University. Most existing research is based on the behavior of the largest group of women elected officials: Democratic women. But Wineinger's insightful book offers a comprehensive analysis of the gender dynamics within the Republican party in the U.S. House of Representatives. She argues that women have mobilized around their "partisan-gender identity" as GOP women and illuminates their access to leadership roles and policy impact.
– Kira Sanbonmatsu, professor of political science and senior scholar at the Center for American Women and Politics (CAWP), Eagleton Institute of Politics, Rutgers-New Brunswick 
Rock Me on the Water: 1974, The Year Los Angeles Transformed Movies, Music, Television and Politics By Ronald Brownstein
Start Without Me (I'll Be There in a Minute)
By Gary Janetti
Rock Me on the Water by The Atlantic senior editor Ronald Brownstein came highly recommended by a friend. The book focuses on culture, politics, music, television and American life in Los Angeles 1974. Having older sisters who were teenagers during that time influenced my musical preferences, so I've always been a big fan of the Laurel Canyon/California Sound and artists such as Jackson Browne, Linda Ronstadt and Joni Mitchell. And I love books that provide any kind of dishy backstory of what was happening behind the scenes, and to be transported to another era.  For some laughs, I'm looking forward to comedy writer Gary Janetti's Start Without Me (I'll Be There in a Minute), a collection of sharp-tongued biographical essays.
– Melissa Selesky, senior director, community affairs, Rutgers-New Brunswick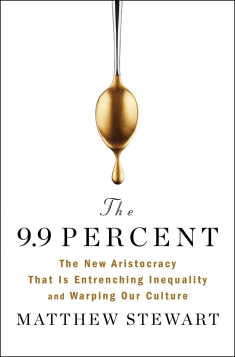 The 9.9 Percent:
The New Aristocracy That Is Entrenching Inequality and Warping Our Culture
By Matthew Stewart
I have varied reading to do this summer in preparation for something I'm writing and an endowed lecture I'm giving this fall, so I'm starting with The 9.9 Percent - The New Aristocracy That Is Entrenching Inequality and Warping Our Culture by Matthew Stewart. It's a fascinating elucidation of the theory that those who have experienced upward mobility over the last half century and who, along with the top .01 percent, account for more than half of the wealth and income in this country, now fight to keep the same opportunities from others, often under the guise of merit. For fun, I'm going to revisit Walter Mosley's Leonid Trotter McGill novels which are wonderful mysteries featuring a fascinating protagonist, framed by African American culture and language, and which have deeply trenchant analyses of race, gender and class tucked neatly inside. 

– Wayne Winborne, executive director Institute of Jazz Studies and assistant professor in arts, culture and media at Rutgers-Newark