Once a celebration largely unknown outside of Mexico, Día de los Muertos has gone mainstream in the United States.
Today the holiday's symbols – especially ornate sugar skull designs – adorn everything from U.S. postage stamps to classic Vans sneakers. Even Ken and Barbie can be seen sporting traditional calaca (skeleton) costumes and Target sells merchandise for the day.
"Movies like [Pixar's 2017] Coco made people more familiar with the holiday, but they aren't as familiar with the meaning behind the rituals and the importance of Día de los Muertos in our culture," said Axel Caballero, a 2023 Rutgers-New Brunswick graduate and past president of the Mexican-American Student Association (MASA).
In honor of the holiday, MASA is partnering with the Center for Latino Arts and Culture at Rutgers-New Brunswick (CLAC) to host a Día de los Muertos celebration tomorrow.
"I want students of both Mexican and non-Mexican descent to learn and have the opportunity to engage with our culture," said Caballero. "We want to stretch it to as many interested cultures as possible – not just to learn about the holiday, but to enjoy and partake in our traditions."
Día de los Muertos, or Day of the Dead, celebrated on Nov. 1 and 2, draws on pre-Hispanic Mexican and Spanish Roman Catholic traditions intended to facilitate the return of departed souls to the Earth. 

The holiday revolves around ritual preparations by family to visit the graves of loved ones, the preparation of a home or community ofrenda, or altar, and the laying of marigold flower petals and other handicrafts, said Carlos Fernandez, director of CLAC.
The event kicks off Thursday (Nov. 2) with food and crafts from 1-4 p.m. at CLAC's offices, 172 College Ave., New Brunswick, followed by 'SparkNight' at the Zimmerli Museum from 5-7 p.m. A procession with candles and photos honoring those who have died will step off from the Zimmerli Museum at 7:30 p.m. and return to the CLAC. There, participants can view finished altars, enjoy traditional Mexican bread and beverages, face painting by Celebrating Latinx Arts and Works (CLAW) and a performance by singer Sarahi Olivos from 8-10 p.m.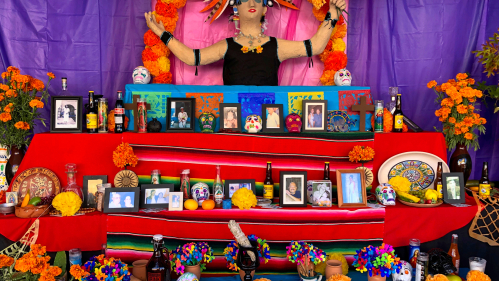 Ofrenda/Altar
Preparing an ofrenda, or altar, to honor deceased relatives plays a central role in the celebration of Día de los Muertos. Altars or shrines can be built in homes or in the community and typically include photos, mementos, candles, marigolds and favorite foods and beverages of the departed. 
"The altar honors those who have passed away to show them we haven't forgotten them and they are still important in our lives," said Caballero, who adds that the color and scent of the flowers along with the candlelight are supposed to guide loved ones to the altar. "That's why we put out their favorite foods and drinks, because they are hungry from the journey home."
Pan de Muerto/Bread of the Dead
Pan de Muerto is a popular treat enjoyed by the living during Día de los Muertos and left on altars to nourish the souls of the departed after their long journey home. Pan de Muerto is baked locally in New Brunswick at Gaby's Bakery, said Fernandez.
Calavera de Azucar/Sugar Skulls
Traditionally, sugar skulls are created as ornamental gifts for children and family members during Día de los Muertos. Unlike the ghoulish skulls and skeletons associated with Halloween, these brightly colored skulls represent the departed souls in the circle of life.
"It's to celebrate their lives," said Caballero. "We don't think of the dead like they are gone forever, but more that they are always going to be with us."