Voting Rights and Election 2020
Join university and college presidents to discuss the right to vote, the election and higher education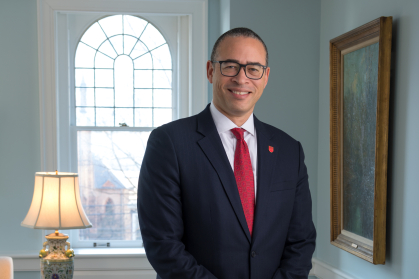 With Election Day two weeks away and voting underway in several states, the time for understanding the importance of the most central right of citizenship – the vote – is now.
"In a new book I am writing, I ask the fundamental question, what does it mean to be an American?" said Rutgers University President Jonathan Holloway. "For many of us it means, among other things, membership in a community of citizens who believe in the rights enshrined in the Constitution – including assembly, speech and unfettered access to the ballot box."
Holloway will join presidents from Berkshire Community College, Howard University and Williams College for a virtual conversation Tuesday, Oct. 20, about access to voting and the implications of the election for colleges and universities.
"Voting Rights, Elections 2020, Universities, and Us" will bring together university students, faculty, staff and members of the public to discuss the right to vote, a cornerstone principle for citizens in modern democracies, and the challenges to suppress that right for many throughout history.
The online event will be moderated by John J. Farmer Jr., director of the Eagleton Institute of Politics at Rutgers University-New Brunswick, and Neil Roberts, chair and professor of Africana studies and faculty affiliate in political science and religion at Williams College. Attendees will have the opportunity to ask the presidents questions during the discussion.
"Even prior to the COVID-19 pandemic and the social unrest that have unsettled this presidential election year, the United States has been struggling with sharply polarized politics and an unprecedented level of ignorance of the foundational principles of American government," Farmer said. "This conversation is particularly important, for presidential leadership of universities and colleges, public and private, large and small, will play an essential role in encouraging voting and the kinds of civic engagement that will see us through this troubled moment."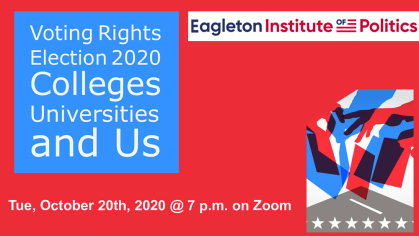 The goal is to generate discourse on the pressing issue of voter rights and to continue the discussion at colleges and universities well beyond the fall.
"We need to emerge from this election, regardless of its outcome, with a commitment to demonstrate that universities are simultaneously the keepers of society's great ideas and where those ideas can, and must, be debated," Holloway said.
The conversation, cohosted by the W. Ford Schumann '50 Program in Democratic Studies at Williams and the Eagleton Institute, will be at 7 p.m. on Oct. 20. Find details on how to join the conversation here.