Vaughn Spann, Rising Artist to Watch
Collectors are snapping up paintings by the 2014 Rutgers-Newark graduate
As a fine arts student at Rutgers University-Newark, Vaughn Spann would collect discarded umbrellas, fabrics, and rope from thrift shops near campus, assembling the objects onto supersized canvasses.  
Five years later, Spann is still experimenting with materials, adding terrycloth, paper, and twine to his massive abstract paintings. But now collectors are snapping up his work, and critical acclaim of his art has appeared everywhere from The New York Times to Bloomberg.
In January, W Magazine featured Spann in the article, "The 6 Rising Artists to Watch in 2019." And his second solo show at the Night Gallery in Los Angeles opened in April .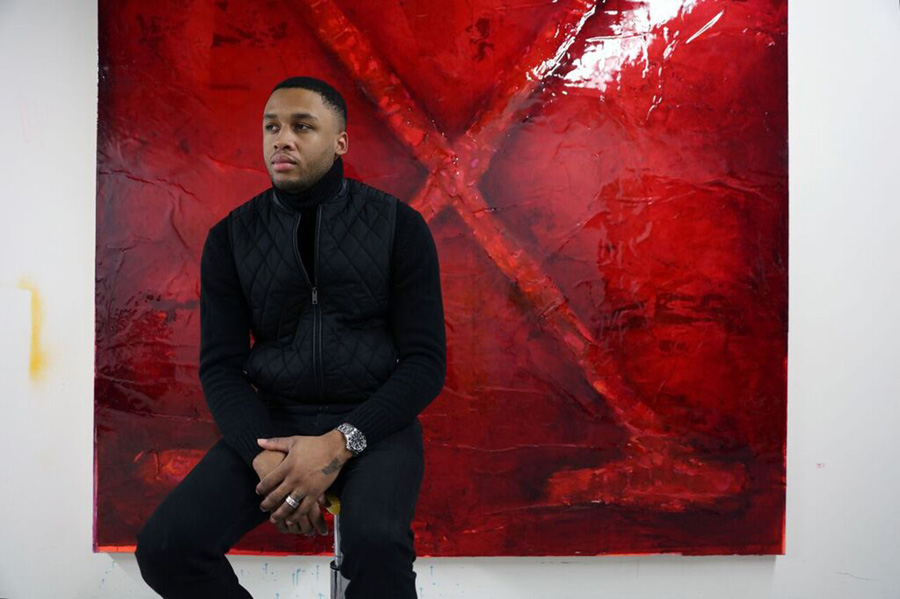 Vaughn Spann in his studio in Newark (Photo: Anthony Alvarez)
---
Spann, a 2014 graduate of Rutgers-Newark who lives in New Haven, Conn., says the growing reception to his painting has come after a nearly a decade of honing his craft. "For me, to get to where I'm at is really out of hard work, and that's something I take pride in," he says. "I'm definitely thankful, and I feel blessed to be able to support myself and my family, and that's all that I've really asked for."
As a child growing up in Orange, N.J., Spann loved to paint and draw but was also attracted to the sciences. After taking biology and physics at Rutgers, he realized that art was his calling. His time at Rutgers-Newark gave him an opportunity to explore and grow into the kind of artist he wanted to be.
He also found inspiration through his mentor, Denyse Thomasos, a renowned painter and associate professor of art at Rutgers who died suddenly in 2012 at the age of 47. Thomasos, a native of Trinidad, challenged him and helped him make a connection to art.
"To be able to find a faculty member who looked like me really gave me a type of confidence that I could do it as well," he says.
While her tragic death was devastating for Spann, he persisted in developing his skills and learned to experiment with his work in a painting course taught by Emanuele Cacciatore, a lecturer of fine arts.
Cacciatore first met Spann when he walked into his art history class sophomore year with a skateboard and set it at his feet. "I started lecturing and every other word I said, he would raise his hand," Cacciatore recalls. "He would literally ask questions all the time."
One of Spann's works at Rutgers, "Secret Legacy," still stands out in Cacciatore's mind: an American flag dipped in brown paint, folded over a book, and encircled with a rope. For Spann, the sculpture symbolized the history of the black experience in America.
"It was powerful conceptual work that he was making at the time," Cacciatore says. "It was really deep stuff for an undergraduate."
Everything about Newark from the objects he foundand the people he met to the city architecture had a profound effect on his art during his undergraduate years. He regularly worked late into the night in the art studios on campus, creating assemblages of fabrics and objects on large canvases. He scavenged for materials throughout the city for his painting and drew inspiration from the urban environment, including conversations he had with strangers and the building façades around him.
"I think what was most important about my time at Rutgers was really figuring out what type of artist I wanted to be and really laying down a foundation that would help me be experimental and rigorous in my ideas," Spann says. "That was what Rutgers provided me – a place to really think conceptually."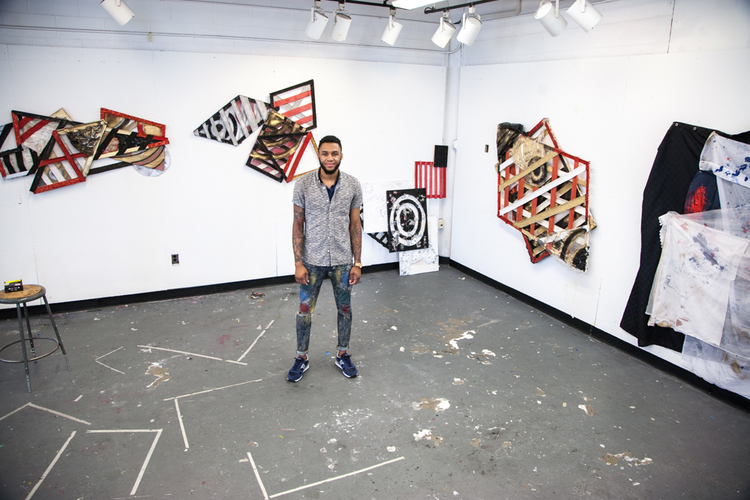 Vaughn Spann in a studio at Rutgers-Newark as an undergraduate (photo: Emanuele Cacciatore)
---
Since Thomasos, his mentor, had earned a master of fine arts at Yale, Spann decided he wanted to follow in her footsteps. After initially being rejected from the program, he reapplied and completed his MFA in 2018.
Critical acclaim quickly followed. His first solo show at the Half Gallery on New York's Upper East Side in December 2018 completely sold out, with prices for his eight paintings ranging up to $30,000.
While he is now in a one-year residency at NXTHVN, a new arts center in New Haven, Spann hasn't forgotten his roots in Newark and still maintains a studio at the Project for Empty Space in Gateway Center downtown.
He relies on both studios to develop his multifaceted style: in Newark, he paints figurative images, while in New Haven, where he works out of a sprawling open space, he creates abstract art on wide canvasses. "It's really nice to have these two separate studios because I can have a distinct break in my relationship to art making," he says. But he adds, "I'm always pulling cues from both styles, allowing them to inform my decision making."
Besides working out of his studio in Newark, Spann has remained active in the city's arts scene and has exhibited his work in small galleries and at the Open Doors Citywide Arts Festival each fall. In 2016, he was commissioned by the Rutgers University Office of Admissions to paint a mural, titled "Indivisible," for the Paul Robeson Galleries on the Newark campus.
As his work gains more recognition, Spann says his goal is to build on his success and continue to increase the critical reception to his work. "I just want to continue my career the way that it's unfolding," he says, "and hopefully the big opportunities will present themselves."