Tai Wai Hu and Jacqueline Mehr earned Goldwater Scholarships, which encourages outstanding students 

to pursue careers in mathematics and natural sciences and engineering
Tai Wai Hu always knew he wanted to be a scientist, but Jacqueline Mehr's career path was less direct. She loved reading fantasy novels and considered becoming an author, but a chance meeting with a speaker on women in the sciences, and later the pandemic, set her in a different direction.
Hu, who is majoring in physics, and Mehr, who wants to be a physician-scientist, will be forever connected as 2021 Rutgers University-New Brunswick Goldwater Scholars. Named after the late Sen. Barry Goldwater, the scholarship recognizes outstanding students like Hu and Mehr and encourages them to pursue careers in mathematics and natural sciences and engineering.
"I don't have the story that I always wanted to be a scientist," said Mehr, who was inspired by a Rutgers postdoc who spoke at an event on women in science, technology, engineering and math (STEM) and invited Mehr to tour her lab the summer before she entered Rutgers.
"But I always wanted to do something that would help people and I realized that the best way for me to do that was science," she said.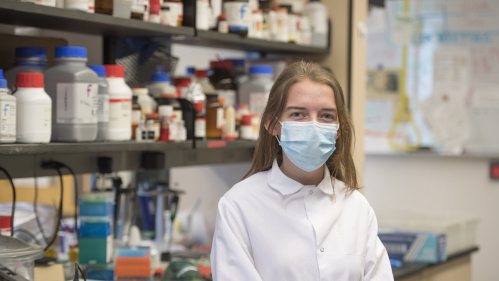 Both students have a love for research. Hu works in the laboratory of Eva Halkiadakis, professor of physics at Rutgers-New Brunswick, analyzing data collected from the Large Hadron Collider at Geneva, Switzerland, the most powerful particle accelerator in the world.
Mehr, who learned that she won the Goldwater Scholarship on her 21st birthday, works in the laboratory of Morgan James, assistant professor of psychiatry at Robert Wood Johnson Medical School, and plans to enroll in a M.D./Ph.D. program after she graduates.
Before the coronavirus pandemic, Mehr, a student in the School of Environmental and Biological Sciences, had been majoring in biotechnology and planned to become a research scientist helping to create products that lead to new medical breakthroughs. But she switched her major to biological sciences to pursue medical research after the global COVID-19 pandemic shut down the state last spring.
"The reason I want to be a physician-scientist is that I think it is really difficult to translate research findings to the clinical space," said Mehr. "Being able to do both research and medical work and making the information understandable to the patient population is so important to both science and health care."
Working in laboratories at Robert Wood Johnson Medical School Department of Psychiatry and the Rutgers Brain Health Institute, Mehr is focusing her research on binge eating, the most common eating disorder, where people repeatedly eat a large quantity in one sitting and don't feel like they have control over their eating behavior.
Hu, who was born in Hong Kong and grew up in China and immigrated to the United States with his family a few years ago, says his love for science began in elementary school when his mother enrolled him in a class looking at toys and electrical components.
"I was just fascinated by electromagnetic waves going through space, making Wi-Fi and microwaves work," he said. "I think I was hooked from that point on."
When Hu found out that he had been selected as one of the 410 Goldwater Scholars out of a pool of more than 5,000 students submitted from 461 colleges and universities around the country, he felt thankful to be included in this prestigious group of student scientists.
"I was definitely surprised and really happy," said Hu. "It gives me confidence in my potential to become a competent physicist someday."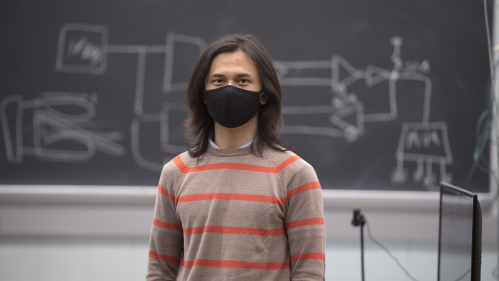 Majoring in physics and mathematics in the School of Arts and Sciences, Hu is focusing his studies on high-energy experimental physics, which explores what makes up the universe and reveals the connections between all the particles that surround us.
He wants to build on this work with the Large Hadron Collider. Such particle accelerators, according to the U.S. Department of Energy, will be critical in discovering tools to treat medical patients, manufacture electronics and develop clean energy technologies.
"High-energy experimental physics can be hard to visualize, but people have used its data to invent all kinds of useful technologies," said Hu. "It's used for medical imaging and cancer therapy and I'm sure there will be many more applications."
Hu, 20, plans on continuing his academic career, working toward a doctoral degree in either physics or math with future plans to teach and do research at a university or research institution where he can continue looking beyond the Standard Model of Physics, currently the best theory to describe the most basic building blocks of the universe.
"Even though these experiments are based on abstract principles, using the information that comes from this research will have tangible benefit to us all," he said.
Universities and four-year colleges may nominate up to four Goldwater candidates annually. The recognition of Mehr and Hu marks the 16th consecutive year that Rutgers-New Brunswick students have been selected as Goldwater Scholars, which awards recipients up to $7,500 to help cover costs associated with tuition, mandatory fees, books, and room and board.
"Jackie and Tai Wai's achievement gives Rutgers 30 Goldwater Scholars in the past 14 years," said Arthur D. Casciato, director of the Office of Distinguished Fellowships. "This record of consistency testifies not only to the ability and potential of Rutgers' undergraduate students in the sciences, engineering and mathematics but also to the excellent mentoring our Goldwater candidates receive from the faculty to whose research they contribute."