Two Rutgers Student Films Screened at Cannes Film Festival
Filmmakers in the audience watching their work be presented during the 12-day event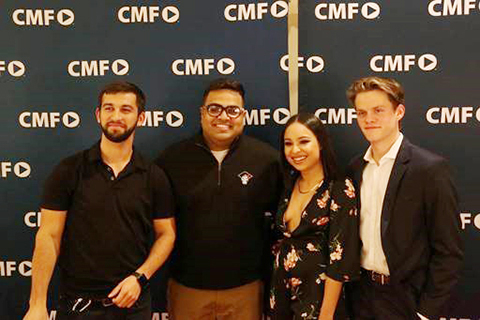 "My dream in life is to make movies and having my film shown at Cannes really validates that I could be a film writer full time."

 

– Daniel Reji
One film showcases the choice Muslim-American women make in wearing the traditional headscarf. Another film depicts the fantasy of a writer who falls in love with a woman at a diner and escapes with her to Manhattan.
The two movies, written and produced by two teams of Rutgers students, will be screened at the prestigious Cannes Film Festival in France. Four of the filmmakers will be in the audience watching their work presented at the 12-day festival in the famed resort city on the French Riviera.
"My dream in life is to make movies and having my film shown at Cannes really validates that I could be a film writer full time," says Daniel Reji, who graduated last year from Rutgers Business School-Newark and New Brunswick. Reji was a senior when he wrote the screenplay for Opal, a fictional account of a writer who becomes infatuated with a woman in the Somerset Diner.   
Opal and The Woman Under the Veil were both created as part of Campus MovieFest, an international event in which college students produce a five-minute film in one week. After they were shown at Rutgers' Campus MovieFest in April 2017, the two movies were among four that won jury awards and were sent to be screened at the TERMINUS Conference & Festival in Atlanta, an event that brings together the top student films.
At the Atlanta festival, The Woman Under the Veil, written by Morgan Sanguedolce, received an award for documentaries, which included a $10,000 cash prize and an all-expense paid trip to Cannes. Sanguedolce, a senior English major in Rutgers-New Brunswick's School of Arts and Sciences, and Ben Peraria, a senior journalism and media studies major in the School of Communication and Information who worked on the film's crew, will be travelling together after graduation on May 13.
"I was very lucky because had I not won that prize and the all-expense-paid trip, I probably would not have been able to go to Cannes, whether they invited my film to be screened or not," says Sanguedolce, who hopes to work in the entertainment field.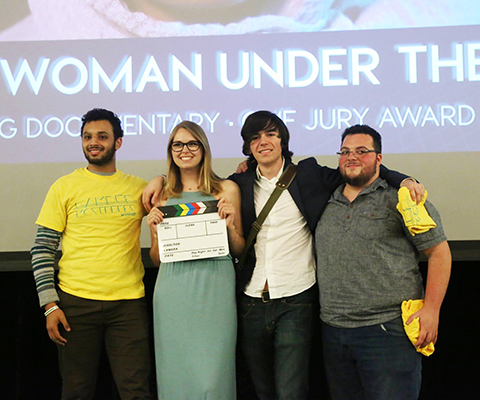 Sanguedolce decided to make a film about why some American-Muslim women choose to wear a hijab after meeting a Muslim student at Rutgers who was working on another movie about Islamophobia. The student, Bara Elhag, a senior English major in the School of Arts and Sciences, told her that women face the brunt of discrimination against Muslims in the United States because of their decision to wear the highly visible symbol of the hijab, which covers their hair as a sign of modesty.

Elhag interviewed three students for the film – two who wear the hijab and one who does not – while Sanguedolce spoke to Atiya Aftab, an adjunct professor of Middle Eastern studies at Rutgers. What Sanguedolce discovered while making the film was that Muslim women in the United States can choose whether or not to wear the headscarf.
"Even though women in other countries are being forced to wear it, American-Muslim women are not," she says. "It's not the religion that forces you to do anything with clothing. In America, with our policies and laws on religious freedom, Muslim women can choose to wear it or not."
In his film, Reji explores the issue of how dreams may not be the utopia that people think they are. The fantasy that the writer has of absconding with a woman he meets in a diner is disrupted by the arrival of another man who appears in both their whirlwind tour through Manhattan and their shared space in the restaurant.
"What I wanted to show was if you have a dream world, it's not always as perfect as it seems," says Reji, who majored in marketing and entrepreneurship at Rutgers Business School. "I like it when real-life problems can actually get into your dreams."
Reji, who is working at the startup firm inDinero in Manhattan, created the film with Jack Cook,  a third-year economics major in the School of Arts and Sciences. Both are traveling to Cannes, where Opal and Woman Under the Veil will be screened at the festival's Short Film Corner, a non-competitive event for new filmmakers.
"Our goal is to make a lot of great films together, and hopefully we'll meet other producers at Cannes," Reji says. "I want to be a better screenwriter and Jack wants to be a better director, so we just want to get better together."