"Turn the Campus Purple" Campaign Provides Resources for All Survivors and Allies During Domestic Violence Awareness Month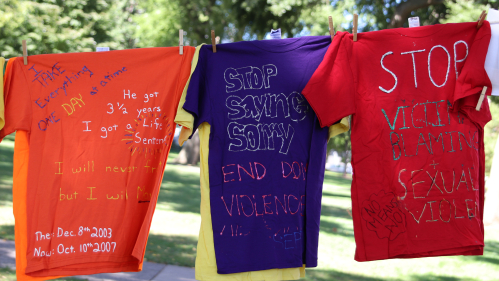 Domestic violence doesn't discriminate.
It can affect anyone anywhere, regardless of gender, age, sexuality, education and economics.
This October, the Office for Violence Prevention and Victim Assistance (VPVA) at Rutgers University-New Brunswick has taken steps in its research and advocacy work to meet the needs of the entire Rutgers community, not just those traditionally assumed to be at risk of domestic violence.
"Most of what we find in the research is very catered to the experience of white cisgender women and their experiences, and we would like to shine light on folks who don't necessarily fit in that identity, whose experiences might have different layers that are not accounted for in popular media and literature," said Rebecca Vazquez, director of VPVA. "Dating violence crosses all identities and experiences, and we're trying to be intentional about addressing the intersections of where our students are." 
Named after the awareness color associated with domestic violence, VPVA's monthlong "Turn the Campus Purple" campaign for Domestic Violence Awareness Month aims to connect university advocates, students, organizations, faculty, staff and university leadership to raise awareness of and support efforts to end all forms of domestic violence. 
Throughout October, VPVA runs additional sessions of Students Challenging Realities and Educating Against Myths (SCREAM) Theater, which uses improvisational student-led skits to educate the Rutgers-New Brunswick community on issues of interpersonal violence, with an emphasis on dating and domestic violence. 
VPVA also maintains free trauma-informed counseling and advocacy services, a hotline number for those impacted by violence, and a support system of survivors. Historically, the number of students attending programming and accessing the resources of VPVA spikes in October. 
"In our last iSpeak survey, launched in 2018, we found that about 25 percent of our students were coming into Rutgers with domestic violence experience, and approximately 50 percent of students reported at least one experience of dating violence since coming to campus," Vazquez said. 
VPVA sees its work during October and beyond as important not only for educating members of the Rutgers community about these topics, but also for providing tools with which they can lead healthier and safer lives. 
"Through our workshops, we can provide a space and language for many of our participants to work through their experiences and come to their own conclusions," said Erin Snyder, associate director of VPVA. "It's important to know that domestic violence doesn't necessarily mean physical violence, so we do a lot of education on financial abuse and sexual coercion, and are planning to expand our programming on tech abuse, among other topics." 
The work of VPVA also extends to staff and faculty members at Rutgers, who can take a leading role in addressing domestic violence in their work with colleagues and students. 
"The statistics for domestic violence are very high. They don't just disappear when we come into a workplace," said Snyder. "So, if we assume that we're sharing spaces with survivors all the time, it could shape the way that we approach one another, the language that we use and the way that we occupy spaces to be more empathetic and compassionate." 
VPVA is located on 3 Bartlett Street in New Brunswick where it is open 9 a.m. - 5 p.m., Monday-Friday. Crisis intervention and advocacy are available 24/7 on their hotline at 848-932-1181 (press 0 after hours to connect with an advocate). You can find a link to a full list of their October schedule of events here. For more information, visit the VPVA website.