True Love and Science Inspire a Cancer-Fighting Algorithm
Using a computerized solution, a Rutgers researcher has found a potential predictor of treatment response for prostate cancer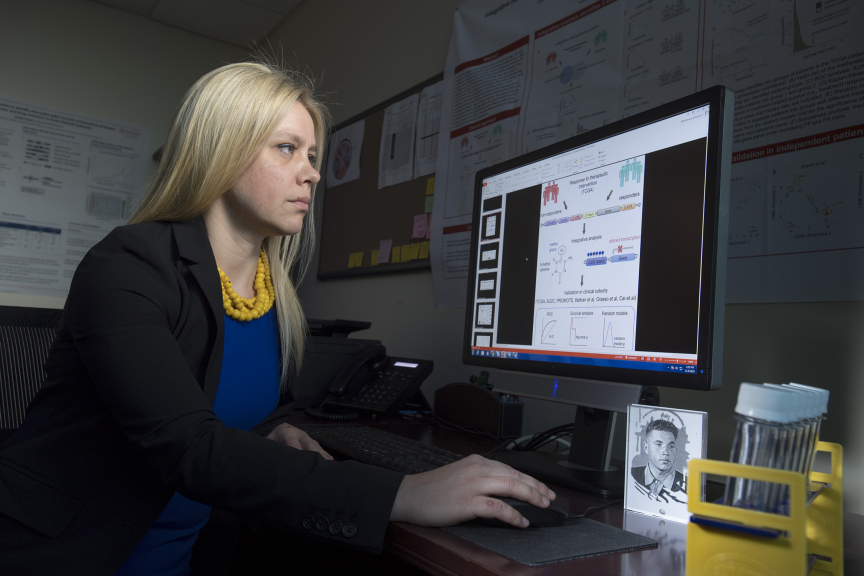 What do you do when you want to dedicate your life to fighting cancer, but a life change means you can't afford medical school? When Antonina Mitrofanova learned she couldn't become an oncologist, she changed majors – to computer science – so she could fight cancer with big data.
Now a pioneer in the emerging field of biomedical informatics, Mitrofanova, an assistant professor at the Rutgers School of Health Professions and a research member of the Rutgers Cancer Institute of New Jersey, has developed an algorithm that predicts how prostate cancer patients will respond to androgen deprivation therapy (ADT). ADT is an antihormone therapy used in treating prostate cancer that reduces levels of androgen hormones and prevents cancer cells from growing.
For about half of all prostate cancer patients, ADT contributes to improved health, but for the rest it results in more aggressive cancer. Knowing how a patient will respond to ADT before the start of therapy can save lives and prevent suffering. 
Mitrofanova's computerized solution, for which a patent is pending, looks at genetic and nongenetic markers to analyze from the patient's initial biopsy.
"When the patient is diagnosed with prostate cancer, part of the biopsy is put aside and screened for these markers," she said. "From there, we can determine which patients will respond favorably and which will be at risk in order to inform both the patient and physician if this will be the best treatment for that patient."
The data from the biopsies and removed prostates of patients predicted ADT outcomes successfully 90 percent of the time.
"This approach builds a strong foundation for a more personalized therapy and, in the long term, can be included to improve clinical decision-making, patient survival and cancer management," she said. 
While Mitrofanova's study focused on ADT for prostate cancer, she believes this algorithm will broader have applications for other cancers and treatment types.
Mitrofanova's path to linking oncology with data engineering began in Ukraine, where she was born. She was 9 years old when her grandfather, a cab driver, volunteered as one of 60,000 "liquidators" recruited by the Soviet government to mitigate damage from the Chernobyl nuclear disaster in 1986. The volunteers knew they would be exposed to massive amounts of radiation. He was diagnosed with prostate cancer shortly thereafter.
Determined to help people like her grandfather, Mitrofanova completed four years of medical school in Ukraine before emigrating to the United States to marry her true love, whose half-Jewish family had fled here as refugees. Unable to afford medical school here, she obtained a merit scholarship to study computer science at Brooklyn College. She later obtained her doctoral degree in computer science at New York University and postdoctoral training at Columbia University Cancer Center.
Her research on the predictive algorithm in prostate cancer was published in EBioMedicine earlier this year.