Terrell Barnes Followed His Dream From Rutgers Football to the Minnesota Vikings
Fifteen former Scarlet Knights are currently on NFL rosters. Sixteen if you count Terrell Barnes.
Barnes, a 2014 Rutgers graduate, didn't get there because of his speed or strong throwing arm. Instead, his energy and skills are put to use behind the scenes preparing the team to always be ready through his role as an equipment manager.
It's not a high-profile calling in sports, but it led to a coveted job. Barnes is currently in his fifth year as an assistant equipment manager with the Minnesota Vikings.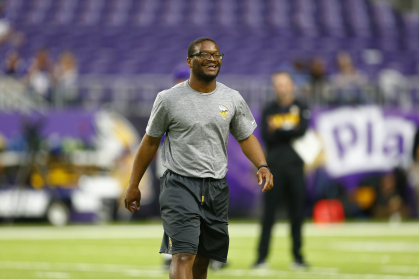 "I like setting things up and being part of the show,'' is how the 28-year-old put it. "I like being on the inside and doing things for other people to help them be the best they can be. I have fun doing it and get to be active. Not too many people can say, 'I get to be around football 100 percent of the time and play catch with professional athletes.' ''
Barnes's career was born out of his desire to be around his friends who were on the football team at Pemberton High School. At the time, Barnes was a skinny kid who weighed in at 156 pounds and was not cut out to be a linebacker. But he dreamed of a being in cleats, so he found a creative way to get there.
Soon after he came to Rutgers University-New Brunswick, Barnes joined the Scarlet Knights staff. He worked full time for three years while earning his bachelor's degree. His experience with Rutgers football reinforced his dream to work in professional football in the same role he has held since high school.
As athletes know, the road to the NFL is not easy or fast. Barnes sent resumes to several teams, networked with the people he met at Rutgers and made a lot of phone calls. In the end a fraternity brother at Chi Psi – whose grandfather was a barber for the Wilf family, which owns the Vikings – helped make a connection.
A month later, Barnes got a call from the Vikings' head equipment manager, telling him that a new stadium was being built and they could use some help in the transition. What started as a temporary gig soon became a full-time role.
Just one year after getting his degree, the Rutgers grad had his dream job.
"The only difference between here and college is that you are a professional and with these guys every single waking hour. During the season you're basically with them every single day,'' Barnes said, "so you develop good relationships. But I liked my time in college and made some great friends.''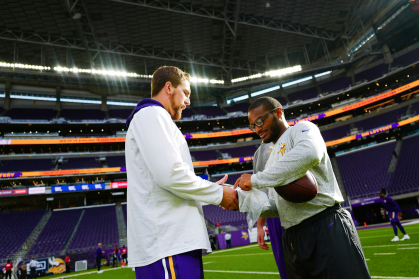 His duties for the Vikings include setting up and breaking down field equipment, assisting with the upkeep of the locker room, making sure that helmets, shoulder pads, cleats, shorts, socks and other apparel are all accounted for in players' cubicles. He also does laundry – lots of laundry – for the team. For away games he helps pack up trucks headed to the airport, then at the game site he helps set up the team's visiting locker room, break it down after the game and repeat the truck loading.
Home game responsibilities also involve setting up and breaking down the game field, in addition to the Viking sideline. Among his favorite pre-game duties are catching throws for quarterbacks Kirk Cousins and Sean Mannion, and tossing passes to wide receivers Stefon Diggs and Adam Thielen, and running back Dalvin Cook.
A few years ago, ESPN tracked Barnes's movements during a team workout and extrapolated that he covers about four miles in a two-hour practice.
Dennis Ryan has been the equipment manager with the Vikings the past 44 years. He calls Barnes "the fastest hustler we've ever had here. He works his butt off. I think he came from Rutgers with a real positive attitude. Everybody here loves him. I hope he's here for a long time.''
For Barnes, one of the perks of the job is running into old friends.
"What's cool is when I see former players from Rutgers like Mohamed Sanu (wide receiver for the Atlanta Falcons). We spoke one pre-game for a good five minutes. We were freshmen together. And it's cool to see what Super Bowl champions Devin McCourty and Jason McCourty are doing with the New England Patriots.''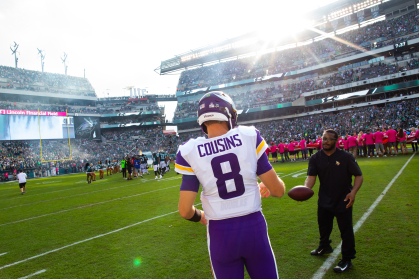 He is proud to be one of the Scarlet Knights biggest fans and wears his Rutgers gear often around Minnesota.
"There's a bar that knows who I am and will put on Rutgers games in football and basketball. I love Rutgers,'' Barnes said. "I love saying it's the birthplace of college football. It's weird how some people do know it and I get excited when I hear that.''
It's a conversation he has had around the country.
"I remember talking with Kirk Cousins, who played at Michigan State, about Rutgers being the birthplace of college football. I was like, 'Yes!' I preach every single moment I have. It's something to be proud of, regardless of where we're at, winning, losing; it's something still to hang your hat on. You're the first.''
The team hears that a lot from the Jersey guy. "Often,'' Ryan said with a laugh, "we tease him a little bit, taking bets and having fun. He's truly the biggest Rutgers fan on the planet."