Studying Ways to Reshape the Workplace and Boost Middle Class Wealth
Joo Hun Han is one of 28 research fellows appointed by the Rutgers Institute for the Study of Employee Ownership and Profit Sharing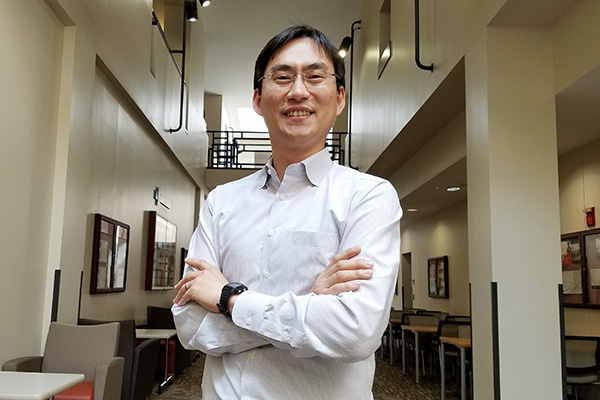 Hiring a diverse workforce enables companies to tap a larger pool of knowledge and perspectives, creating opportunities for significant growth. It can also lead to the occasional conflict, as employees from vastly different backgrounds must learn to coexist.
Joo Hun Han, an assistant professor of human resource management at the School of Management and Labor Relations (SMLR), wants to explore how offering broad-based equity compensation – which gives employees a stake in the company they work for – may help to get everyone on the same page more quickly. Examples of such compensation include restricted stock units, stock options and employee stock purchase plans.
"I suspect equity compensation instills a sense of shared ownership and responsibility, motivating employees to see past their differences and work together toward a shared goal," Han said. "Such collaboration would contribute not only to improved company performance, but also to higher levels of satisfaction and engagement in the workforce."
Han will soon launch a research project to test his theory. He is the inaugural Computershare Fellow in Equity Compensation, one of 28 fellows and faculty mentors appointed this year by the Rutgers Institute for the Study of Employee Ownership and Profit Sharing at SMLR. It is the largest class in the 11-year history of the fellowship program, featuring eminent scholars from colleges, universities and policy centers in the U.S. and Europe.
Other recipients with Rutgers ties include Bill Castellano, a professor of human resource management and executive director of the NJ/NY Center for Employee Ownership at SMLR; Saehee Kang, a Ph.D candidate in industrial relations and human resources; and adjunct lecturers Christopher Mackin and Christopher Michael.
"We're delighted to have such a strong group of fellows for this coming year, including both new and experienced scholars and practitioners," said Distinguished Professor Douglas Kruse, the institute's associate director and a former senior economist for the White House Council of Economic Advisers. "Research continues to show that financial participation by employees has good potential to improve outcomes for employees, firms and the economy as a whole."
One of the institute's recent studies found that employee stock ownership plans, commonly known as ESOPs, help low-income and moderate-income workers build significant wealth – narrowing the gender and racial wealth gaps. The Institute also played a key role in the recent national survey that found strong bipartisan support for employee ownership.
It all comes at a time when capital shares are becoming increasingly prominent in public policy discussions. The bipartisan Main Street Employee Ownership Act became law in late 2018, and several presidential candidates recently introduced legislation to expand shares.
The Rutgers fellowships, awarded on a competitive basis, enable scholars to explore how shares affect employees, employers and the economy, according to Joseph Blasi, the J. Robert Beyster Distinguished Professor and director of the institute.
"If the goal is financial inclusion and an economy that builds the middle class, then encouraging serious research on both employee share ownership and profit sharing makes a lot of sense," Blasi said.
Han is excited to be a part of it. He previously examined how profit sharing can make employees feel more valued at work, ultimately translating into stronger job performance. Now, he can't wait to get to work on his new study.
"Employee ownership, profit sharing and equity compensation can fundamentally change the nature of the employment relationship into one that is characterized by mutual trust and support," Han said. "I believe this kind of employment relationship benefits both employees and their companies."