How to Prevent "Maskne" for Clinicians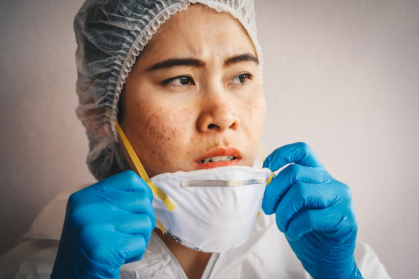 A Rutgers study examines the effectiveness of skin barriers that protect clinicians from irritation due to prolonged mask use
A widely available skin barrier used to protect against adhesives and other irritants could potentially help prevent skin damage and breakdown that clinicians suffered as a result of extended mask use during the pandemic, a Rutgers Robert Wood Johnson Medical School study found.
The student- led study under the guidance of Daniel S. Morrison, associate professor of emergency medicine, examined the effectiveness of various skin barriers and their impact on the seal integrity of masks. It was one of the largest studies to date to address a condition now commonly referred to as "maskne."
Throughout the pandemic, many clinicians have been wearing and reusing their own personal protective equipment (PPE), like the N95 and 3M half-face mask respirators, across multiple shifts due to PPE shortages. As a result, clinicians are experiencing skin irritation, inflammation, breakdown, and ulcerations due to protracted use of N95s.
Researchers working on the study, published in the May edition of the Journal of Hospital Infection, examined whether the placement of a silicone scar sheet (ScarAway), the skin barrier film Cavilon or Tegaderm wound dressing affects 3M half-face mask respirator barrier integrity when compared to no barrier using QNFT.  3M half-mask respirators were chosen because they were already being used by clinicians, are reusable, and are readily available. Nine clinicians were enrolled, including physicians, physician assistants, nurses, and technicians. 
All volunteers served as their own control as they were tested using their own 3M half-face mask respirator, with and without each skin barrier. Participants were also instructed to apply the supplied dressing on their nasal bridge. No further instruction was given to the participant regarding the placement of the dressing. The study aimed to see the effects of the dressings as they would be commonly placed and used with masks in clinical use. 
Results showed that Cavilon, a liquid barrier film commonly used to protect the skin against adhesives used around an IV site, did not compromise the seal like the silicone scar sheet or Tegaderm.
"These results will inform future research and hospital policies about the safest barriers to prevent skin breakdown without compromising on the safety of our providers and patients in this pandemic," said Morrison.
Investigators recommend that clinicians be appropriately fit tested in a quantitative manner and encourage specialists in the field of dermatology, infectious disease, and occupational safety, to collaborate further to ensure healthcare workers feel safe and comfortable when treating COVID-19 patients and other airborne diseases in the coming months and in future pandemics.