Students Join the Fight Against Hunger Through Gleaning Event
A group of Rutgers students got together to make sure New Jersey families won't go hungry this Thanksgiving holiday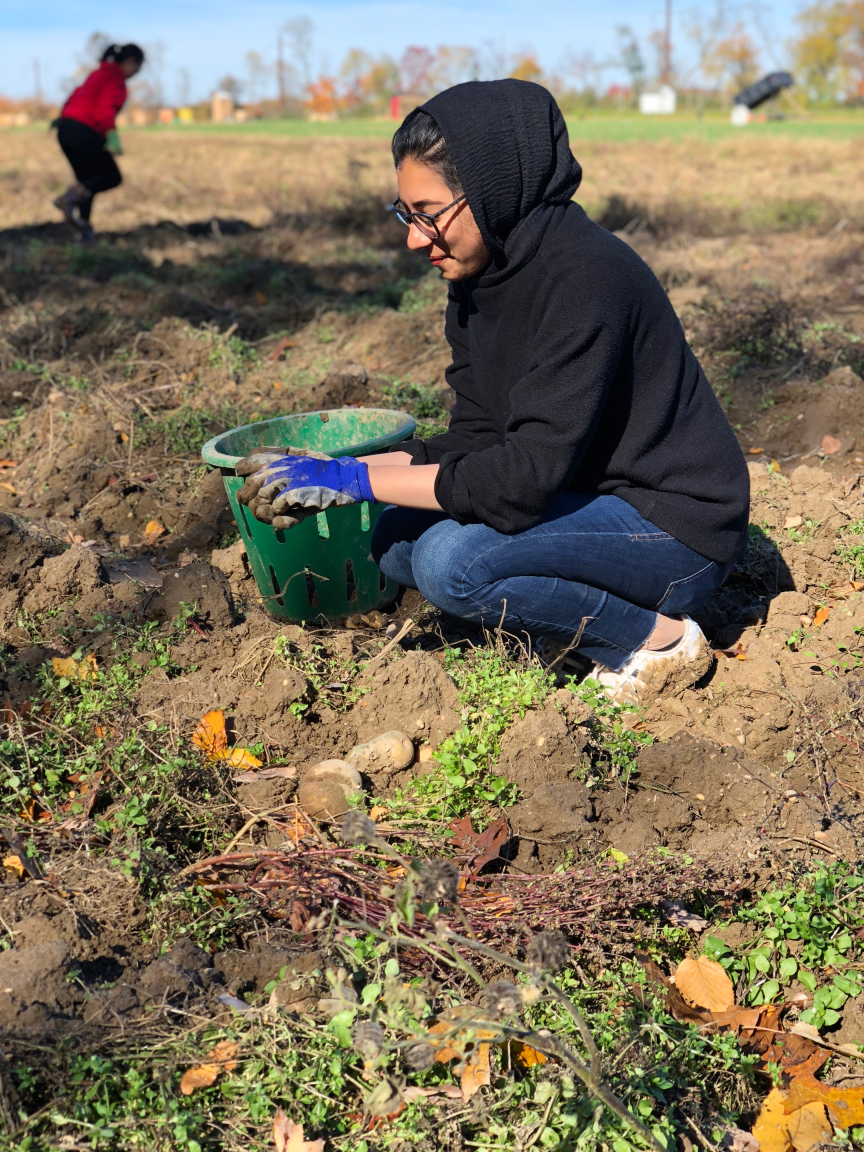 "One in eight people experience food insecurity and we have this food and we need to make sure to not waste it." –Elyse Yerrapathruni
A group of students recently spent hours on a chilly November morning digging through the soil at Von Thun Farms to collect potatoes left behind after the season's annual harvest to help put food on the table this Thanksgiving for families in need.
This was part of a gleaning event – the custom of collecting food left behind at the end of the season – led by Student-Organized Rutgers Against Hunger (SO RAH), an extension of Rutgers Against Hunger (RAH), and New Jersey Farmers Against Hunger. The food they collected – hundreds of pounds of potatoes – was donated to local food pantries and community kitchens to distribute leading up to the holiday.
The 10 students volunteered at the South Brunswick farm, along with dozens of community volunteers, to add to the 1.5 million pounds of crops Farmers Against Hunger collects annually through similar events. Students have been volunteering toward these efforts for the past seven years.
"I'm glad that we were all able to contribute to the efforts being made to make sure no one goes hungry, especially with Thanksgiving around the corner," said Shivani Rao, president of SO RAH. "It feels great knowing that any time we spend working with Farmers Against Hunger is going toward a good cause."
The USDA estimates that over 100 billion pounds of produce is left in the fields every year. That's more than 20 percent of the nation's food supply. In addition, it is estimated that every year, close to 16 million children are at risk of going hungry.
"Gleaning is so important because there is so much food that is wasted that could be put to better use, especially in feeding the hungry," said Elyse Yerrapathruni, director of outreach and events for NJ Farmers Against Hunger. "One in eight people experience food insecurity and we have this food and we need to make sure to not waste it."
In order to tackle rising food insecurity issues, New Jersey passed three bills into laws in 2016 for the purposes of educating the public on gleaning as a method of reducing food insecurity and food waste. The bills included adding a designated week in September as New Jersey State Gleaning Week to promote and educate the community on volunteer opportunities and raise awareness of the food insecurity issues.
The Rutgers student group was created in 2011 to tackle food insecurity in the community and raise awareness of these issues. Rao stressed the significance of addressing the issue of discarding millions of pounds of perfectly usable produce for simply being visually unappealing. The members of SO RAH said being a part of the solution has been one of the most meaningful additions to their college careers.
"It's such a fulfilling experience to be able to help our local New Jersey communities and aid in the mission of ending food insecurity," said Kajal Desai, the vicepPresident of SO RAH. "It is important to raise awareness about the issue of food insecurity, and farm gleaning is such a fun and easy way to help end this issue."
Gleaning events start in June and continue through December.
To find out how you can become a student volunteer, contact SO RAH at studentorganizedrah@gmail.com.