Back in the late 1970s, as a student at Douglass College, Ghislaine Darden helped host a Renaissance Fair in the Commuter Lounge, and a fascination with sewing historical costumes began.
"We made Elizabethan costumes and Heraldic banners. There was no internet at this time, so I studied pictures in library books of the clothing worn during the Renaissance and recreated it for the fair," says Darden, now executive director, Strategic Services, a group within Institutional Planning and Operations.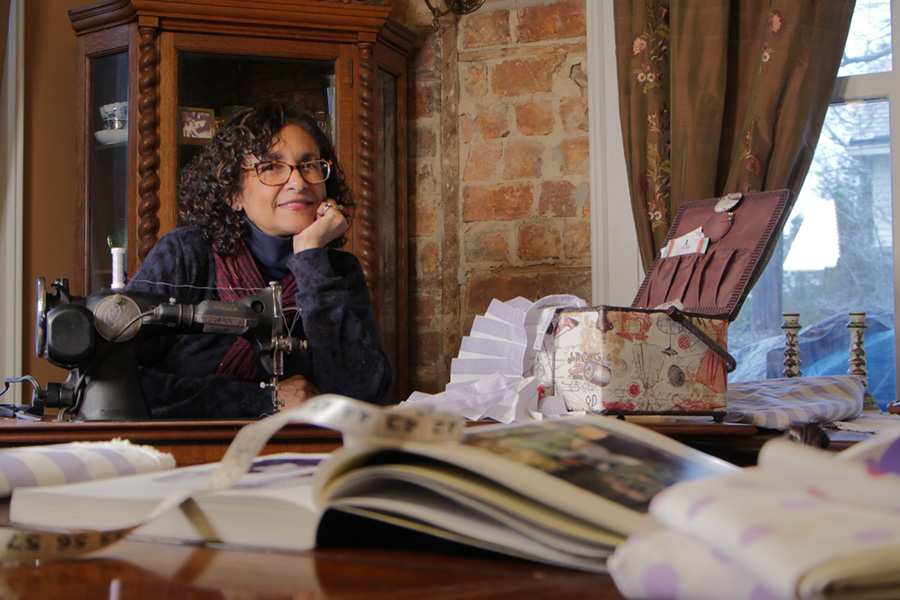 When she is not at work for Institutional Planning and Operations at Rutgers, Ghislaine Darden is reviving fashion from centuries past. 
(Photo: Cameron Bowman)
---
Darden always had an interest in sewing, making her first garment, an evening gown, in 1976. Later, a pattern making course would teach her the foundation of a garment and how clothing is constructed. This course would be critical for Darden who often makes historical clothing without patterns. "I looked at paintings from different eras and constructed clothing without the patterns," she explained. Costumes for a Baroque Rococo party, Edwardian Lawn party, and George Washington Ball were all constructed from studying paintings. Darden even got into millinery arts and had a hat party.
After college, and with a degree in art history, Darden started working at an auction house in Manhattan. "I stopped historical sewing and was only sewing designer patterns for my work clothing," she said.
In 1987, Darden joined Rutgers. "I stopped sewing for about 20 years except for matching princess costumes which I made for my daughters for Halloween in 1999. We bought a house in 2001, and I was deep into its restoration. The house was built in 1869, so when we finally completed the restoration in 2013, I wanted to have an 1869 costume party."
Everyone was told to come dressed as a person from 1869. It did not have to be a famous person, but it had to reflect the time period. Darden also researched and made food from that time. "Over 70 people came to my yard in costume," Darden said. She sewed six of the costumes for that party: her own, as well as for family members.       
The success of this event kicked off two more historical parties. The Oregon Trail party for which Darden made five costumes, and featured food cooked in a fire pot. "I read 50 diaries for the Oregon Trail party. I was immersed in the time period, the food and the people. I wanted to know who died as the pioneers traveled along the trail, and who they met along the way." By this time, Darden was relying on the internet to find information and to find the pictures from which to construct her costumes.
"So much has happened in the ensuing years from the Renaissance Fair at the Douglass Commuter Lounge until now. I had a long break from sewing in between and now I can't put it down."
The New Amsterdam Party followed, with Darden's yard set up as a tavern. In addition to making 10 costumes, Darden made 50 pot pies!  Over 70 people attended in period costumes. "It was a fun party," she laughed. 
Much research goes into making historical clothing. Darden has found that while the internet has made research easier, finding patterns is not always so. "You can find patterns from the 18th and 19th centuries, but not so much from the 17th century," she explained. This is where paintings and her pattern making course come in handy. "I have been very successful at reconstructing clothing I see in paintings."
Darden cannot only speak volumes about corsets, bum rolls, and hoop skirts, just to name a few items, but she can describe in detail what goes into making these items. "Corsets, stays, and jumps are all basically corsets," she explained. "Jumps were used in the 17th century, stays in the 18th, and corsets in the 19th. Women were still wearing them into 1914. Skirts also remained long through 1918 at the end of WWI. After that, skirts start to rise in length in the 1920s and women had abandoned corsets."
Daren will spend hours studying the design of a dress before starting to recreate it. "I look at paintings and try to figure out how different details came together. Why do the shoulders droop a certain way? How many panels are in a skirt?" From there she starts constructing the item. Sewers often use muslin, which is an inexpensive fabric used to mock-up a garment before cutting and sewing the expensive fabric. "Old sheets are good for this and my husband's retired white shirts," she explained.
Throughout the process of rediscovering historical sewing, Darden and a group of like-minded sewers began meeting regularly. They call themselves "The Sewists", or the "sip, stitch, and bitch" group. They meet twice a week and have discovered that they don't have to host parties, rather, there is a whole world of themed balls to attend, in costume.
"We have gone to Edwardian, Colonial, and Gettysburg events," said Darden. In August, they will be attending the Nahant Victorian Dance Weekend in Nahant, MA. The weekend, which is sponsored by the Vintage Victorian and New England Vintage Arts Society, features four days of dancing and amusements in a vintage resort setting. "This year I'll need four different outfits for Nahant. A Ragtime theme dinner/dance, flapper, Viennese Ball, and a 19th-century seaside promenade. Darden, who sews every day, admits that it is a rigorous and exhausting hobby. Her spouse, John, joins her at the events and is a good-natured model for when she is sewing. He has been a 17th-century Dutch cavalier, among other costumed characters.
In addition to Nahant, in November they will attend a Gettysburg Ball and in December, a Colonial Ball. "Many of the people who go to the balls are there for the dancing. There are very few sewers. Now we are learning to dance," she added.  "With the internet, there is so much more information out there. I have found groups on Facebook dedicated to historical sewing. There is the Monmouth County Historical Society, which meets monthly and teaches 18th-century sewing. So much has happened in the ensuing years from the Renaissance Fair at the Douglass Commuter Lounge until now. I had a long break from sewing in between and now I can't put it down."