Staying Current on State's Resources Crucial in Coronavirus Vaccination Rollout
Rutgers expert

provides insight into New Jersey's inoculation effort
Although COVID-19 vaccines are limited, the federal government is working to increase supply throughout the country, says Mary O'Dowd, executive director of Health Systems and Population Health Integration at Rutgers Biomedical and Health Sciences, and urges New Jersey residents to sign up on the state distribution system and on local and regional vaccine registration sites for when vaccines become fully available.
President Joseph Biden – in response to governors across the country who are running out of vaccines – has ordered another 200 million vaccine doses from Moderna and Pfizer and has pledged to vaccinate 300 million Americans by the end of the summer. In New Jersey, according to the state's information hub, 627,677 total vaccine doses have been administered as of Wednesday.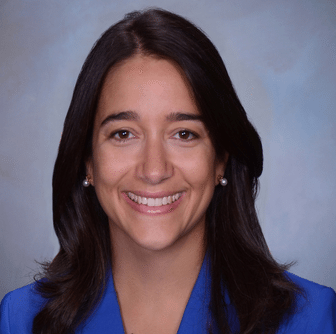 "Clearly, President Biden is focused on increasing vaccine supply and has demonstrated that he is embracing the public health tools like mask wearing, which is an equally important strategy to control the spread of the virus," says O'Dowd, the former commissioner of the New Jersey Department of Health and host of the podcast series, On the Pandemic.
What is the state's vaccine registration system and why should people register?
New Jersey's COVID-19 Vaccine Registration helps people find out if they are currently eligible for the vaccine and connects them with scheduling an appointment to get vaccinated when available. It is also one way the state is measuring demand and where individuals seeking vaccines live, which can help with distribution plans. Since distribution sites are not fully interconnected, it is important to look at the list of local and regional vaccination sites and register with them as well. How much vaccine is available, how much gets shipped to the state and who gets it is rapidly changing. While waiting to be vaccinated, follow public health recommendations: wear a mask, keep socially distant and wash your hands.
How does the phasing work and what phase are we in now?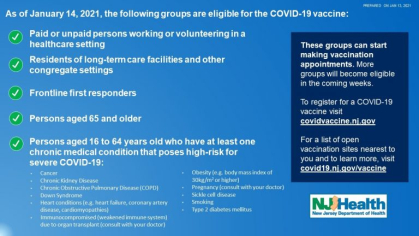 Since the vaccine rollout in December, there continues to be changes in federal recommendations and the implementation at the state and local level focused on vaccinating the people who need it most. New Jersey is currently in phase 1B of vaccine distribution. Vaccines are available to paid and unpaid health care workers, residents and staff of long-term and congregate care facilities and first responders, including sworn law enforcement and fire professionals, people over age 65 and those 16-64 with certain medical conditions as defined by the CDC. To stay informed, check the state website. 
Why is it currently difficult to get a vaccine, even for people who are eligible, and when do you expect vaccines will become more widespread?
The primary reason is that we don't have enough vaccine and we don't know when we will have enough. Despite the incredible speed of vaccine development, getting everyone vaccinated will take more time than we want. Be assured, however, that anyone who wants a vaccine will get one. Secondly, the logistics for distributing this vaccine are difficult. The vaccine needs to be stored at cold temperatures and without a lot of movement to stay effective. This makes it hard to get it from the manufacturer and into communities quickly. Thirdly, the vaccine is being distributed differently than routine care. At this point, people are not yet getting these vaccines through their provider's office or a pharmacy as part of a regular visit, it is a very different process and it will take time getting used to this change.
Where can I find a location to get vaccinated if I'm eligible?
The state created a hub for COVID-19 information, which includes vaccination information on the 259 sites around the state. The vaccine is by appointment only to those eligible. If you are pre-registered for the vaccine on the NJ Vaccine Scheduling System, you will be notified when you can schedule an appointment. Some facilities – like health  care organizations – are closed to the public and are only providing vaccines to their employees. In New Jersey, sites include acute care hospitals, state-coordinated mega sites, county/local sites, retail pharmacies and other locations. As vaccine availability increases, the state Department of Health plans to add more distribution sites across the state. Rutgers hopes to open its own inoculation sites on or near university campuses as vaccine supply increases.
What are the side effects of the vaccine? 
While a small subset of the population has had an allergic reaction to the vaccine, the side effects are generally mild to moderate. People have described them as similar to routine vaccinations such as a sore arm, a mild fever or feeling achy and tired. The good news is that these reactions are a sign that the vaccine is working. Those who receive the vaccine are monitored for 15 minutes after being vaccinated. Those with a history of allergic responses, such as people who carry an EpiPen, are monitored for 30 minutes. If you have any questions, you can call your health care provider.
What can you tell us about the myths surrounding the coronavirus vaccine?
There are many misunderstandings and myths about vaccines in general as well as the COVID-19 vaccine. Some people think they may get the virus from the shot, which is not the case with the COVID-19 vaccine. The good news is that the short-term side effects from the vaccine have been shown to be minimal and while the long-term side effects are not known, they are being carefully monitored. As with any major health decision, educate yourself by reading trusted sources, consult your loved ones and health care provider, so that you can make the best decision for yourself. 
##
Stay up-to-date on the state's rollout phases, eligibility, registration, vaccine efficacy, vaccine safety and vaccination sites. 
For universitywide COVID-19 related information, visit coronavirus.rutgers.edu.
In a new podcast series, On the Pandemic, O'Dowd discusses COVID-19 with university experts and leaders. Visit RutgersCast to listen on your preferred platform.