State of New Jersey and Rutgers University Announce New Gun Violence Research
The New Jersey Center on Gun Violence Research at Rutgers is the second state-funded entity to study critical public health issue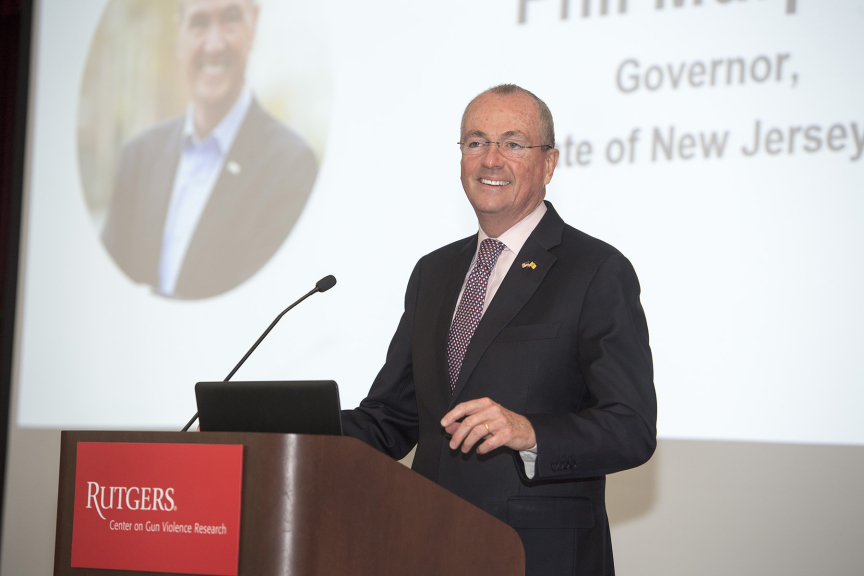 Addressing the national call for research on the causes of firearm violence, the New Jersey Center on Gun Violence Research at Rutgers University today announced it is launching eight new studies on gun violence and prevention.
The research, led by faculty members from across Rutgers University, will explore correlations between mental health care spending and reductions in crimes committed with guns, examine the effectiveness of existing laws and policies in preventing firearm violence, and look at whether and how school building layouts can help prevent casualties in a shooting event, among other topics.
"New Jersey has been proud to lead the nation in the creation of a legal and policy framework to stem the tide of gun violence, and first among our efforts has been the Center on Gun Violence Research at Rutgers whose work fills the gap left by inaction at the federal level," said Governor Phil Murphy. "Through the Center's groundbreaking, multidisciplinary research into the causes and consequences of gun violence, we can take an informed, scientific approach to preventing the needless suffering and loss of life that plagues our communities. Our administration congratulates today's grant recipients and looks forward to their research that can inform our gun violence prevention efforts."
"Our goal is to create new insights into how society can prevent and mitigate the incidence of gun violence," said Paul Boxer, the center's research core director and a professor of psychology at Rutgers University-Newark. "We selected these projects for their innovative and interdisciplinary approaches, and their promise to promote public health and prevent violence through new theory, practice and policy."
The New Jersey Center on Gun Violence Research, funded in Fiscal Year 2019 by a $2 million appropriation of state funds through the Office of the Secretary of Higher Education, is one of only two state-funded centers in the United States that conducts interdisciplinary research on the causes, consequences and solutions for gun-related violence.
A portion of the overall grant will be used to fund eight research projects:
When and Why Do Owners Carry Guns? Samantha J. Heintzelman, assistant professor in the department of psychology at Rutgers-Newark, studies the psychology of gun ownership to better understand when and why gun owners choose to carry a gun, and how they may perceive and respond to threats differently when they are armed versus when unarmed. 
How School Buildings and Campuses Can Prevent Gun Violence. Derek Shendell, associate professor in the Department of Environmental and Occupational Health at Rutgers School of Public Health, examines how the built environment, including the physical layout of school buildings and campuses, affects efforts to prevent or mitigate gun violence.
Determining Risk Factors for Gun-Related Deaths in New Jersey. Ping-hsin Chen, associate professor in the Department of Family Medicine at Rutgers New Jersey Medical School, examines the causes of gun-related violence in various demographic groups – defined by age, sex and ethnicity – to develop culturally appropriate, evidence-based safety planning strategies to reduce gun violence.
Relationships Between Legal Firearm Availability and Gun Homicides. Daniel Semenza, Richard Stansfield and Nathan Link, assistant professors in the Department of Sociology, Anthropology and Criminal Justice at Rutgers University-Camden, examine relationships between homicide rates and the level of access to legal firearm dealers, and how they differ by race of victims, proximity to firearm dealers and the context of individual homicides.
Mental Health Spending and Violent Crime Rates. John Palatucci, a doctoral student at Rutgers School of Public Health, analyzes how state mental health agency spending correlates to reductions in violent crime rates, especially those committed with guns.
Keeping Police Officers Safe. Ram Gopalan, clinical associate professor of management at Rutgers University–Camden, uses FBI data to analyze factors that may influence the number of officer fatalities experienced by police departments. The project will identify guidelines to improve officer safety and benchmarks that would enable police departments to compare their safety performance with other similar-sized departments.
How Community Violence Affects Perceived Threats. Mauricio Delgado, professor, and Vanessa LoBue, associate professor in the Department of Psychology at Rutgers-Newark, investigate how exposure to violence in their communities impacts a person's perception of threatening stimuli, such as pictures of weapons or people who seem threatening.
How the Cambodian Genocide Sheds Light on White Supremacist Extremism in the U.S. Alexander Hinton, Distinguished Professor of Anthropology, Department of Anthropology and Sociology at Rutgers–Newark, draws on his experience as an expert witness at the Khmer Rouge Tribunal in Cambodia to shed light on white supremacist extremism in the United States, including the August 2017 events in Charlottesville, Virginia, in a forthcoming book.
The New Jersey Center on Gun Violence Research, led by the Rutgers School of Public Health and the School of Criminal Justice at Rutgers University-Newark, conducts multidisciplinary research on the causes, consequences and solutions to firearm-related violence, including homicides, assaults, suicides and accidental shootings. It also gathers community-level data on gun violence and other public health factors, conducts research on efforts to reduce gun violence across the nation and the world, considers innovative technologies to improve gun safety, and creates policy recommendations for gun violence prevention and public education. The Center was awarded an additional $2 million through the Office of the Secretary of Higher Education for Fiscal Year 2020.