Nina Gohel and James Cortes spent their summer in Trenton through Rutgers' new service internship initiative 
Rutgers-New Brunswick seniors Nina Gohel and James Cortes come from families with very little in common.
The daughter of immigrants of Indian descent, Gohel was raised by parents who never felt represented by our government and rarely participated in the electoral process.
The son of a single mother struggling on the edge of poverty, Cortes was acutely aware of the crucial role the government and programs such as NJ SNAP and Medicaid played in his life.
This summer, both Eagleton Undergraduate Associates' paths converged at the New Jersey State House, where they helped craft bills that may become future state policy as part of their Rutgers Summer Service Internship (RSSI).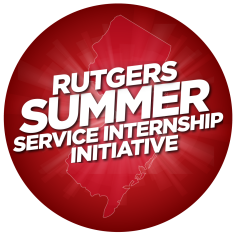 Launched this year by Rutgers President Jonathan Holloway, RSSI paired 100 Rutgers students with nonprofit and government organizations that best matched their field of study. Each internship came with a $5,000 stipend and a tuition free 3-credit course.
The paid internship was a game-changer for Cortes, a political science major, who is covering tuition through combination of Pell grants, federal loans and Rutgers aid. Prior to his RSSI experience in the New Jersey Senate Majority Office, Cortes worked 30 hours a week to cover his living expenses, which prevented him from taking advantage of the many unpaid internships available in his field.
"Political science is a very networking-heavy field. My parents didn't go to college. We didn't have any family connections," said Cortes, 21, who lives in New Brunswick with his husband after getting married in July. "I thought this program would be a really good way for me to make those connections and put my foot in the door."
Cortes said he has made the most of this opportunity, attending voting sessions, writing policy memos and summarizing bills for legislators to review. He was involved with legislation on gun safety and the new N.J. child tax credit passed in July. Having a hand in legislation that is positively affecting struggling families – like the one he was raised in – made his work all the more meaningful.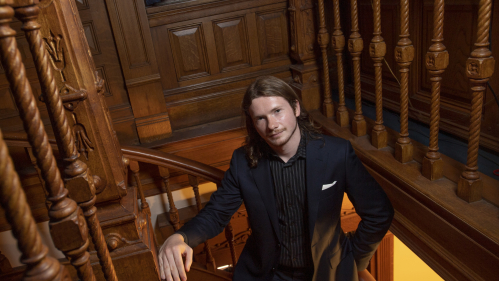 "I was born with tethered spinal cord syndrome and needed a surgery in first grade that was covered by Medicaid. So, if it weren't for the government, I might not be able to walk," said Cortes, who was invited to stay on with the Senate Majority Office as a paid employee through the fall and plans to pursue a graduate program in public policy or international relations after graduating in May. "I decided to get into policy work because I knew how much the government helped me, and I wanted to be a part of the people who help the government do more."

Gohel also sees civic engagement as the best way to make sure her voice – and those of other first-generation Americans – is heard.
Right after the 2016 presidential election, she said she faced different forms of discrimination from individuals who were more emboldened.
"As a woman of color, my belonging was questioned. I want the marginalized groups of my generation to never have to question their belonging in the U.S.,"​ said Gohel, 21, who is majoring in political science and planning and public policy.
Gohel threw herself into politics early on, participating in student government at her Mount Laurel middle school, serving as vice president of her high school and the New Jersey Association of Student Councils and becoming the first Asian-American and Pacific Islander woman to be elected student body vice president at Rutgers. Last summer, while interning with the Environmental Protection Agency's Office of General Council, she helped reintroduce diversity, equity and inclusion staff trainings that were eliminated under the Trump administration.
During her RSSI in the Office of Assembly Majority Leader Louis Greenwald and Assemblywoman Pamela Lampitt, Gohel brainstormed ideas for new legislation that could address the unmet needs of New Jersey residents. As someone with potentially deadly food allergies, she poured herself into research that led to a bill modeled after an Edison ordinance that will better protect diners and reduce restaurant liability.
"I know what it means to use an EpiPen. It's a struggle to go out to restaurants and constantly worry about a life-threatening reaction," said Gohel, whose allergies to tree nuts, shellfish and coconut once landed her in the ER after a restaurant mistakenly made her smoothie with almond milk. "The aim of this bill is to make sure restaurants provide a menu that will at least list the top eight allergens in their dishes to make New Jersey's food environment safer for those with deadly food allergies."
Being instrumental in the creation of legislation that is likely to be introduced to the New Jersey State Assembly this fall was inspiring for Gohel, who said she would like to participate in policy work at the local, state or national level after graduating in May.
"Our government needs to reflect all communities and people to properly represent the needs of our nation," she said. "Now more than ever, public service is so essential to inspire the next generation to go forth and provide a brighter future, and I hope to be a part of that change."