From the Stage to the Big Screen: Teaching Digital Costume Design at Rutgers
Costume concept artist Shane Ballard on helping students break into the world of theater, film and more
Shane Ballard is an illustrator and frequent collaborator with Paul Tazewell, the Tony Award-winning costume designer for Hamilton.  His work with Tazewell includes Steven Spielberg's upcoming West Side Story remake, The Immortal Life of Henrietta Lacks with Oprah Winfrey and NBC's The Wiz Live!  Ballard also teaches the strange art of digital costume design at Rutgers-New Brunswick's Mason Gross School of the Arts.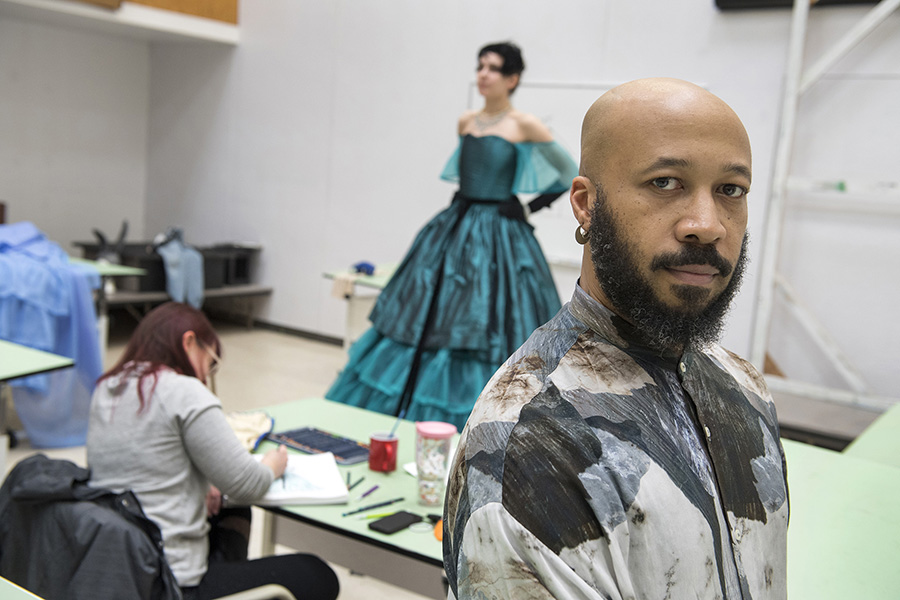 Shane Ballard explains how learning digital techniques will give costume design students an edge to break into the industry. Photo by Nick Romanenko
---
Ballard spoke about how a background in theater or cosplay (a performance art in which participants called cosplayers wear costumes and fashion accessories to represent a specific character) can lead to a career designing costumes for blockbuster superhero movies, video game development and more – and how the industry networks of Mason Gross faculty members can connect students with great opportunities.
His career is the perfect proof: the head of Mason Gross's costume design program, Valerie Marcus Ramshur, introduced him to Tazewell, which led to him working for the Hamilton designer on NBC's The Wiz Live! in 2015.
Before working with Tazewell, you designed superhero toys. How did you make that transition?
I designed action figures at Marvel Comics for four years, everything from X-Men to Spider Man. Marvel had a relationship with New Line Cinema.  At Marvel I had the opportunity to sketch costume concepts for movies and animated TV shows. You can say my time designing action figures basically lead to everything that followed.
As a theatrical designer I shifted from toys and character concepts to designs worn on stage. My knowledge of these industries then led to designing costumes for television and film, but all of these outlets shared one thing: the need for costumes that define the perception of the character.
Understanding characters and their development informs how the costume should appear, and that appearance shapes how the audience views the character. The creation of a costume becomes one of the most important parts of the character.  
As a Mason Gross faculty member, how do you see your role in helping students succeed in the arts?
In our very first digital costume design course, I'm teaching Rutgers students to do what I do as a  costume illustrator, sometimes called a costume concept artist. That's someone who takes direction from the costume designer and visually communicates the designer's ideas through artwork.  Adobe Photoshop is the computer program I use to create these illustrations.
Many of my students come from theater, but there is a new emergence of students from the cosplay world, who learn about costumes through comic books, video games and film, and often aren't theatrically trained. Their backgrounds vary, but learning to work digitally can give them an edge  towards building careers in theater, tv and film.
The popularity of otherworldly, sci-fi and superhero entertainment films is creating a need for more costume illustrators and artists, who are vitally important to these films. 
I also teach a figure drawing course at Rutgers. Figure drawing is the foundation for costume design. Students have to understand the human body and form, and to practice drawing all different body types, to understand how a garment should be made and move with the body.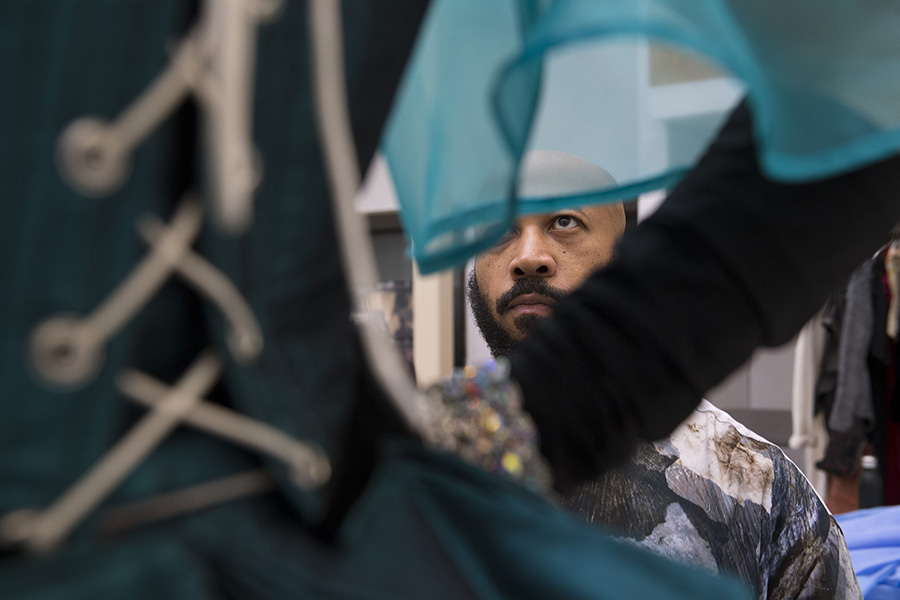 Ballard directs the model in his figure drawing class at Mason Gross School of the Arts. Photo by Nick Romanenko.
---
Tell me about your relationship with Valerie Marcus Ramshur, head of the costume design program at Mason Gross, and how she helped you navigate your career. Can you also tell us about your current project in Steven Spielberg's new film?
Valerie Ramshur has been an instrumental mentor and friend. In 2014, she was taken by a mutual friend to a show I designed for The NY Musical Theater Festival. She offered advice on how to get my foot in the door and leveraged her industry network to help get my name out there.
Valerie saw some of my illustrations and was kind enough to connect me with Tazewell, who was the costume designer for The Wiz Live! Within a few months, I was working for him as the show's costume concept illustrator. Having someone like Valerie at Rutgers is one of the greatest benefits to students in this program.
I'm currently working as part of Paul Tazewell's costume design team for Steven Spielberg's remake of the film West Side Story.  It's set in the 1950s and it will be authentic to that period. It's a very exciting project and I can't wait for everyone to see it.
How have you helped students, and how can other faculty best help students navigate industries that are niche or highly competitive like a costume concept artist?
This industry can feel like a strange and mysterious world. At Mason Gross, one way we prepare students for success is by discussing our own experiences and introducing them to others in the industry who can discuss their experiences.
We have a series of guest lecturers and visiting artists that allow our students access to top industry professionals. Last year we invited Phil Boutte, the costume concept artist for Captain Marvel and Black Panther, for an online chat with the costume design students. The professional relationships we faculty members have are invaluable to students. These conversations give insider information you can't learn from a book.
---
For media inquiries contact Cynthia Medina at c.medina@rutgers.edu.