Son of Immigrants Fights for Social Justice
Dante Apaestegui isn't exactly sure what lies ahead for him, but as the son of immigrant parents who came to the United States 30 years ago without jobs and unable to speak English, he can't imagine a life that won't include social activism.
"They were undocumented, and they knew it was going to be difficult, but they didn't want to sacrifice the dream of giving their children a better life," said Apaestegui, who will graduate from Rutgers University-Newark this month with a dual-degree in criminal justice and sociology.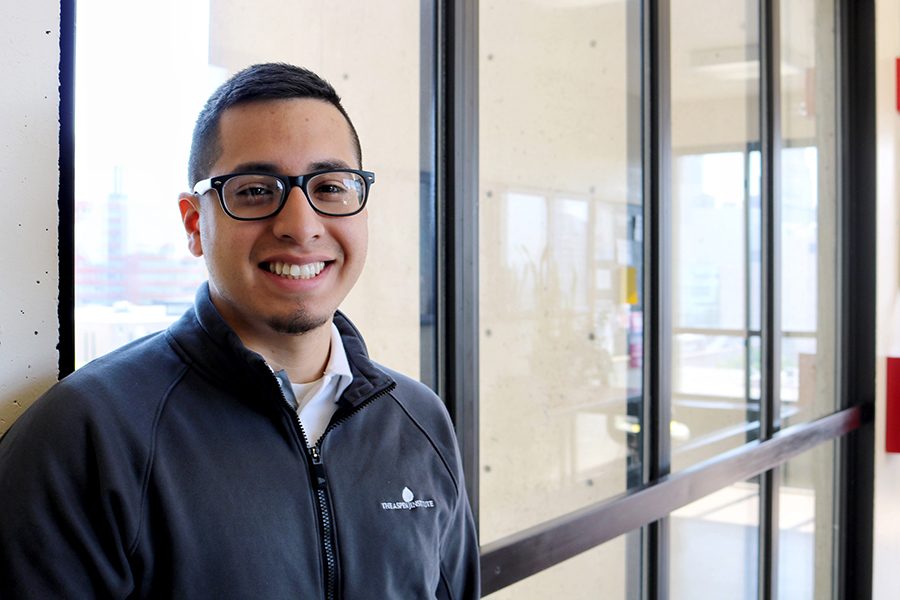 Dante Apaestegui will continue pursuing social justice with plans to become a lawyer. (Photo: Nora Luongo)
---
Apaestegui, 20, who has worked several jobs while being a full-time student, will spend time after graduation on social justice issues while he studies for his LSAT test, in hopes of starting law school next year.
The Paterson native wants to do what his father couldn't accomplish.
"My father was studying law in Peru and planned to become a lawyer but that changed when he met my mother," he said. "She told him she was moving to the United States and he was in love, so he followed her here."
For Apaestegui's father, plans for becoming a lawyer were squashed. He has spent the last 30 years working in dry cleaners in Paterson, with little time off because he feared that when he came back his job might be gone.
His family's story, however, is only part of the reason why Apaestegui wants to be a lawyer who helps the poor and disenfranchised. "Who I have turned out to be was definitely cultivated while I was here at Rutgers-Newark," he said. "They have molded me and instilled within me the desire to pursue social justice causes."
His passion and commitment have not gone unrecognized. As a college sophomore, Apaestegui was selected for a Young Leaders Fellowship by the Aspen Institute, an educational and policy studies organization based in Washington, D.C., that fosters leadership and provides a nonpartisan venue for dealing with critical issues. He was one of 24 members from Newark. The fellowship gives students an opportunity to work to improve life in their home communities.
This is when Apaestegui really got to know Newark. As part of his two-year fellowship he had to go out into the streets and interview people all over the city. He heard their stories. He found out why they lived in Newark. He learned what was good about the city and what they wanted changed. He listened.
"Newark has had to live with a bad reputation, which stops all of us from enjoying the culture the city has to offer," said Apaestegui, who would like to publish the stories from his fellowship online. "There are borders that some people just don't want to cross. Everyone is being hurt because of an over exaggerated negative story."
Still, Apaestegui understands how someone would get a wrong impression. Before he interned at the Office of the Public Defender in Essex County, he wondered why many of the same people would come in and out of the criminal justice system.
His enlightenment started on his first day of the internship when he and the other interns were given a copy of Just Mercy, a memoir by civil rights and defense attorney Bryan Stevenson, who has spent his life fighting for equal justice in a flawed legal system. 
"I remember opening the book and there was a note written to all of us: 'Remember the plight of the poor and disenfranchised,' said Apaestegui who also interned for the New Jersey Institute for Social Justice and worked as a community service officer at Rutgers Pubic Safety Department. "Working there made me understand that people are not inherently bad, it's the system that sometimes doesn't give them many other choices."
Lori Scott-Pickens, director of Community Outreach for the School of Criminal Justice at Rutgers-Newark and an adjunct professor, says Apaestegui was always coming to her because he was interested in finding out about the community and what he could do to help make things better.  
She describes Apaestegui as a self-starter, tenacious, committed and passionate to help others.
"Dante didn't just ask for something and expect it to be given to him," she said. "He worked hard, pursued opportunities and was always thinking about what he could do next."