Fall events to bring graduates together on campus
Rutgers will welcome graduates of the Classes of 2020 and 2021 back to campuses this fall for a celebration of their success that, like so many other milestones, was delayed by the COVID-19 pandemic.
In the marquee event, rapper Snoop Dogg will hold a concert for the graduates on Saturday, Oct. 23, at 8:30 p.m. at SHI Stadium in Piscataway, opening with a performance by Warren G. Members of the Classes of 2020 and 2021 are invited to attend for free with one guest each. Graduates will receive priority registration for tickets, which also are available to current students.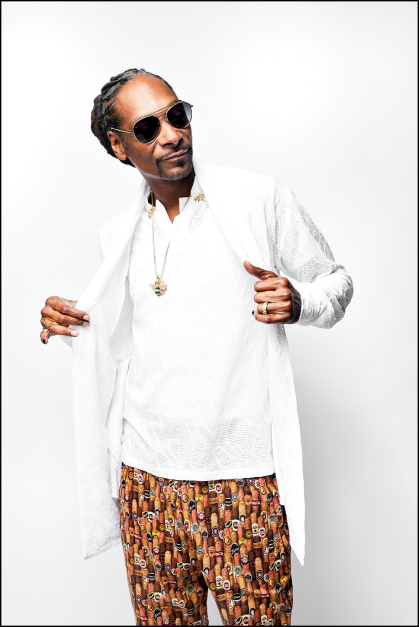 "I am looking forward to performing at Rutgers University to celebrate their student body and the release of my new record Algorithm," Snoop Dogg said. "It's going to be a party to remember and the energy is going to be off the hook."
The concert, open to all Rutgers graduates from both years, is one of several gatherings planned across Rutgers in October and November to celebrate achievements that have not been overlooked or forgotten, even though they couldn't be recognized in traditional in-person commencement ceremonies.
"We are excited to bring our newest alumni together in person to honor their accomplishments," said Rutgers President Jonathan Holloway. "The Classes of 2020 and 2021 are a resilient group who have endured unexpected challenges with remarkable grace. We are thrilled to welcome them back to celebrate all they have achieved.'' 
Graduates will get a chance to don regalia, take photos and reunite with their former classmates during school celebrations and events across campuses at Rutgers-New Brunswick Oct. 21-25, at Rutgers-Newark Nov. 8-10 and at Rutgers-Camden on Nov. 10.
Olivia DiTrolio plans to return to celebrate two degrees – her 2020 bachelor's degree in history from Rutgers-New Brunswick School of Arts and Sciences and her 2021 master's degree from the Graduate School of Education. She said she is happy to move beyond her backyard celebrations of the last two years to seeing friends and classmates in person, while taking part in Rutgers traditions with them – including the smashing of clay pipes over the Class of 1877 cannon on the Old Queens lawn, symbolizing the breaking of ties with college.
"As someone who loves history and comes from a family of Rutgers graduates, being a part of the traditions means a lot to feel like a true Rutgers grad," DiTrolio said. "To be given the opportunity for closure is something I am not going to pass up."
She will be joining crowds of recent grads returning to Rutgers to experience some of the missed pomp and circumstance that would usually be the hallmark of their commencement. They will be able to walk across stages to be recognized by deans and faculty members and reconnect with the Rutgers community.
Returning Rutgers-New Brunswick and School of Nursing graduates will be welcomed at a reception at Old Queens, a "Senior Days Late Knight" event and open houses at the Van Nest alumni house, in addition to school events. Graduates can learn more via this schedule of events.
Rutgers-Camden will celebrate graduates at a joint commencement celebration ceremony in the BB&T Pavilion in Camden on Wednesday, Nov. 10, at 5:30 p.m. Graduates of the Classes of 2020 and 2021 of the following schools will be honored: the Graduate School, School of Business-Camden and the College of Arts and Sciences. Rutgers Law School and School of Nursing-Camden will be celebrating their graduates in separate ceremonies, and details will be announced shortly. More information, including a link to BB&T Pavilion COVID-19 guidelines, can be found here.
 At Rutgers-Newark, all ceremonies will be held at the New Jersey Performing Arts Center. Health and safety guidelines for NJPAC will need to be followed by attendees. Graduates of the School of Public Affairs and Administration and School of Criminal Justice will be celebrated on Monday, Nov. 8. Rutgers Business School graduates will be honored on Tuesday, Nov. 9, and the celebration for School of Arts and Sciences-Newark graduates from both classes will be Wednesday, Nov. 10. Rutgers-Newark graduates can find more information here.
The Oct. 23 concert with Snoop Dogg, known for his iconic hits "Gin & Juice" and "What's My Name?" and, later, for hits such as "Drop it Like It's Hot" and "Beautiful," will be open to graduates from all schools across Rutgers. Snoop Dogg, who will join Dr. Dre, Eminem, Mary J. Blige and Kendrick Lamar to headline the Pepsi Super Bowl LVI Halftime Show next year, has also collaborated with artists such as Katy Perry, Justin Timberlake, Pharrell, Diplo, Willie Nelson and more. During the COVID-19 lockdown, Snoop released his latest single, "I Wanna Go Outside."
"This is the time for our 2020 and 2021 graduates to be recognized for all they have accomplished," said Kimberlee Pastva, university secretary, who is overseeing the planning of the events. "This is your time to cross the stage, rekindle friendships in person and visit your favorite places on campus."
Argylle Lubang, a School of Nursing graduate, said she is looking forward to reuniting with classmates and celebrating their accomplishments. "Many of us have passed the NCLEX (nursing exams) and have gotten jobs, so there is more to celebrate than just our graduation."
DiTrolio said the chance to celebrate in person will help fill the hole of ending her college career on a bittersweet note "and allow me to look on my whole Rutgers experience in a happier light."
"Instead of being defined by the things I did not get to do, my college experience will be a story of resilience and celebrations with those closest to me," she said.