Sizzling Scarlet Knight Burger Could Put Rutgers on the Culinary Map
The community has until Dec. 15 to vote in the James Beard Foundation's Blended Burger Project to help Rutgers score prestigious win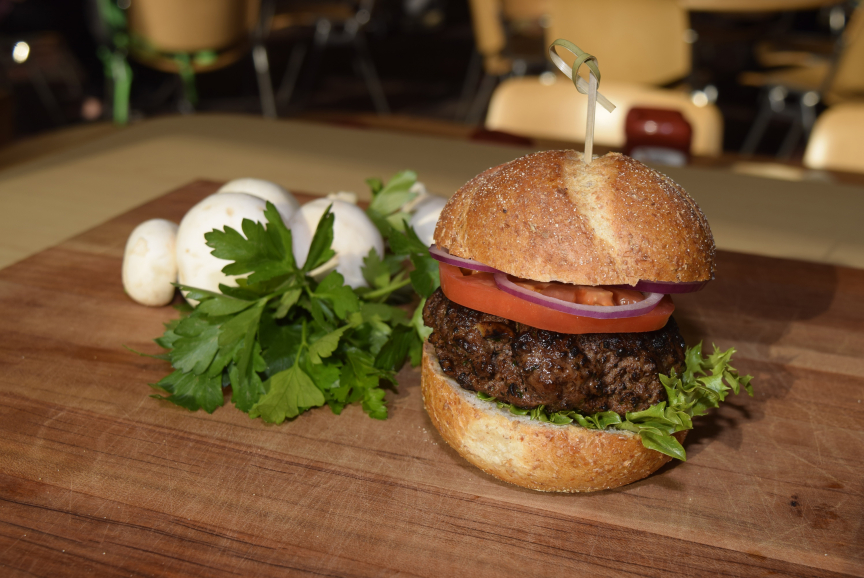 Rutgers is vying for a prestigious title in the culinary world as the college that serves the best-blended, healthier hamburger and is asking for help getting past the goal line.
The university's Dining Services is competing in the James Beard Foundation's first Blended Burger Project, Campus Edition. The contest's challenge: create a tasty burger for dining hall menus that replaces some of the red meat with mushrooms. Rutgers is competing against 14 other large universities with its Sizzling Scarlet Knight burger, a blend of 50 percent white button mushrooms and 50 percent beef in a light and juicy patty that is healthier for students and better for the environment.
The winner is selected based on the number of votes the burger receives during the contest, which ends Dec. 15. The top two schools win the honor of sending their chef to make their signature burger at a special event in April at the James Beard House in New York City, home to the country's preeminent culinary association.
Rutgers currently ranks as #3 in the nationwide contest and is about 900 votes from bumping North Carolina State out of the #2 slot. Anyone can vote once a day for a chance to win the grand prize of a $1,000 RU Express gift card or 10 runner-up prizes of $100 Visa gift cards. UMass is currently in the top slot with more than 4,000 votes, about 1,500 votes head of Rutgers. Signs throughout the Rutgers dining halls provide a QR code for students to vote through Snapchat or at tinyurl.com/rutgersburger.
"If everyone at Rutgers voted once we would be ahead,'' said Peggy Policastro, director of behavioral nutrition at Rutgers' New Jersey Institute for Food, Nutrition, and Health and nutrition specialist for dining services. "Winning would be an honor that would bring more notoriety to Rutgers and give us the bragging rights to having the best-blended burger in the country.''
Rutgers entered the contest as part of our involvement in Menus of Change, a collaborative of research universities led by Stanford and the Culinary Institute of America that encourages healthier food choices that use less resources and take a smaller toll on the planet.
Dining Services introduced the Sizzling Scarlet Knight burger in the dining halls last spring, on the heels of a study through Menus of Change that measured students' response to a blended burger. Policastro said the 50/50 blend received the highest rating from students.
The Scarlet Knight burgers are available in the dining halls at Rutgers-New Brunswick and Rutgers-Camden. (The dining services in Newark are contracted to a third party). It is a daily part of the menu at Livingston Dining Commons and Henry's Diner and is available as a takeout option in the Neilson and Busch dining halls.
Ian Keith, a Rutgers chef who is leading the effort to redesign menus to offer more minimally processed food, said mushrooms make the perfect complement to beef because they take on the meaty flavor and add moisture for a juicy burger.
The blended burger has received high marks in the dining halls because of its familiar ingredients, including onions, celery, parsley, miso paste and egg, Keith said.
"What better vehicle to introduce stealth health into the student body than through the iconic burger,'' he said.
Policastro said the burger is healthier for students because it has half of the saturated fat, more fiber "and 100 percent more vegetables than a traditional all-beef burger.''
Keith added that the blended burger is also better for the environment by reducing the amount of red meat consumed.
"Cows produce 500 million tons of manure each year, releasing more greenhouse gasses than 22 million cars,'' he said. "Americans eat 50 billion burgers a year. By taking four ounces of red meat in an eight-ounce burger and replacing them with mushrooms, we are helping to cut that number in half.''
The contest also offers Rutgers a chance to showcase its efforts nationally to provide healthier, more sustainable options for students.
"Students benefit from blended burgers because they are delicious while having a lot less fat, and, at the same time, they are much better for the environment, which benefits all of us,'' said Joe Charette, executive director of Dining Services, who encouraged students "to vote for school pride.''