Shtetl: A Word that Holds a Special Place in Hearts and Minds
Jeffrey Shandler's book is part of a Rutgers University Press series that examines key words in Jewish studies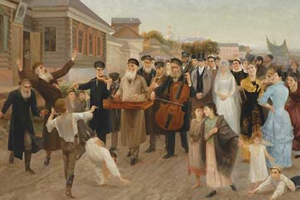 'The popular image of the shtetl, though often limited in scope and historically inaccurate in many ways, has taken on a life of its own.'

 

– Jeffrey Shandler
One of Jeffrey Shandler's quests in writing his latest book, Shtetl: A Vernacular in Intellectual History, was understanding how this seemingly simple word has come to signify so much to so many.
In contemporary culture, the word shtetl has come to represent a close-knit, religiously observant Jewish community in Eastern Europe some time before World War II. But according to Shandler, a professor in the Department of Jewish Studies at Rutgers: "In Yiddish, shtetl simply means 'town' – anywhere, at any time, inhabited by anyone. In popular usage, it has acquired all kinds of connotations, especially as the word moves into other languages."
Shandler's book is the latest in the Rutgers University Press series "Key Words in Jewish Studies," designed to introduce both students and academics to developments in the field through individual words and phrases. Among other topics, the series also explores Jewish families, space and place in Jewish studies, and the Haskalah, an intellectual movement of the 18th and 19th centuries inspired by the European Enlightenment.
When the series' editors approached him to contribute, Shandler lobbied hard on behalf of a book on the shtetl because of its prominent, wide-ranging and sometimes provocative place in modern culture.
"I was interested in tracking the dynamics of the term through both popular culture and scholarly approaches," he says. "The popular image of the shtetl, though often limited in scope and historically inaccurate in many ways, has taken on a life of its own."
Through the work of novelists, memoirists, journalists, playwrights, visual artists, photographers, filmmakers and others, the shtetl has come to exemplify a distinct Jewish sensibility, embodied by life in provincial Eastern Europe before World War II.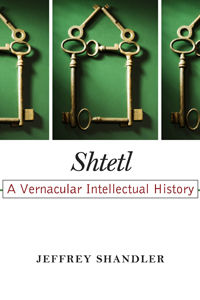 This symbolic attachment to the shtetl was well in place before the Holocaust, says Shandler, a professor in Rutgers' Department of Jewish Studies, as millions of Jews emigrated to America from Eastern Europe at the turn of the 20th Century. 
Among the most elaborate examples are Yiddish films of shtetl dramas made in the 1930s, some filmed on sets built in the countryside of Long Island or New Jersey. 
Representations of the shtetl now best known to Americans include works of fiction by Isaac Bashevis Singer and the Broadway musical Fiddler on the Roof, adapted from stories by Sholem Aleichem. The shtetl is also familiar to visitors to the U.S. Holocaust Memorial Museum in Washington, DC, which features a monumental tower displaying hundreds of photographs of Jews who once lived in the town of Ejszyszki (now in Lithuania), most of whom were murdered during the Holocaust.  
This installation, Shandler notes, transforms photographs that were once part of daily life in this town into "icons of a lost world."
More recently, Jonathan Safran Foer's novel Everything Is Illuminated conjured up life in a fictional Ukrainian shtetl as part of an account of traveling to Eastern Europe in search of the narrator's ancestral home town. 
Since the fall of communism in the region, Shandler notes, travel to visit shtetlekh (the plural of shtetl) where relatives once lived has become increasingly popular.  Interest in the Jewish past of these towns is not confined to Jews; in a growing number of towns in Poland, school children research local Jewish history and communities work to restore synagogue buildings and Jewish cemeteries.
Shandler's book also examines the dynamics of scholarship on shtetlekh, which received little attention from academics until fairly recently.  But by the turn of the 20th Century, historians, folklorists, art historians and sociologists began scrutinizing these communities.
A scholar of modern and contemporary Jewish culture, Shandler specializes in Holocaust remembrance, Yiddish studies, Jewish visual culture and the role of media in Jewish life. His other books include While America Watches: Televising the Holocaust; Adventures in Yiddishland: Postvernacular Language and Culture; and Jews, God, and Videotape: Religion and Media in America.
---
For media inquiries, contact Lisa Fortunato, marketing and publicity manager, Rutgers University Press, at lisafort@rutgers.edu or 848-445-7775.