Rutgers graduate nursing student uses personal experience to guide young Muslim women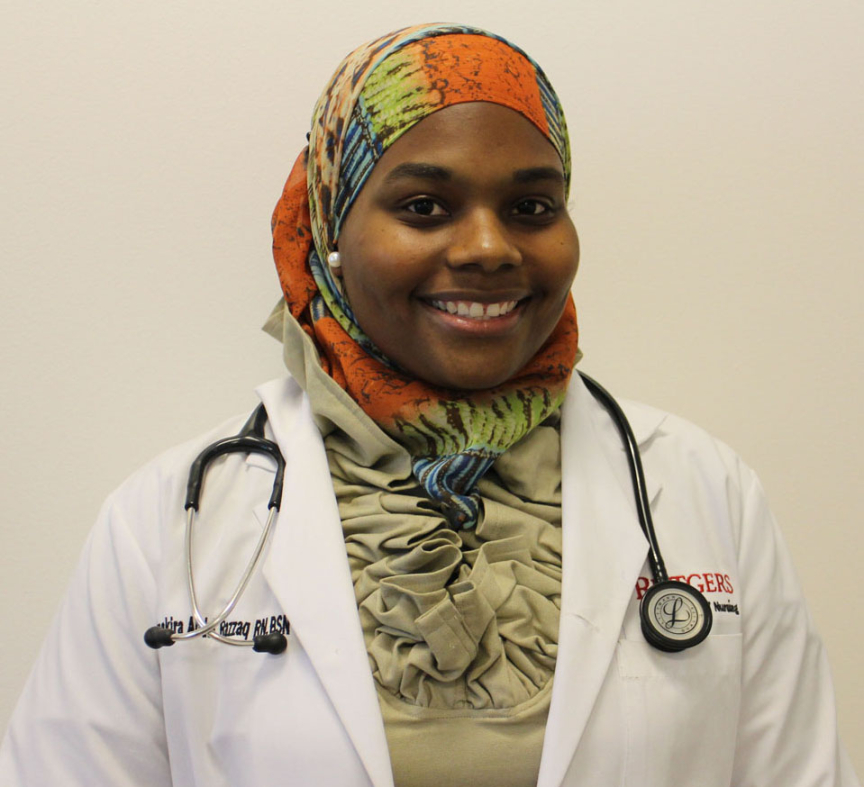 'Above all, we want to help young women recognize their self-value and worthiness to delay sex until marriage and stay on course to fulfill their dreams.'

 

– Shaakira Abdul Razzaq,

Graduate Student Rutgers School of Nursing

Eight years ago Shaakira Abdul Razzaq was on the path to becoming a nurse – when a lapse in judgment threatened to derail her dreams.
During her first year of nursing school, Abdul Razzaq, then 18, became a single mom, stigmatizing herself and her Muslim family for having violated the teachings of the Quran, which, she explains, forbids Muslims from dating and having sex before marriage.
 "I thought my life was over," says the Roselle resident, "that my vision of going to college was impossible."
But bolstered by her parents' encouragement, Abdul Razzaq never missed a beat, continuing her studies without interruption toward a doctorate of nursing practice (DNP) degree at Rutgers' School of Nursing just months away.
Now 25, she's using her personal story to motivate Muslim teenage girls and young women to complete their education and avoid the embarrassment and challenges she experienced. Abdul Razzaq is working with classmates Radhika Patel and Prudence Arthur on a DNP project that includes conducting workshops teaching abstinence to single Muslim females.
"Muslim youth are having sex and they're not having open dialogue discussions in the home about the negative physical, emotional, and spiritual consequences of sex during adolescence," Abdul Razzaq says. "Youth feel that if their friends are having sex, it's okay for them too. They lack knowledge, confidence, and discipline to control their behavior."
The workshops – called "Sex Ed in the Mosque" – are presented over two days and promote abstinence by educating participants about the risks of HIV and sexually transmitted diseases associated with premarital sex. She says the workshops also focus on identifying life goals, self-empowerment and how poor decision-making could compromise their health, professional aspirations, and ultimately their relationship with their God.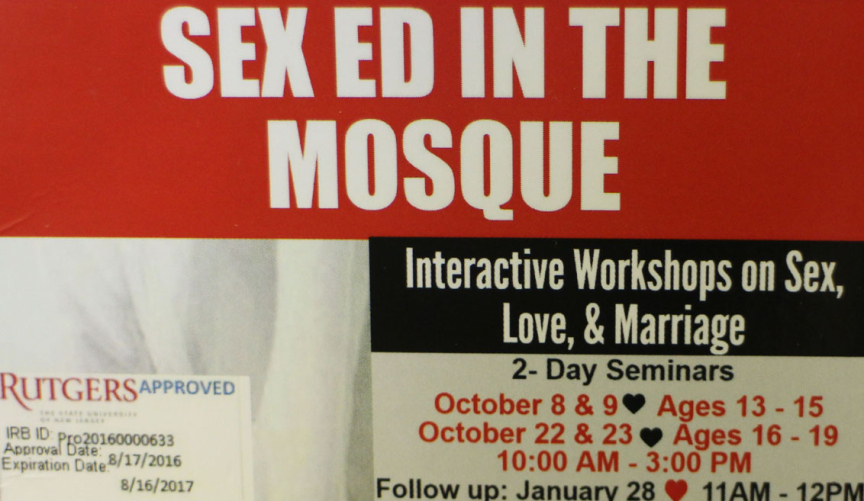 A significant amount of time in each workshop is devoted to role playing, as young women demonstrate strategies to help the participants avoid romantic and emotional involvement with men before marriage.
"Above all, we want to help young women recognize their self-value and worthiness to delay sex until marriage and stay on course to fulfill their dreams," she says.
Abdul Razzaq was one of the fortunate ones. Despite the disappointment she brought to her parents and the negative reaction from the religious Muslim community, she persevered. Her mother, a Newark elementary school principal, encouraged her to have her baby and return to nursing school as soon as possible.
"Certainly my family was hurt by me having a child before marriage," she says, "but they remained supportive throughout my education."
Her family also helped Abdul Razzaq raise her son, Nasir, now 7. This allowed her to become a registered nurse at Trinitas School of Nursing, where she served as president of the Student Nurses Association, eventually working as a hospital oncology nurse and continuing on with her graduate studies.
At Rutgers, she has thrived as she moves closer to her next goal.
She is president of the Rutgers Graduate Student Nurses Association, an organization she developed as she pursues becoming a family nurse practitioner with a DNP, nursing's highest clinical degree, she will complete in May. She volunteers regularly to lecture to Islamic communities in Northern New Jersey about early detection and screening for breast cancer, heart disease risk factors and sex education. She also volunteers to feed the homeless.
Abdul Razzaq takes pride in the fact that while pursuing her education, she has incurred no debt.  
"Most of my classmates find it amazing that I've never taken out a loan," says Abdul Razzaq, who estimates that she's been awarded more than $80,000 in scholarship money by remaining a standout student who's persistent and knowledgeable about the significant number of funding sources.
She says many nursing students don't pursue scholarships because they mistakenly assume they have not done enough volunteer work to qualify or are simply unaware of the abundant opportunities. "It's a tremendous blessing that just took me a little research and networking," says Abdul Razzaq, who recently received the $4,000 Elizabeth M. Fenlason Award from the Rutgers School of Nursing Alumni Association. "In our first meeting of the graduate nurses association, I provided a number of examples of where they should consider applying."
After finishing her degree, Abdul Razzaq plans to seek another doctorate – in urban health – to expand her expertise for ultimately working among urban populations with significant health risks, such as HIV, the virus that causes AIDS.
"The enthusiasm Shaakira has had for her role as a student is palpable," says Suzanne Willard, the School of Nursing associate dean of global health and clinical professor. "Her dedication to her community to ensure that quality health is provided without judgment is testimony to this.  She is a self-starter, does not expect things to be handed to her, seeks new learning experiences and does this with elegant grace."
---
For media inquiries, contact Jeff Tolvin at 973-972-4501, 908-229-3475 or tolvinjr@ucm.rutgers.edu