Salvatore Liguori fell for his RA when they first met in 2014 after he was locked out of his room at 3 a.m. Eight years later he planned a scavenger hunt -  visiting all their favorite spots at Rutgers-New Brunswick - that ended in a proposal.
Alexandra Rodriguez remembers not being thrilled when her phone in Metzger Hall on the Busch campus rang in the middle of the night during her junior year. But the biology major knew it was part of the motions of her job: working the duty desk, fielding lock-out calls and hosting the occasional floor or building activity.
She did not expect any of it would lead to meeting the man she would marry.
"I was annoyed because I was woken up out of my sleep. My first question was, 'where is your roommate?' and it turns out they were in the lounge playing ping-pong together for hours and forgot their keys. So I got up and helped them out,'' Rodriguez said.
Liguori, a first-year engineering student, was interested in Rodriguez as soon as he saw her that night.
"She was the RA so I was very respectful, but I also knew I wanted to get to know her better however I could," said Liguori.
He accompanied her on Friday movie nights and stayed by her side for her three hour shifts, gathering in the lobby with other residents. Their friendship blossomed.
The following year, their relationship developed into something more. "The night I realized I was in love with him is when we were studying together while I was on duty,'' Rodriguez said. "He stopped and said, 'don't freak out, but I need you to call an ambulance.'" Liguori, who already suffered from a heart condition, was on his second day of no sleep and had consumed several coffees and energy drinks, which caused him to feel unwell.
"I just wanted him to be okay, but the feeling hit me when I had to fill out the incident report after they took him away. I remember thinking, 'oh crap, I think I love him,''' she said.  
The time they spent at football games, eating strombolis and potachoes at Stuff Yer Face, and at other iconic locations on the Rutgers-New Brunswick campus provided the inspiration for Liguori's proposal eight years later.
"I spent a lot of time coordinating the whole thing. I reached out to former colleagues of hers at ResLife and had her sister help me execute. It had to be perfect," said Liguori.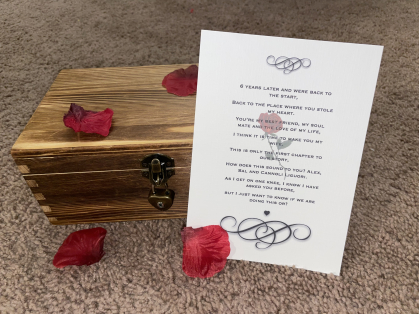 Rodriguez's sister, who will be her maid of honor, led her on the hunt that would take her to Liguori.
It started at Kirkpatrick Chapel, where Rodriguez found a note that clued her into the point of the afternoon with its ending line: "here is to our future where will bask in glory, at the place where I will finally call you Mrs. Liguori."
A series of clues took Rodriguez from the chapel to The Yard, Liguori's last place of residence on campus; the Scarlet Pub, where they used to hang out; then to Busch campus where she visited SHI Stadium, the Allison Road Classroom building, their former residence halls and dining hall. At each location she found a red envelope and a poem leading her to the next spot.
Rodriguez's sister had to find ways to slow down the hunt to allow those assisting Liguori enough time to set up the last stop: Metzger Hall – which Liguori was able to arrange to have open during winter break and where it all started.
With their siblings and cousins hiding around the building and his sister recording, Liguori proposed.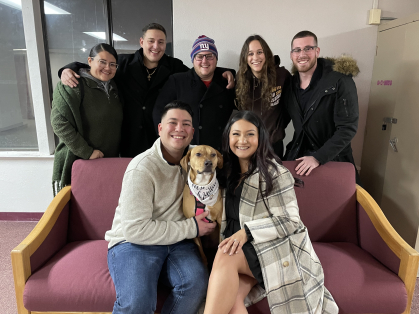 "Of course, I said yes! It was everything I could have dreamed of, and he was so thoughtful and meticulous planning the whole thing," said Rodriguez. But the surprise was not quite done yet. Remembering a conversation they had years ago about her perfect proposal, Liguori arranged to have their dog, Cannoli, present as well, with a "my humans are getting married" bandana around her neck. "I knew it was important to have her there with us," Liguori said.
Now in the wedding planning process, the couple knows Rutgers will be the backdrop of their big day, planning to take engagement photos around the New Brunswick campus. "We never did the three laps around Passion Puddle, so that's a tradition I definitely want to do before we get married," said Liguori.
"If his roommate didn't forget his keys and call the duty phone that night, I don't know if we would have ever met," Rodriguez said.
"Yeah, that's why he's my best man!" Liguori added.