Not at all, says Amy Savage, a biology professor leading a study of ants in urban ecologies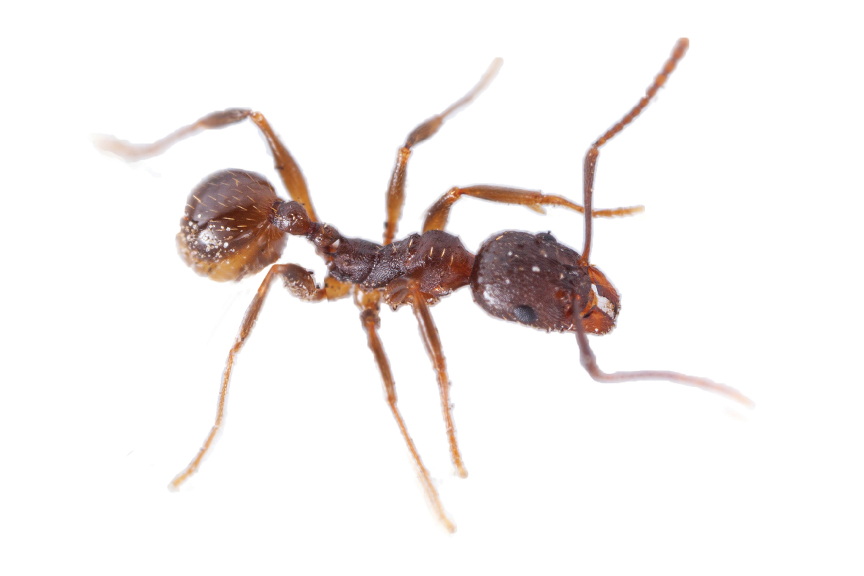 "In Camden, we have the opportunity to make decisions now about how green spaces and the organisms that they support will contribute to revitalization efforts. If I can do something to help people in the area while still answering my scientific questions, I think that that's a worthwhile goal."

 

– Amy Savage
The man walking down the 500 block of Cooper Street in Camden pauses. It's the middle of a red-hot summer day, but three women in the grassy median are kneeling in the bright sun, hunched over, pointing at something in the dirt.
What are you doing? he shouts. Melissa Carpenter CCAS'16, now a Rutgers University-Camden graduate student, turns to answer. "We're studying ants," she says.
Amy Savage, a Rutgers-Camden assistant professor of biology who is directing the research outing, says she and researchers often are mistaken for surveyors. Instead, they are taking a closer look at what ants are eating as part of a major study on the nutritional ecology of urban ants and how it affects local ecosystems. 
Why Ants?
Although many think of ants as pests, ants and humans are intimately connected, Savage said. Ants perform an array of important ecosystem services in cities, such as helping to control bug populations and breaking down discarded food before it rots.
The digging that ants do in the soil has a positive impact. Their activities make it easier for plant roots to grow in the soil and to access water and nutrients, Savage said. Their soil turnover also makes some nutrients more accessible because they are moved from deeper parts of the soil profile to the surface. Where there are ants, there are more desirable plants making the city a healthier place to live. Plants can grow better and decomposition happens faster in those environments, Savage said.
Groundbreaking Research
Savage, a Montana native who earned her doctorate at Rice University and did postdoctoral work at North Carolina State University, joined the Rutgers-Camden faculty in fall 2015. Previously, her study of ants on the streets of New York resulted in specimens that she had collected being the first Manhattan street ants included in the American Museum of Natural History, which holds more than 16 million specimens.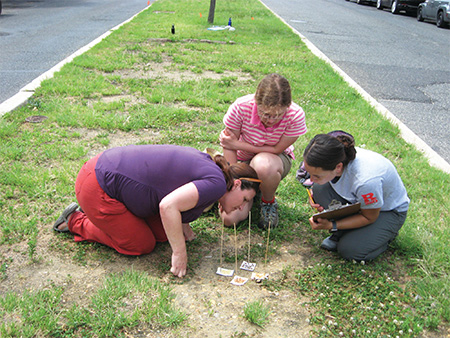 Her current research project has spanned two years and has studied urban ants in Camden, Philadelphia, New Orleans, Manhattan and Chicago. For the study in Camden, researchers set up feeding trials on the Cooper Street median, an island of green space in the middle of four lanes of asphalt. They offered water, fats, sugars, salts, and proteins to examine what foods the ants choose in urban environments. Carpenter, a biology graduate student from Haddon Heights and team leader for Savage, said the foods that the ants choose may indicate what might be lacking in their diets. 
Another feeding trial involved offering actual foods the ants are likely to be exposed to – crickets and processed foods such as hot dogs, potato chips and cookies. The trials allowed researchers to study how the ants are affected by consuming human food and how behavioral changes can affect the community and the ecosystem. 
Savage and her team also are studying the removal of urban food waste on the medians, where people often discard food as they are crossing the street or stop to have lunch. She said if food waste stays on the ground for too long, it can attract and support the population growth of undesirable species and plant life, such as mold and rats, which are associated with risks to human health.  
"Camden is a place where people really interact with these small green spaces quite a bit," she said.
Savage said adding Camden to her research sites has helped her and her students to learn more about the city the university calls home.
"In Camden, we have the opportunity to make decisions now about how green spaces and the organisms that they support will contribute to revitalization efforts." she said. "If I can do something to help people in the area while still answering my scientific questions, I think that that's a worthwhile goal."
This article originally appeared in the fall 2017 issue of Rutgers Camden Magazine.