Sasha Leidman: An Adventurer, in Science and in Life
Third of three videos shows how a Rutgers graduate student, an outdoorsman and adventurer, plunges into the ice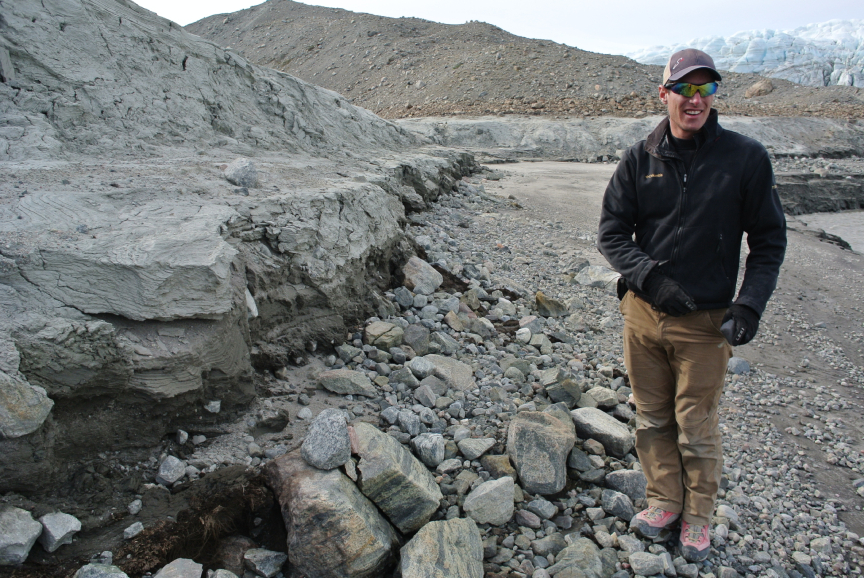 Sasha Leidman, a doctoral student at Rutgers University's School of Graduate Studies' geography program, is seeking new knowledge about the melting of the Greenland ice sheet – a process that contributes to and influences climate change.
Despite its massive potential impact on worldwide ecologies and economies, scientists don't really know how fast the Greenland ice sheet will melt in the future.
Leidman spent two weeks this past summer on the ice sheet, along with fellow doctoral student Rohi Muthyala and Asa Renermalm, professor of geography at Rutgers University-New Brunswick. The video below describes his work.  It's the third of three videos we're featuring on the team's research, along with videos featuring Rennermalm and Muthyala.
Leidman's focus is on supraglacial streams – streams of meltwater that form on the surface of the ice sheet as it melts. As the climate warms, these streams are becoming more pervasive.  Leidman wants to know what effect these streams have on the albedo of the ice sheet – that is, on how much of the sun's light is reflected by the surface and how much is absorbed. The white ice reflects a great deal of sunlight, but the darker supraglacial streams absorb light. "This starts a feedback loop of increased melting, and we're trying to determine how strong that effect will be," Leidman said.
Knowing how much water is on the surface of the ice, and how much of the surface is bare, will therefore help scientists understand how much melting there will be in the future.
Leidman, a native of Mill Valley, California, is an enthusiastic outdoorsman who has walked the Pacific Crest Trail, hiked and kayaked in Scandinavia and went on a kayaking and backpacking adventure in Greenland over the summer, in addition to his field work.
Of Leidman and Muthyala, Rennermalm says her two Ph.d. students are "both incredibly smart and adventurous. I like to work with the best, and these two are the best."