The vice chancellor for student affairs at Rutgers-New Brunswick provides support during pandemic
Salvador Mena struggled with an undiagnosed learning disability during his childhood in the South Bronx. For most of his school years he was far from a model student.
The challenges he faced growing up on welfare in an economically disadvantaged neighborhood, living with family who took him in after he emigrated from Puerto Rico before kindergarten, instilled in him a deep drive and an understanding of what it takes to overcome adversity to succeed.
This experience is what guides Mena in his role as the vice chancellor for student affairs at Rutgers University-New Brunswick – particularly now as he helps a team of university administrators navigate Rutgers and its students through the changes universities and colleges have been forced to make as a result of the global COVID-19 pandemic.  
Whether replacing in-person programs and events with virtual ones, providing laptops for students who need them, offering food at campus food pantries, providing online mental health services and giving those who don't have homes to go to or are international students unable to travel a place to live, Mena, his student affairs team and campus colleagues are helping students through an unprecedented time.
"I am putting things into perspective and being grateful for even little blessings," said Mena, who is working with administrators throughout Rutgers to provide services for students coping with a variety of issues from the anxiety, stress and uncertainty of when their lives will be back to normal, to the everyday tasks of completing coursework online instead of in the classroom and the stark reality for graduating seniors that traditional 2020 commencement festivities won't take place.
"We are in a strange spot that we have never been in before and we are working to make sure that our students understand that we are there for them," he said.
While Mena was involved in higher education at Brown University in Rhode Island on September 11, 2001, and at the College of Staten Island in 2012 during Hurricane Sandy, he said, the coronavirus outbreak overshadows both.
"They were devastating as well, students lost homes and personal belongings, people lost their lives," Mena said. "Still, there is no comparison to what we are facing now as a nation."
It is the biggest challenge of Mena's career and he is determined to do all he can to help support students through this crisis.
Mena has been at Rutgers-New Brunswick since 2014 when he was named the associate vice chancellor for student affairs. Today, as vice chancellor for student affairs, Mena oversees a division comprised of over 1,200 full-time staff and 20 departments who provide a variety of student-focused services.
Recognized this spring by the National Association of Student Personnel Administrators (NASPA) with one of their highest honors – the Pillar of the Profession Award  – which honors those who have served as leaders, teachers and scholars in student affairs and higher education – Mena shares his story whenever he can.
"I think my own lived experience allows me to relate to students especially when they are not their best selves," said Mena. "I am more likely to take a longer look at these students and advocate for a student who might not have the so-called credentials because of the challenges I experienced." He tries to connect with students through his Facebook, Twitter and Instagram accounts and has open office hours for anyone who wants to meet or talk with him when students are on campus.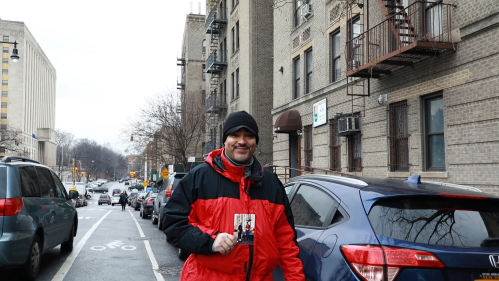 Sal Mena Back to the Bronx
What drives me to keep going every day is the fact that I really believe we are able to make a difference in the lives of students who will, in turn, make the world a better place for us all.

Salvador Mena
Mena always had big dreams. But as a young child, sharing a cramped, two-bedroom space with his stepmother, four sisters, two brothers and uncle, he wasn't sure those dreams could ever become a reality.
"I've had to find a way to work through my experiences and advocate for myself," says Mena, whose family had to rely on welfare to help make ends meet. "But I'm also fortunate to have met folks who were there for me; good people that helped me balance many of the challenges I encountered as a youth in the Bronx."
These challenges created barriers for Mena. He was held back in first and second grades, needed a speech therapist and required tutoring in math and other subjects. At the University of Maine, Mena continued to struggle and by the end of his first year, was asked to leave because he was failing.
"I felt different and didn't feel accepted," said Mena. "In hindsight, my 'take no prisoners' attitude as an undergraduate was me protecting myself from [an environment that] I felt wasn't inclusive."
But he got a second chance, earned the first 3.0 grade-point average of his collegiate career and became a resident assistant, after being rejected earlier.
"It was my first true leadership role. This was the first time I was responsible for a group of people and where I had people who were dependent on me," Mena said.
Despite the setbacks he faced, Mena says he found ways to keep pushing toward his educational goals, in part, because of adults and teachers who supported him inside and outside of the classroom.
He went on to graduate with a bachelor's degree in political science and a master's of education from the University of Maine. He earned a doctorate of philosophy in higher education from the University of Maryland-College Park.
He thinks his story is well suited to help students with their challenges and he is focused on creating an inclusive community on the Rutgers-New Brunswick campus where all members of the diverse student population should be able to see themselves in the Rutgers of today.
"What drives me to keep going every day is the fact that I really believe we are able to make a difference in the lives of students who will in turn make the world a better place for us all," said Mena. "It's an incredible reason to get up every morning and do what we do in student affairs."