Saladin Ambar Researches Presidency, Governorship and Race in America

Politics has always inspired Saladin Ambar. At 13, he took the subway from Queens to the Bronx to listen to historian John Henrik Clarke talk about African history. The lecture, and others that followed, made Ambar, raised by his white, Italian-American mother, feel connected to his African-American heritage.
"I think this was my introduction to politics in a serious way," says Ambar, who joined Rutgers University-New Brunswick's Eagleton Institute of Politics this semester as an associate professor and senior scholar at the Eagleton Center on the American Governor. "It was then that I began to read and went on a personal quest to find out about my African identity."
It was the 1980s, a time when African-American leaders were fighting for recognition. Ambar looked up to black scholars who followed the teachings of Malcolm X, an African-American, Muslim minister and human rights advocate assassinated in 1965, before Ambar was born. 
Ambar went on to excel in high school, despite family hardships. His mother, who worked at a hospital as an administrative assistant when he was in high school, raised him with the financial assistance of food stamps during his younger years. His father, a heroin addict, died from AIDS a few months after his high school graduation shortly after Ambar left New York for Washington, D.C., to study at Georgetown University's school of foreign service.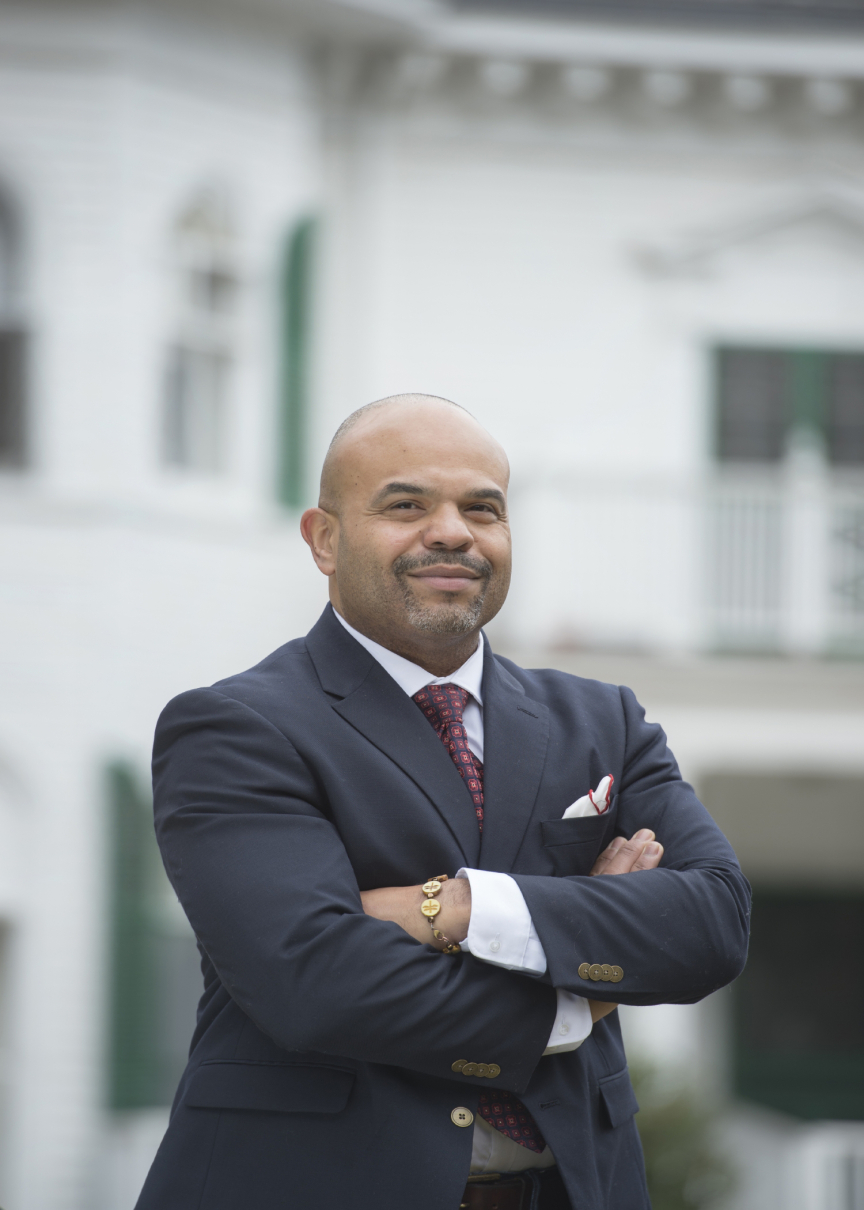 It was there, at the Edmund A. Walsh School, that Ambar met his future wife, Carmen Twillie, who last spring became the 15th president of Oberlin College in Ohio and the first black leader in the institution's 184-year history.
The two spent six years together at Rutgers from 2002-2008, when Carmen led Douglass College as the youngest dean appointed in its history. It was during that time that Ambar received his doctoral degree in political science from Rutgers before going on to Lehigh University as an assistant professor in political science.
Today, the couple, the parents of 10-year-old triplets, has a commuter marriage. Every Friday Ambar leaves New Jersey and drives six hours to spend the weekend with his wife and three kids, Gabrielle, Luke and Daniel. He drops his children off at school on Monday morning and then it is back to New Brunswick.
"They provide me the greatest joy in my life," says Ambar. "With three, when one doesn't want to talk to you, there is always someone who will."
Ambar, who teaches a course on the American presidency, focuses his research on the American presidency and governorship as well as race and gender. He wants those on the national stage to look toward Rutgers on race and American politics as they do with gender issues because of the highly regarded reputation of the Center for American Women and Politics.
The 48-year-old academic is the author of two biographies of men who influenced his political thought and, he says, represent the two-sided coin of his heritage: Malcolm X and former New York governor Mario Cuomo.
"These books are almost a form of psychoanalysis," says Ambar when talking about American Cicero: Mario Cuomo and the Defense of American Liberalism, released in 2017, and Malcolm X at Oxford Union: Racial Politics in a Global Era, released in 2014. "They both lived in Queens. One dealt with the black side of my family, the other was connected to my great-grandmother who was born in Sicily."
Besides teaching at the college level, Ambar spent 10 years after getting his master's degree from The New School, working with elementary school, high school and alternative school students. He cannot imagine a life not being around students, academia or politics, he says.
"Everyone that knows me knows how much I love politics," says Ambar. "What is taking place in our country today is elevating the importance of politics even further."
---
Read more Faculty Voices