Rutgers.edu Gets a Makeover
A new design for a new decade, with a focus on user experience, accessibility and storytelling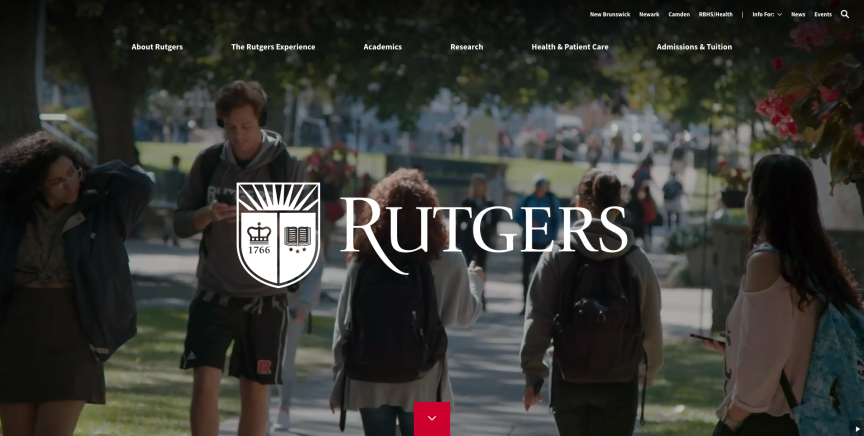 Rutgers University's main website is about to transform.
The site is primarily aimed at our largest external audiences – prospective students and parents. After extensive research, planning, designing, developing, testing, and gathering feedback from Rutgers community members and external visitors through surveys, the digital front door of the university – rutgers.edu – will soon be relaunched to deliver a new experience that clearly presents a holistic overview of Rutgers.
The redesign will showcase the university's primary locations, our students and faculty, our research, and the benefits and services that Rutgers offers to New Jersey and the world.
What Is Changing?
The site is being redesigned to incorporate the use of strong photography, video, interactive elements, and rich storytelling throughout to present Rutgers as a top-tier public research university to attract applicants from around the country and the world. A beta site, which continues to undergo changes and improvements as University Communications and Marketing gathers feedback before the official site launch, will be visible in the coming days.
"Rutgers.edu will serve more than 4 million visitors this year. The site is an important first impression of what Rutgers has to offer," said Rebecca Boucher, senior director of brand and marketing for  University Communications and Marketing. "The new site design pivots from pages of dense text to an experience that reflects the ever-changing digital communications landscape. Rutgers' new site will be visually engaging and informative. We're making significant changes to the site with the needs of external visitors the key focus."
Rutgers.edu offers an overview of the university's mission, academic offerings and results. The site design spotlights all four of Rutgers' main divisions and provides intuitive and user-friendly pathways to relevant areas of Rutgers, including details about specific schools, admissions, research, locations, the cost of attendance and more. The project also includes a redesign of Rutgers Today, the universitywide news center.
Why Is the Site Changing?
The redesign of rutgers.edu is one part of a larger web transformation project shared between University Communications and Marketing (UCM), Rutgers Communications and Marketing (R-Comm) and the Office of Research and Economic Development (ORED).
R-Comm manages the Rutgers University–New Brunswick website, newbrunswick.rutgers.edu, and ORED manages the universitywide research sites, including research.rutgers.edu, which are also being redesigned. The relaunch of the R-Comm and ORED sites will come later in 2020. All three sites were redesigned in unison as part of a collaboration to streamline the development of each site.
The new sites will have their own look and feel as well as unique functional features. However, by developing all three sites together, a coordinated and cohesive approach to design and user experience will be achieved.
The websites developed under this project will:
showcase Rutgers' unique strengths
unify Rutgers' design and messaging
provide an improved experience for site visitors
allow prospective students, faculty and staff to see themselves at Rutgers
create accessible websites that are usable by those with disabilities on an upgraded technical platform
What Else Do I Need to Know?
The main goal of rutgers.edu is to illustrate the great things happening universitywide and help users find information they are seeking. To help with this goal, Rutgers Today (news.rutgers.edu) will be combined into the main rutgers.edu site to better highlight the stories of innovation and success from across the university. As we prepare to launch the new site within the next few weeks, the Rutgers Today daily newsletter will take a short hiatus after today and return the week of March 2.
Additionally, the new rutgers.edu site will include an events calendar, which serves as a place to spotlight key events of interest to a broad public. University users will be able to submit suggestions for inclusion on the calendar, to help bring awareness to opportunities for the public to get engaged with events, seminars, shows and lectures happening at Rutgers. 
You can expect to see the all-new rutgers.edu soon. In the meantime, take a peek at the new site as it is being finalized at beta.rutgers.edu.